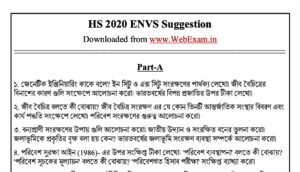 HS ENVS Suggestion PDF Download 2020 sure common in the examination. Get the PDF version of West Bengal higher secondary 2020 ENVS suggestions with all the important questions. Last-minute exam suggestion for WBCHSE HS ENVS Exam 2020. Download West Bengal Council of Higher Secondary Education HS 2020 ENVS Question Paper in Bengali version. Know all the suggested and sure shorts questions for Higher Secondary ENVS Exam.
Price: ₹ 40
WBCHSE HS ENVS Suggestion PDF Download
West Bengal HS ENVS Suggestion 2020. Download Higher Secondary 2020 Environmental Studies (ENVS) Suggestion pdf with Sure Common in the examination. West Bengal Council of Higher Secondary Education (WBCHSE) will conduct the HS 2020 Environmental Studies exam on 19 March 2020. If you are searching for WB HS ENVS Suggestion 2020 with all the important questions, then download it from here and score a good percentage.
This HS ENVS Suggestion 2020 prepared on the basis of new syllabus. All the type of Questions, which are important for Higher Secondary 2020 exam is available here.
Environmental study is a new Subject in Higher Secondary Syllabus. Arts, Science Students can take this subject on their syllabus. This subject has a great future opportunity.
This HS Environment Studies 2020 Suggestion contains 8 marks Questions and Very Short Questions. So you can easily get an idea about the important and suggestive questions for Higher Secondary 2020 Examination.
Questions will come from these following chapters.
Biodiversity

Environment Management

Sustainable Development

Sustainable Agriculture
Total marks of HS ENVS Question Paper will be 80 (40 marks broad Questions and 40 marks very short answer type questions). This Suggestion paper prepared by some expert Subject teachers. After w reviewing last few years Question trends and type.
You can download Higher Secondary 2020 All Subjects Suggestion – Click Here
We hope you will get Common from this suggestion and definitely score more than 80% marks on your Higher Secondary 2020 ENVS Examination.
Here are some benefits of choosing WebExam HS 2020 Suggestion:
WebExam is a trusted source for WB HS 2020 Suggestion. From last few years, your trust and support influence us.

The Suggestions are prepared by experienced Subject teachers.

Before preparing any suggestions, our experts deeply follow previous year question papers and try to find out the trends and patterns. For that we are unique.

Most important questions are mentioned in the Suggestion.

We also included Broad Questions as well as short questions suggestions with our Suggestion Paper.

All the Suggestion Papers are clearly Computerised and in the Bengali version.

Lastly, we tried to make our suggestion price as low as possible.
West Bengal Higher Secondary Environmental Studies Suggestion 2020 is the most trusted Suggestion for test and Final exam. Download it and start your preparation towards the Higher Secondary 2020 Examination.