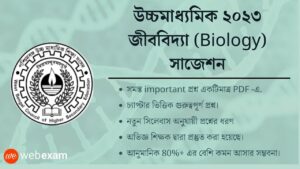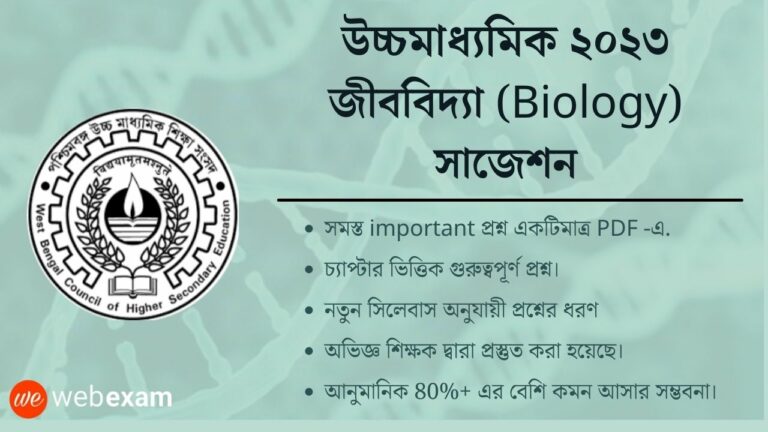 Download WBCHSE HS 2023 Biology Suggestion. Best quality and trusted Exam Suggestion for Higher Secondary Biology 2023 exam. Get the PDF version of HS 2023 Biology Suggestion with Sure common. West Bengal Council of Higher Secondary Education Higher Secondary Exam 2023 Biology Suggestion download. Know all the important and suggestive questions for WB HS Biology Suggestion 2023. উচ্চমাধ্যমিক 2023 বায়োলজি সাজেশন ডাউনলোড।
Download Price: ₹ 50
[Currently Out of Stocks]
WBCHSE HS 2023 Biology Suggestion Download
Exam suggestions are the most expected study material for the students. Always want to know the important questions for their board examination. If you are one of those and searching for HS 2023 Biology Suggestion, then you are in the right place. Download West Bengal HS 2023 Biology suggestion PDF from WebExam and get the maximum number of common.
Biology is an important subject for West Bengal Higher Secondary Science Stream students. Many art students also take Biology subjects in HS courses.
To help the students we published West Bengal Higher Secondary Biology suggestion 2023 on our website. This exam suggestion was prepared by some very experienced subject teachers. They tried to follow all the exam pattern trends and last few year question papers after that they prepared this suggestion for the students. we can expect you will get at least 85% common on HS 2023 Biology exam from the suggestion.
Buy HS 2023 Biology Suggestion in PDF Version
All the broad questions of 2 and 3 marks are mentioned in this suggestion. Questions from the following chapters are given here – Reproduction, Genetics and Evolution, Biology in Human Welfare, Biotechnology, Ecology & Environment. This is the latest Biology syllabus, prepared by the West Bengal Council of Higher Secondary Education.
The West Bengal Higher Secondary 2023 Biology written exam will be held on 18th March 2023. The full marks of the written exam will be 70 and 30 marks are allowed for the project and practical exam. Download this HS Biology Suggestion 2023 and score a good percentage on the examination.
You can download Higher Secondary 2023 All Subjects Suggestion – Click Here
উচ্চ মাধ্যমিক 2023 বায়োলজি পরীক্ষার সাজেশন ডাউনলোড এবং অন্যান্য গুরুত্বপূর্ণ প্রশ্ন। এই সাজেশন থেকে জেনে নাও এই বছর বায়োলজি পরীক্ষার জন্য সম্ভাব্য প্রশ্ন।
WebExam is always with you. We hope you will try to do your best on the board exam. Very best for your Higher Secondary 2023 Exam.