WebExam is a free blog site for Bengal students. Here we provide Exam Suggestion for various examinations. On this page, you can get the suggestion of West Bengal Madhyamik, Higher Secondary, WBJEE, JEXPO, WBCS, WB SI Food, Primary TET examinations. All the suggestion of this examination will be published on this blog site. The last-minute suggestion of Madhyamik and Higher Secondary Exam.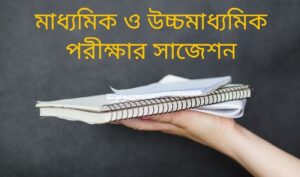 Some important questions of WBJEE and JEXPO examination and various entrance test. We never say that our Exam Suggestion will not 100% common but, we try to publish only some important questions about that examination which is treated as the suggestion. Every suggestion of Madhyamik, Higher Secondary, WBJEE and various entrance examination is prepared by experienced teachers.
Madhyamik 2023 Exam Suggestions
Higher Secondary 2023 Exam Suggestions
WebExam Store
Buy Madhyamik and HS Exam Suggestion 2021 from our WebExam Store. Here is the list of all the paid Suggestion published by WebExam.