Download HS Sanskrit Suggestion 2022. Get last-minute HS 2022 Exam Suggestion for Sanskrit Subject with 90% Common in Examination. Know all the important questions and suggestions for West Bengal Higher Secondary 2022 Sanskrit Exam. The free pdf version of HS Sanskrit Suggestion 2022 with Sure common. West Bengal 12th Class Board exam suggestion for Sanskrit Subject with important questions.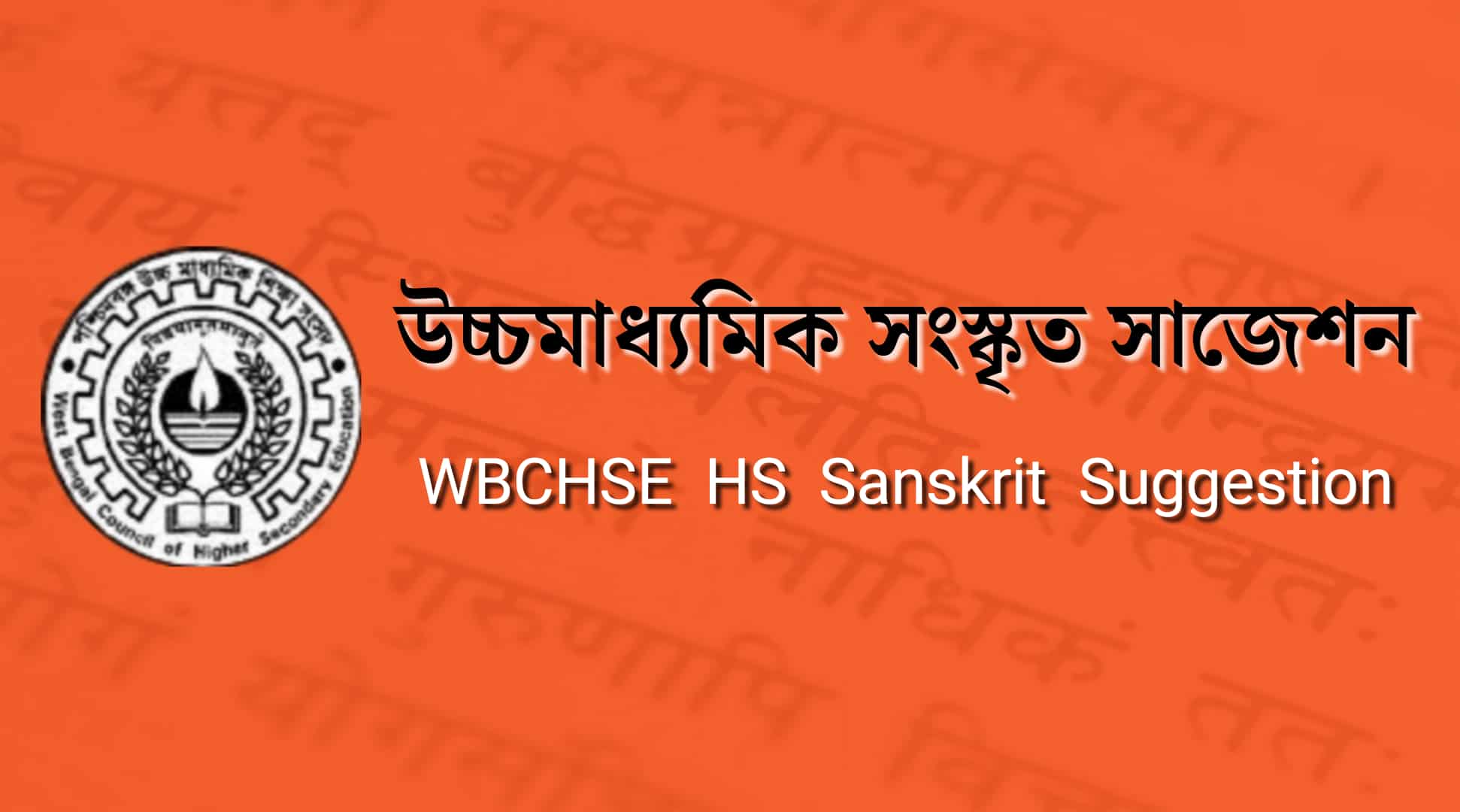 West Bengal Council of Higher Secondary Education (WBCHSE) will organize Higher Secondary (HS) 2022 Sanskrit Exam in March 2022. HS Arts students will seat for this exam. Today, we published the pdf version of HS 2022 Sanskrit Suggestion for HS Arts students. Follow this Sanskrit subject suggestion to score more marks on the examination.
Download the best quality and trusted HS Exam suggestion for Sanskrit 2022 Exam. Questions from all the topics are mentioned here. Our expert Sanskirt Subject teacher tried to list out the most important questions for HS 2022 Sanskrit Exam. So, must follow this HS Sanskrit suggestion 2022 to complete your preparation.
| | |
| --- | --- |
| Exam Name | HS 2021 Exam |
| Council | West Bengal Council of Higher Secondary Education |
| Subject | Sanskrit |
| Exam Date | 18th April 2021 |
| Suggestion Probability | 84% |
WB HS Sanskrit Exam Date & Time
West Bengal Council of Higher Secondary Education (WBCHSE) published the official Routine for HS 2022 Exam. According to this Routine, HS Sanskrit exam will be held on 18th April 2022. The exam will start at 10 am and continue up to 1:15 pm.
Download, WBCHSE Higher Secondary 2022 Exam Official Routine Download
HS Sanskrit Syllabus and Question Pattern
According to WBCHSE Higher Secondary 2022 new syllabus, the total marks for Sanskrit written examination will be 80 and for Project 20 marks. The question paper will contain two Parts, Part-A (54 Marks) and Part-B (26 Marks).
WBCHSE HS 2022 Sanskrit Question Paper, Part-A will contain essay type questions, writing and Bengali to Sanskrit Translation of 5 marks each. Part-B will contain MCQ type and very short answer type questions of 1 mark each.
The complete syllabus of West Bengal Higher Secondary 2022 Sanskrit Exam is described below. The Exam Suggestion was prepared based on this syllabus.
Prose (আর্যবর্তবর্ননম্, বনগতা গুহা)
Verse (শ্রীগঙ্গাস্তোত্রম্, শ্রীমদ্ভগবদ্ গীতা – কর্মযোগঃ)
Drama (বাসন্তিকস্বপ্নম্)
History of Sanskrit Literature (স্বপ্নবাসবদত্তম্, মৃচ্ছকটিকম্, অভিজ্ঞানশকুন্তলম্, মুদ্রারাক্ষসম্, মেঘদূতম্, গীতগোবিন্দম্, আর্যভট্ট, বরাহমিহির, চরক সংহিতা, সুশ্রুত সংহিতা).
Read More, Higher Secondary all Subjects Suggestion Download & Online MCQ Test.
HS Sanskrit Suggestion 2022 Download
If you are searching for WBCHSE HS Sanskrit Suggestion 2022 pdf, you can download it from here. Get the Sanskrit Suggestion with at least 80% common in HS Test and Final Exam 2022. Know all the important questions and topics.
Download, Click Here to Download West Bengal HS 2022 Sanskrit Suggestion
This HS 2022 Sanskrit Suggestion contains only the 5 marks broad questions. There is no exact Suggestion for MCQ and Short questions. You have to read carefully your textbooks for these questions. Download HS 2022 Sanskrit Model Question paper published from WBCHSE.
West Bengal HS Sanskrit Suggestion 2022 with all the latest important questions. Know all the MCQ and Short Questions. Download WBCHSE HS Sanskrit model question paper and suggestions.
Higher Secondary Sanskrit is a very scoring subject, you can easily get a very good percentage on this subject with a little effort. So, follow this HS 2022 Sanskrit Suggestion and start practising it. Total marks 80 and total time allowed 3 hours 15 minutes.
Read More, Learn How to Score more than 90% Marks on HS 2022 Exam
If you link this Sanskrit Suggestion, then share it with your friends on social media. Post your questions on the below comment box. Follow us on our Facebook Page for the latest updates.