Apply Online for Aikyashree Scholarship 2021. WBMDFC Aikyashree Scholarship 2021 for Minority Students. West Bengal Minorities' Department & Finance Corporation (WBMDFC) started Aikyashree Scholarship Programme for the Minorities Students in West Bengal. This is a complete Scholarship Portal for WB Minorities Students developed by WBMDFC. Apply for the Aikyashree scholarship from wbmdfcscholarship.org website.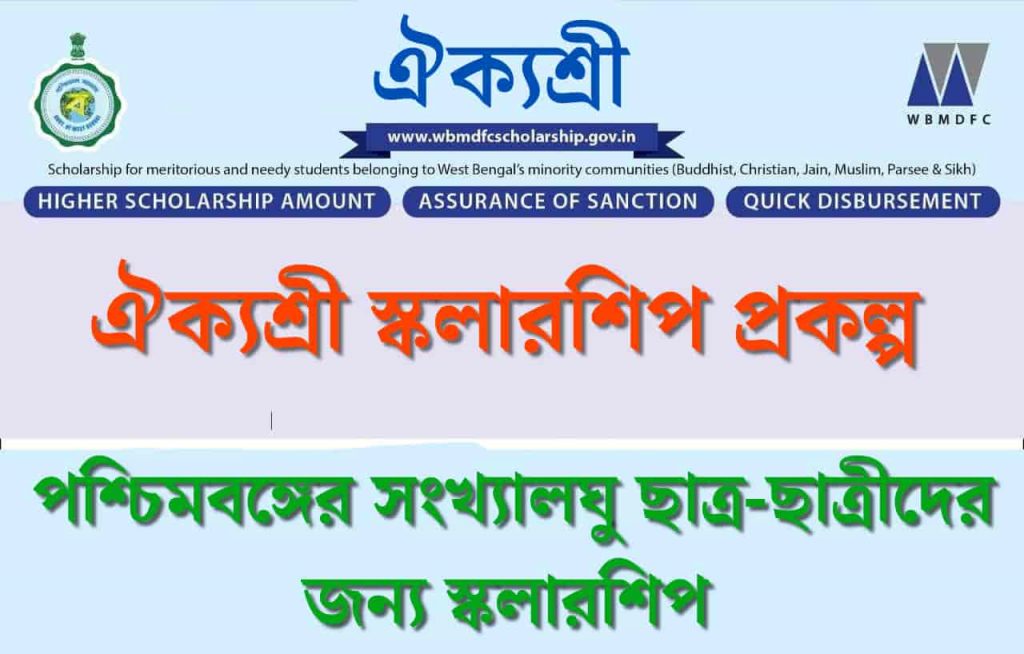 Students can apply online for Pre Matric, Post Matric, Merit cum Means, Talent Support and SVMCM Scholarship from this Aikyashree Scholarship Portal. ঐক্যশ্রী স্কলারশিপ 2021 এর অনলাইন আবেদন পদ্ধতি। পশ্চিমবঙ্গের সংখ্যালঘু সম্প্রদায়ের ছাত্র-ছাত্রীদের জন্য ঐক্যশ্রী স্কলারশিপ।
Students from Class One to Ph.D from Minority Backgrounds can apply for various WB Government scholarship Scheme through this WBMDFC Aikyashree Scholarship Portal. The complete process is Online. Learn how to apply for West Bengal Aikyashree Scholarship 2021, check your Aikyashree Scholarship application status.
Aikyashree Scholarship Information Chart
Here are some important information about WBMDFC Aikyashree Scholarship for West Bengal Minority students. Simply go through it and know the basic information about this West Bengal Government scholarship scheme.
| | |
| --- | --- |
| Scholarship Name | Aikyashree Scholarship |
| Distributed by | WBMDFC |
| Eligible Students | Minority Community |
| Scholarship Category | Pre Matric, Post Matric, SVMCM, TSP |
| Eligible Courses | Class I to Ph.D Course |
| Application Start | August 2021 |
| Application Close | March 2022 |
Objectives of Aikyashree Scholarship Scheme
The main objective of WBMDFC Aikyashree Scholarship Scheme is to encourage the minority communities to send their children to school and to prevent dropout. This scheme also helps students to continue their higher education, increasing their employability potential.
Students can easily apply online for various Minority Scholarship schemes directly through this Aikyashree Online Portal, without any problem. Students will get the scholarship amount fast.
WBMDFC Aikyashree Scholarship Schemes
West Bengal Minorities Development & Finance Corporation (WBMDFC) is providing the following scholarship schemes through Aikyashree Scholarship 2021 Portal. Students can apply for these government scholarship Schemes.
WB Pre Matric Scholarship
WB Post Matric Scholarship
WB Merit cum Means Scholarship
WB Talent Support Scholarship
All these Scholarships available only for West Bengal Minorities students, studying in any Institution in West Bengal and these schemes can apply Online from Aikyashree Scholarship 2021 Portal.
WB Pre Matric Scholarship
Meritorious students from Class-I to Class-X can apply Online for WBMDFC Pre Matric Scholarship from Aikyashree Portal. Applicant must be a permanent resident of West Bengal and passed the Previous Examination with at least 50% marks.
WB Post Matric Scholarship
Minority Students, who are currently studying from Class-XI to Ph.D course, are eligible to apply for WBMDFC Post Matric Scholarship. The candidate must have secured at least 50% marks or equivalent grade in the previous exam. Then we'll family information should not exceed ₹ 2 lakh. The eligible courses for Aikyashree post matric scholarship are,
Higher Secondary
ITI
Diploma
Undergraduate
Postgraduate
M.Phil
B.Ed
WBMDFC Merit cum Means Scholarship
Students who took admission in technical/professional courses (Engineering, Medical, Management, Law, CA etc) are eligible for WBMDFC Merit cum Means Scholarship. Applicant must have to pass the Higher Secondary / Graduation Examination with at least 50% marks. The annual income of the applicant should not be more than ₹ 2.5 lakh.
WB Talent Support Programme (TSP) Scholarship
This stipend is awarded to students who have passed their last final examination with less than 50% marks and He/She is continuing studies class XI to Ph.D (except professional and technical courses). The applicant must be a permanent resident of West Bengal and annual family income upto ₹ 2 lakh.
WBMDFC SVMCM Scholarship
Swami Vivekananda Merit cum Means Scholarship for Minorities is given to meritorious minority students for pursuing studies from class XI to Postgraduate in Regular courses including Diploma (Polytechnic) and Diplomacy in Pharmacy. The applicant must be a permanent resident of West Bengal and his/her annual family income must be within ₹ 2.5 lakh.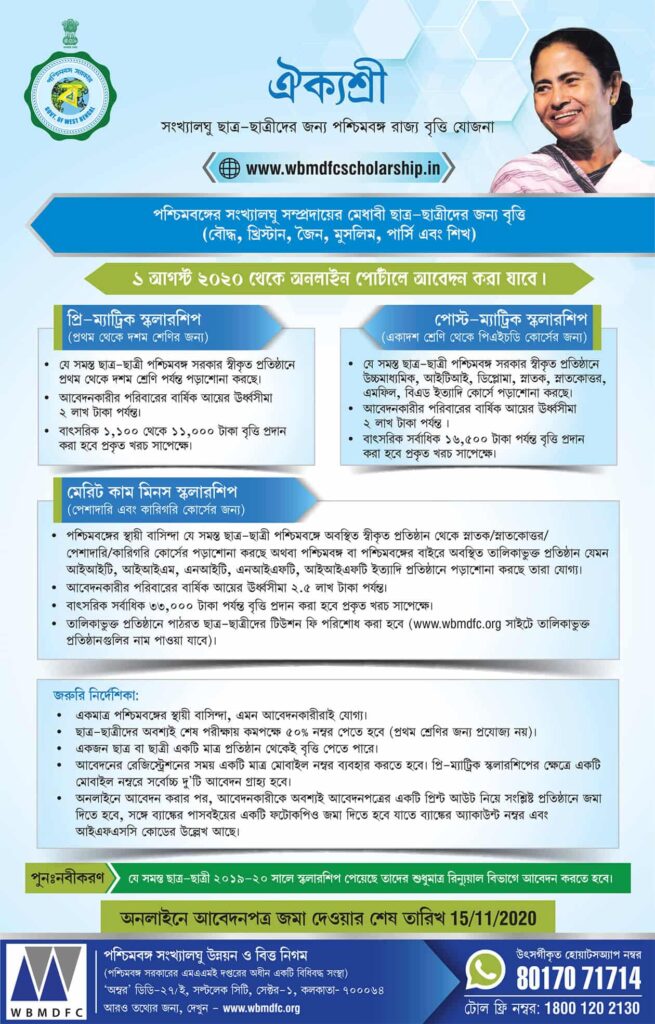 WBMDFC Aikyashree Scholarship 2021 Online Application
The complete application process for Aikyashree Scholarship 2021 is Online. Minority Students from Class I to Ph.D can apply for Government scholarship Schemes through this Scholarship Portal. Know the complete Online Application Process for WBMDFC Aikyashree Scholarship 2021. The complete online application process is given below.
Student Registration
Visit the WBMDFC Aikyashree Scholarship website, wbmdfcscholarship.org and New Registration or Student Registration button available on the website. Then fill the Student Registration form by providing your Name, District, Guardian's Name, DOB, Mobile Number, Email and Bank Account Number. Now click on the SUBMIT AND PROCESSED button.
Scheme Eligibility
Now you have to enter your Current Institution Name, Address, Percentage of Marks obtained in the Last Examination, Annual Family Income. Then click on the SUBMIT AND PROCESSED button.
Registration Successful
After providing all these information, you see the Scholarship Name, for which you are eligible. You also get a Temporary user ID for your scholarship application. Check your email, User Id and Password will send here.
Student's Login
Now login to the website using your User Id and Password complete the scholarship application process. Fill all the information under 'Basic Information' & 'Academic Information' section. Verify your bank account information.
Final Submit
Before Lock your Aikyashree Scholarship 2021 application, you can see a preview of the Application Form and all the details information you already provided. If all the information is correct then lock your application.
Take Print Out and Submit for Verified
After completing all these steps, take a print out the computer-generated application form. Sign on it and attached the required documents with it. Then submit this application form to the head of your institution for further verification.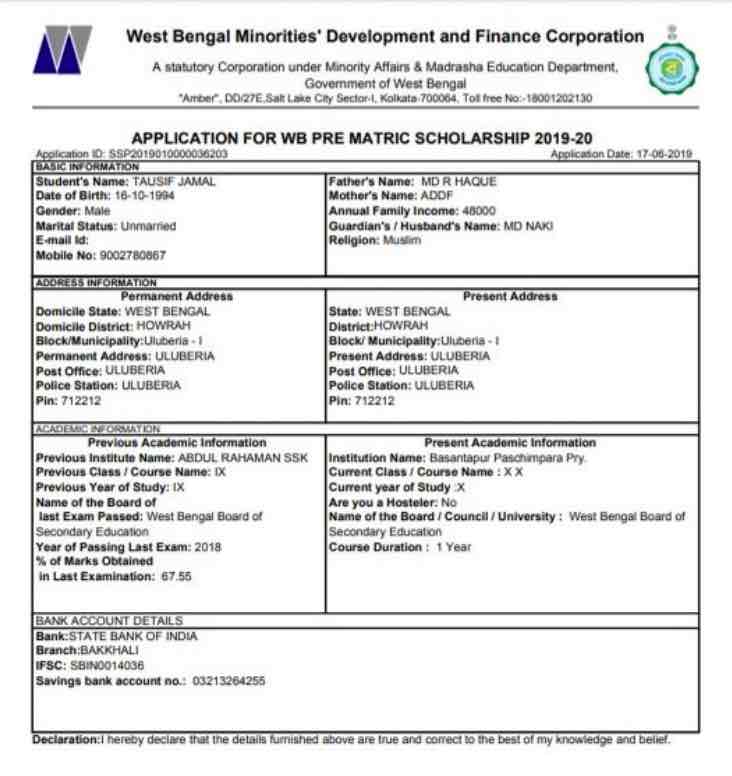 Apply Online for WBMDFC Aikyashree Scholarship 2021 Scheme – Click Here
Read More, Aikyashree Scholarship 2021 Renewal Application – Last Date & Documents
Candidates Selection Process
The Scholarships will be provided to eligible to students order of merit and the family income of the applicant. For renewal, the applicant will be eligible for the scholarship if he/she has obtained 50% marks in his/her previous Examination. Students can check their Aikyshree Scholarship 2021 Online Application Status from the website by login with their Application Id and Password.
Apply Online, Begum Hazrat Mahal National Scholarship 2021 for Girls
Check Aikyashree Scholarship Application Status
Applicants can easily check their Aikyashree Scholarship 2021 Online Application status. At first, visit the official website of Aikyashree Scholarship i.e., wbmdfcscholarship.gov.in and then click on the Student Login option. Select your Institution district and login with your Username and Password.
From the Scholarship dashboard, you can easily check your current application status. If you will find any defect/rejection on your application you can make the correction on it using Defected Application button.
The Last Date of receiving online application for POST MATRIC, MCM, TSP & SVMCM scholarships has been extended up to March 2022.
Aikyashree Scholarship Application Steps
Here is a video presentation about how to fill the Aikyashree Scholarship Application Form Online and other important steps.
Aikyashree Scholarship Helpline
Students can contact to the WBMDFC Helpline for Aikyashree Scholarship 2021 through this WhatsApp Number – 8017071714 or can call at 18001202130 (Toll-Free), 033-4047468 phone numbers.
Aikyashree Scholarship Frequently Asked Questions (FAQs)
What is the last to apply for Aikyshree Scholarship 2021?
The Last to apply for WBMDFC Aikyashree Scholarship is December 2021 for Post Matric, MCM & TSP and December 2021 for SVMCM Scholarship. Students must have to register themselves within this time period.
Who can apply for Aikysahree Scholarship?
Only Minority Students from these communities, Muslim, Christian, Buddhist, Sikh, Jain and Parsee can apply for this scholarship. Candidates must read in class One to the PhD course.
Does 2nd Year College students can apply for fresh scholarship?
No. Only students took admission on 1st year of any UG, PG Course can apply for this scholarship scheme. Although 2019 passed students can apply for SVMCM Scholarship, he/she has to provide a valid reason for that.
What is the minimum Percentage required for Aikyashree Scholarship Scheme?
For Pre-Matric, Post-Matric & Swami Vivekananda Merit Cum Means Scholarship, candidates must have to pass with minimum 50% marks on his/her last annual exam. For Swami Vivekananda Merit cum Means (SVMCM) Scholarship scheme, candidates have to pass with 75% marks in Madhyamik or HS (for HS, Polytechnic, Honours), 53% mars in Honours (for Post Graduate course) and 55% marks in BE/B.Tech (for M.Tech Course). Below 50% marks for WBMDFC Tallent Support Scholarship scheme.
I am studying outside West Bengal, can I apply for this scholarship scheme?
If you are studying from any of these Institutions – IIT, IIM, NIT, NIFT, IFFT, then you can apply for Aikyashree Scholarship. Otherwise, you cannot apply for this scholarship if you are studying for any institution outside WB.
Does Distance Mode from Open University / Open School students are eligible for this Scholarship?
According to the official guidelines and notification, students who are pursuing their course from any open University or from any open school or in Distance Mode, cannot apply for this scholarship. Only Regular students are eligible to apply.
When I will receive my Aikyshree Scholarship amount and how?
Aikyshree Scholarship amount will start distribution from March 2021. Students will get the amount directly to their Bank account, mentioned at the time of Online Application.
What is the Aikyshree Scholarship Amount?
The scholarship amount will vary course to course for Aikyashree Scheme. Rs 1,100 to 11,000 per year for Pre-matric Students (Class I to X). Rs 10,200 to 16,500 per year for Post-matric students (Class XI to PhD). Rs 22,000 to 33,000 per year for Merit cum Means Scholarship (Technical and Professional course students). Rs 12,000 to 60,000 per year for Swami Vivekananda Merit cum Means Scholarship (SVMCM). Rs 2,500 to 4,900 per year under Tallent Support Scholarship scheme.
Read More, এই লেখাটি সম্পূর্ন বাংলায় পড়তে এখানে ক্লিক করুন
 Do share this Scholarship Information on your Social Media to help others. You can post your query regarding WBMDFC Aikyashree Scholarship 2021 in the below comment box also.