Get Scholarship information for 12th Passed Students with taking admission on Engineering, Medical, Honours or Law course. Magma Fincorp 'M-Scholarship' for the poor but meritorious students. All details about Magma Scholarship Scheme online Application and selection process. Learn more about the Eligibility Criteria of Magma Scholarship for Higher Secondary Passed Students.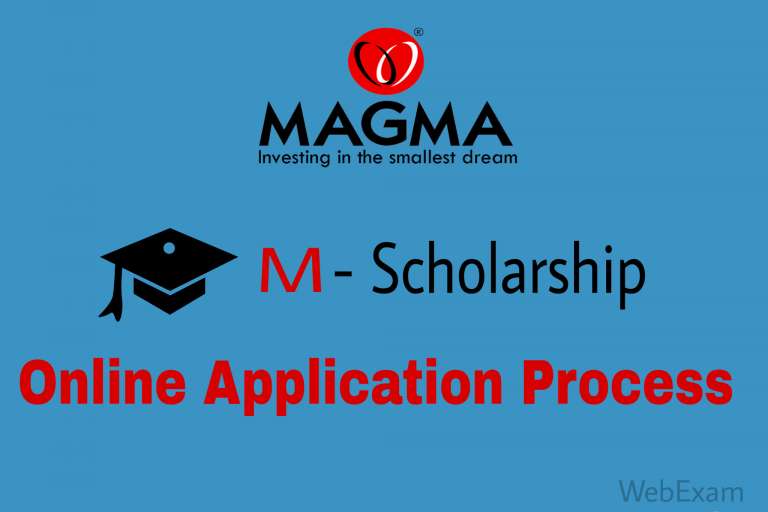 Magma Fincorp Limited is a financial company in India provides 50 Scholarships to the economically weak meritorious students and the name of this scholarship is, M-Scholarship'. The main aim of the M-scholarship is to give a higher and better education to the students who are poor and just wait for an opportunity. Students who passed their Higher Secondary (10th+2) examination with at least 80% marks are eligible for this scholarship.
Eligibility Criteria for M-Scholarship
To apply M-Scholarship candidates must have to follow the eligibility criteria's, which are given below.

• Students, who passed Higher Secondary (10th+2) examination 2017 with at least 80% marks from Arts and 85% marks from Commerce or Science from any recognized State Boards or from CBSE, ICSE Boards are eligible for this scholarship.
• Applicant's monthly family income does not exceed Rs. 10,000 to apply M-Scholarship scheme.
• The maximum age limit to apply Magma Scholarship Scheme is 20 years with respect to 15th August.
• Candidates who were taking admission on Undergraduate Honours, Engineering, Medical or Law courses at 1st Year, are eligible.
If anyone fulfilled all these criteria's can apply for Magma M-Scholarship for help in higher education.
Click Here to know the complete list of Scholarships for Indian students.
M-Scholarship Application Process & Details Info
There is no any Application Form or Website available for Magma M-Scholarship. The only option to apply this scholarship is, by sending an email to the authority. To participate in the scholarship program candidates have to send an email to csr@magma.co.in with all the details.
Mention your previous exam marks and your current course details and other information. Must attach scanned copies Higher Secondary mark sheet and Undergraduate course admission receipt. The application must be done by July 2017. If you know someone, who really needs a scholarship, then you can refer him/her by sending an email to the mentioned email address.
• Duration of scholarship: Magma M-Scholarship will be awarded to the selected students for 3 years. Candidates must have to apply for renewal after every session. Total number ob Scholarships are 50.

•
Contact Details:
If you want to contact with the Magma Fincorp Limited authority about the M-Scholarship, you can send an email to them at, csr@magma.co.in or you can all at 7044033714 phone number.
Like our, WebExam Facebook Page to get all type scholarships information instantly. Post your comment and share this post with your friend.