Learn some beat and easiest tips, about how to score more than 90% marks on the Board Examination. Within few months of preparation, you can get a better percentage on the exam. Students of class 10th and 12th will follow these tips for a better result.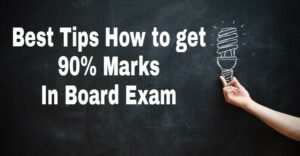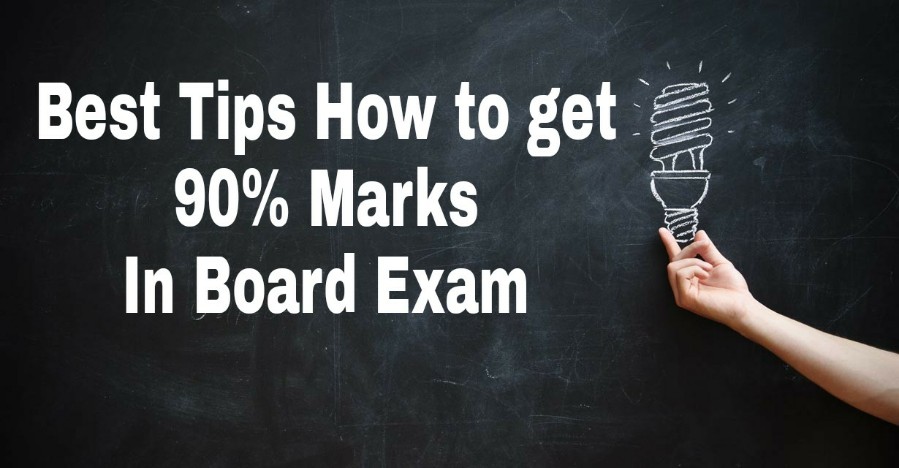 We all know that Exam is the most horrible time for maximum students. Board Exams aren't the exception from this. Every year a huge number of students seat for Board Exam (like CBSE, ICSE or any State Board) but only a few percent of students get more than 90% marks. After few months these Board Exams will knock your door. Today we will discuss some best Tips, how to score more than 90% marks in Board Exam.
Every student wants to get a good percentage in the 10th and 12th Board Exam, but due to lack of some strategy, they cannot do well. On this post, we will explain all the tips about how to get a good percentage on the Board Exam within few months. Read all the tips, because if you skip one, you can lose some percentage from your Exam.

1. Know Your Syllabus before you Start
It is the most important part of this tips. If you want to score more than 90% on your Board Exam, then carefully read your complete syllabus and then start reading your textbooks. Syllabus wise textbooks are good for Board Exam and also help you to get a better percentage. Maximum time students are following Reference Books, but these reference books are only good for any Entrance Exam not for the Board Exam.
2. Try to compete with yourself
This may be the best option to improve yourself. You have to always try to do better than from your last exam. Before the Board Exam, you have to seat for some test exams on your school or coaching classes. Try to score more on every exam than the previous one. Like, if you got 67% marks on last test exam, then try to get 74% marks on this test exam. This process will definitely improve your marks on the exam.
3. Practice Previous Years Question Papers
Previous years question papers of Board Exam also plays a major role in getting more than 90% marks on the exam. This previous years question papers are the key to success. From these question papers, you can easily understand the difficulty level of the question paper of that Board Exam. You can also understand the question repeat sequence, the most important questions. If you practice previous year questions, you will get a better idea about the marks distribution of the question papers. (Download Madhyamik & Higher Secondary 2019 all Subjects Suggestion)
4. Make a fixed schedule for study
It might be a tough idea for many students, but if you want to score more than 90% marks on your 10th or 12th Board Exam, then you have to strictly follow a fixed timetable. At first make a complete timetable for your study, which contains how long and when you will study one subject.
Like at the morning time, try to read Chemistry, Economics, History etc subjects for better capture. At night you may solve any numerical problems. Try to make the schedule for which you fill comfort.
5. Try to find out your Weak & Strong point and Focus on it
When you completely understood the syllabus and read the textbooks, you have to find your weak points. Never ignore your weak points, if you want to score more than 90% marks on your Board Exam. You must have to focus on the weak points, practice that chapter more and more. Give this weak chapter priority on your Fix Schedule.
6. Disconnect your Internet Connection & Social Life
Time management is one of the big factors for getting more percentage. For these few months, you have to disconnect yourself from Facebook, Whatsapp or any other Social Networking sites. Try to avoid parties, time wasting with friends through phone call even with the closer one. You are not a kid now, you know how to stop wasting time and optimize it. So just do it for your 90% marks in the Board Examination.

7. Practice Writing more and more
After reading any question or important paragraph, always write it in your exercise book. More you wrote, better your remember. When you write any answer or paragraph this will increase your handwriting speed, which will help you a better time management on the exam hall. You can also improve your handwriting. A neat and clean handwriting also support you to get more percentage easily.
8. Best Time Management Tips
To score more than 90 percent marks on the Board Exam, you have to study at least 9 to 10 hours per day. After that, you will reach your destination. So, sometimes you have to manage your time for extra study time like. You can stop sleeping 8 hours and sleep only 6 hours healthy, this can give you extra 2 hours. At school, when you get a free period or sports period, then you can easily optimize this time by practicing Mathematics or any other subjects.
9. Never Neglect the Compulsory Subjects
Maximum students never focused on their compulsory language subjects like Hindi, Bengali, English etc. They forget that this subject's marks also add to the total aggregate. So, if anyone got 90% marks on every subject but got 60% marks on the compulsory subject, then his/her percentage will automatically decrease. So, always give an importance of the compulsory subject.
10. Improve Yourself by Self Study
Before 2 months of the Board Exam, try to avoid all the coaching classes and study yourself at home. Read every chapter and subject to that two months time period. If you face any problems, immediately contact your subject teacher and resolve your problems. Work hard and love the books and subjects, if you want to get 90% marks on the Board exam.
11. Health is also important for 90% Marks
Suppose, you worked hard the complete year for your Board Exam, but before one or two weeks of the exam you fall in sick. Now you can understand what will happen then. This fever will spoil your complete expectations about the percentage. So, it is very much important that you must care about your health as well as the mind. Try to sleep a proper sleep, eat healthy food in time, drink more water etc. A good health will help you to increase your concentration in the study.

12. Bonus Tips
After completing the syllabus, buy any Test Papers book and answer all the questions of each paper as a demo test. Then analyze your answer script and marks it. How much percentage did you get? If you got more than 90%, then you are a genius and your preparation is best. But if you got below 90% then work hard to cross the barrier.
On this post, we tried to mention all the important tips, by which you can improve your study strategy and get more than 90% marks on your Board Exam. If you like this post, the like and share it with your friends.