Learn how to prepare for GATE 2018 examination within few months. Tips how to crack GATE entrance test easily with some tricks and tips. How to get a good rank on GATE 2018 Exam. Top 8 tips on how to prepare for GATE examination after B.Tech course.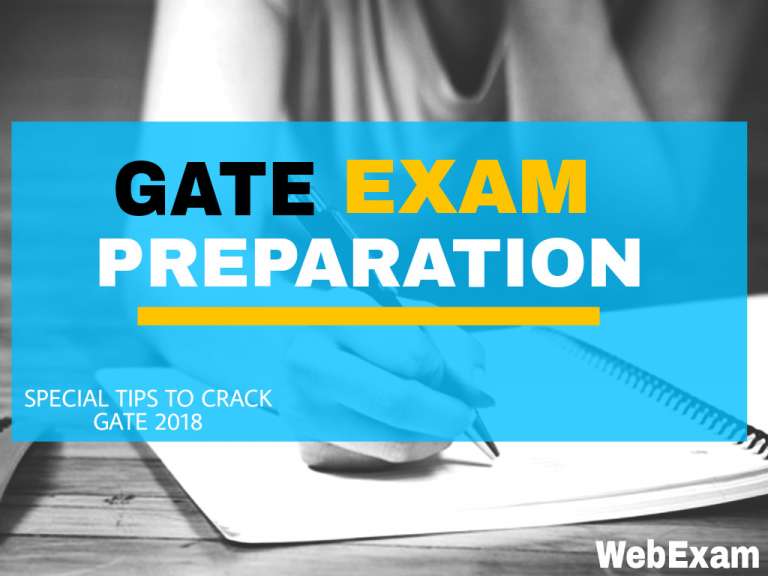 GATE (Graduate Aptitude Test for Engineering) is one of the most important entrance exam for B.Tech students. After getting a good rank on GATE Exam, a student can easily take admission to M.Tech from IIT or can get a high salaried job from Government or Private Companies. Every year GATE Exam organized by IIT institutions. GATE 2018 organizing by IIT Guwahati. GATE 2018 Exam will be held on the First week of February 2018.
GATE is a single paper Online Examination. Total marks of this exam is 100 and total time allowed 3 hours. GATE Online Exam contains 65 questions, which are MCQ type and Numerical type.
Follow the simple tips about how to prepare for GATE 2018 Exam effectively and get a good rank on GATE 2018.

1. Understand the GATE Syllabus
The first and most important step is to understand the complete syllabus for GATE 2018 Exam. The syllabus can be easily downloaded from the official website of GATE 2018. After read the complete syllabus for your trade divide it two two parts – strong and weak. It should important that, you must make a study plan after understanding the GATE 2018 Syllabus. GATE 2018 syllabus will be available from September 2017.
2. Collect Previous year GATE question papers
Previous years question papers gives you a complete idea about the Question Pattern of GATE 2018. Learn more about the marks distribution, questions type from previous year question papers. Click Here to download last 10 years GATE Exam Question Paper. After completing every chapter practice the years questions from that section. This will give you advantage at the time of examination.
3. Learn your Strong & Weak Points
After getting the syllabus, you will understand your strong and weak points. For a better preparation of GATE 2018 Exam you have to focus both of your Strong points as well as Weak points. Follow the Syllabus and read only the important portion of your weak points. Because it it not possible to read every topics deeply.

4. Chose a perfect Mentor or Coaching
If you are targeting a good rank on GATE 2018 Exam, then having a mentor or coaching institution might be a good option. Because 50% success depends upon your mentor, who will guide your properly at the time of GATE Exam preparation. Chose any good coaching institute, which you can afford (free GATE coaching from various institutions also available). They will provide you updated study notes, clear all your doubts and motivate you.
5. Read Standard Text Books
Books are the best friends of a student. If you are preparing for GATE 2018 Exam, then you have follow some standard subject books. Which will help you at the time of preparation. Although a book cannot cover all the topics equally, you can chose various books from various authors. Use your college library. You can also download popular e-Books of various authors about GATE exam. Follow all the important topics from the books.
6. Make a Proper Plan and Schedule
After getting the GATE 2018 syllabus, make a proper Study plan according it. If you serious about GATE 2018, then at first shut down your Mobile Phone. Divide your time for each subject reading and practicing. On that time try to solve all the problems, queries about that subject. Continue your study as a regular basis. Before sleep, recap what you read today. What will be your next day plan. This process can help you to improve your time management.
7. Practice Online Mock Test
In order to maximize your chance to get a better rank on GATE 2018, you have to practice more and more. There are many websites, which are providing GATE 2018 online Mock Test series. By practicing Online mock test, you can create a demo environment of Exam. This can helps you about time management factor, reading and understanding abilities. Must do one topic of Appititude daily, it will develop your IQ.
Before 1 or 2 months of GATE 2018 Exam, when you cover all of the syllabus completely, it's time to recall. Write all the important data like, formulas, values short methods, tricks, definitions, points etc. It's time to revision. Read all the most important parts of every subject. Practice all of your problems. Care about your health. All of these can help you to crack GATE 2018 Exam with a good Rank.
This are the tips to crack GATE 2018 examination and get a good rank. We tried to provide an article about How to prepare for GATE 2018 examination. If you have any query please post it on the comment section. Like us on WebExam Facebook Page for more update informations.