West Bengal Board of Secondary Education (WBBSE) published the timetable for Madhyamik 2018 examination. Get all the details information about West Bengal Madhyamik 2018 examination and routine and schedule of Madhyamik examination. This is the first board examination for West Bengal students. Total marks are 700 on Madhyamik examination. Download the WBBSE Madhyamik 2018 exam routine and timetable. Keep reading this article for more details.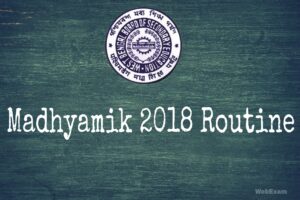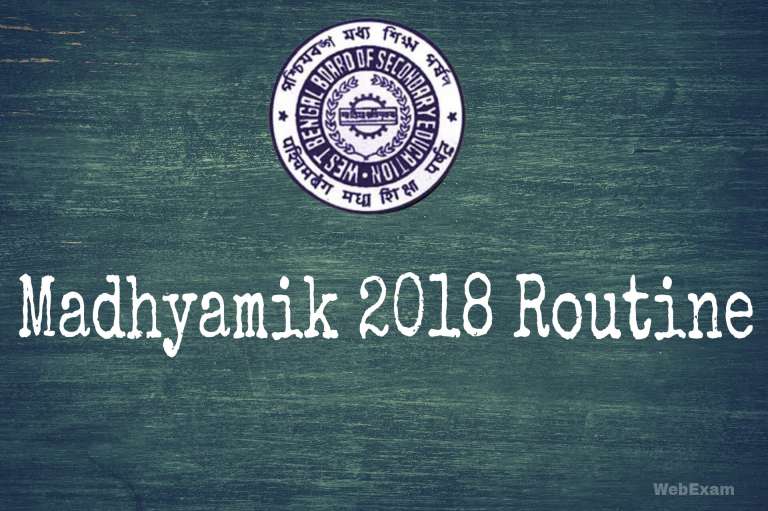 Madhyamik 2018 examination date published by WBBSE and the examination will be started from 12th March and continue to 21st March 2018. The examination will be held in the Second week of March 2018. On this examination, each paper/subject carries 90 marks (+10 marks oral test) and total time for each subject for the written examination is 3 hours.

The examination will start from 12:00 pm and still continue to 03:00 pm. Students must enter to the classroom within 11:30 am and question papers will be distributed from 11:45 am. Students must carry their Admit card, Registration Card on the examination hall.
**Know more about New Question Format on Madhyamik 2018 exam with MCQ type.
West Bengal Madhyamik 2018 Examination Routine and timetable
• 12th March, 2018 (Monday): First Language (Bengali, English, Gujarati, Morden Tibetan, Nepali, Oriya, Gurumukhi, Tamil, Telugu and Santali).
• 13th March 2018 (Tuesday): Second language (English if English is not 1st language, Bengali or Nepali if English is 1st language).
• 14th March, 2018 (Wednesday): Geography.
• 16th March, 2018 (Friday): History.

•
17th March, 2018 (Saturday):
Physical Science.
• 19th March, 2018 (Monday): Mathematics.
• 20th March, 2018 (Tuesday): Life Science.
• 21st March, 2018 (Wednesday): All Additional Papers / Optional subjects.
This Madhyamik 2018 routine was officially published by WBBSE. For more details please visit their website. If you have any query or problem please post it in a comment. We will try to help you at our best. Best of luck for your first board examination.