Get West Bengal Madhyamik 2018 English Suggestion for new syllabus. A complete and syllabus wise English Suggestion for Madhyamik 2018 exam. Download WBBSE Secondary examination suggestion with Board's sample paper. Get Suggestion for short type questions, writing skill and other topics for Madhyamik 2018 English exam.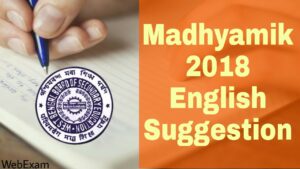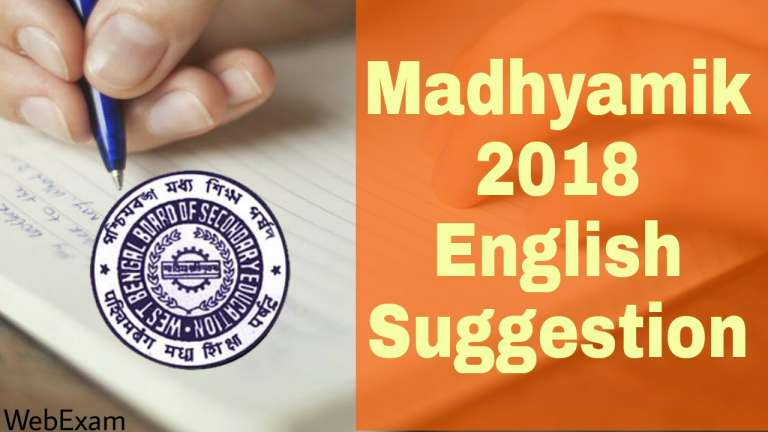 Like every year, this year also we publish Madhyamik 2018 Suggestion. Here we share the suggestion of English (Second Language) for West Bengal students. The Madhyamik examination will be started from 13th March 2018 (Tuesday). So prepare yourself for the best. I think this suggestion will help you in your preparation.
Click Here to get Madhyamik 2019 English Suggestion.
WBCHSE Madhyamik 2018 English Suggestion
Reading Comprehension – Seen (20 marks)
Some important passages with short answer type questions :
• Father's Help : 1. Describe Samuel.
2. How would you prove that Swami wanted to play truant?
3. How did Swami 's father behavior take an unexpected turn?
4. Why did Samuel Look impressed?
5. What idea occurred to Swami?
6. Do you think the strictness of his teacher!
7. Why was Swami confused?

Sea Fever
1. What does the poet wish to go and why?
2. What does the poet need in the voyage?
3. During what time of the day does the poet wish to go down to the seas?
The Passing Away of Bapu 1. Describe the scene when Gandhiji's ashes brought to Allahabad by special train.
2. Why was it impossible to move?
3. Why padmasi would walk with Gandhiji and what did it require to Gandhiji at the time of walking?
The Cat 1. Write about 'Little Prig'?
2. How did the Bun acknowledge the magnanimity of the mountain?
3. What is not disgrace to the squirrel?
4. Why must all sorts of things and weather be taken in together?
My Own True Family 1. What is meant by – 'where the wind's like a whetted knife'?
2. How the Pete described a preferred day for sailing?
3. Why does the poet want to go down to the seas?
4. How the solar satisfy the poet?
The Snail 1. Why is the snail displeased?
2. Where can the snail spotted and how it dwells?
* For very short type questions, like MCQ, True – False, Complete sentence, read the textbook and passage carefully.
Unseen Passage (20 marks)
There are total 20 marks from Unseen passage. Very short and short type questions come in this section. Practice test papers and other model questions papers for Unseen passage. You may follow recent English newspaper reports for unseen passage.
Grammar and Vocabulary (20 marks)
In this section questions come from the article – preposition, voice change, narration change, joining sentence, split up, verb etc. For this type questions practice test papers and model questions.
Phrasal Verb : Bing up, make out, take after, set back, running through, take for, break out, get through, call off, bring out, fall out, come round, come of, Look down upon, give in, bear away , keep on, pull up, carry out, come by, put up with, put on, come across, give up, look into.
Writing Skill (30 marks)
• Process of Preparation : Publication of newspaper, mango pickle, make a phone call, orange juice, coffee
• Paragraph : A book you recently read / A please you recently visit, Malala Yousafzaiu, Global Warming, Using of Polythene bags, Bookfair, Your hobby, Benefits of early morning exercise, Duties of Students.

•
Letter Writing :
Safe drinking water, A film you recently were seen, A book you recently read, Rising price of essential goods, loudspeaker, Accidents, Advantages and Disadvantages of the mobile phone.
• Notice Writing : Educational tour, Blood donation camp, free medical check-up, Tree plantation programme, football match, free distribution of books.
* For Report and Story writing practice the previous year questions papers and test papers.
If you have any query post it in the below comment section, we will try to resolve it at our best. Follow us on WebExam Facebook Page for more suggestions updates instantly. Click Here to Download Madhyamik 2018 all subjects Suggestion. If you like us then must share this suggestion and like our facebook page.