West Bengal SMFWBEE Examination Question Paper Download. Paramedical SMFWBEE question paper download. Best Reference books for SMFWBEE entrance exam. Paramedical admission test SMFWBEE suggestions. SMFWBEE previous year question download. Get the syllabus for the SMFWBEE examination. Get the complete syllabus of the West Bengal SMFWBEE Exam, and the paramedical entrance test.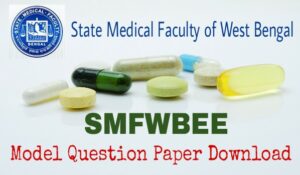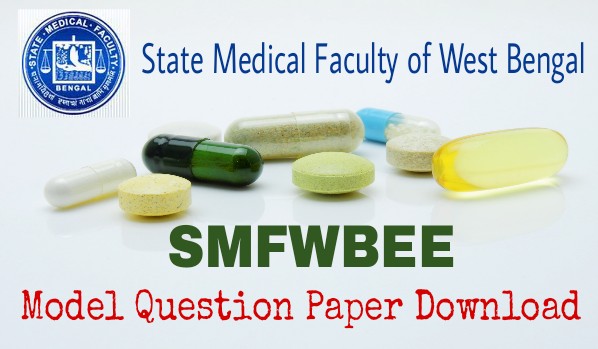 State Medical Faculty of West Bengal (SMFWB) will organise the SMFWBEE entrance exam for admission to Para Medical courses in different Medical Colleges/Govt. Institutions, Non-Govt. Affiliated Institutions in West Bengal.
SMFWBEE is an offline pen paper-based examination with MCQ questions. Read this article to get the SMFWBEE Question Paper, download the complete syllabus of the SMFWBEE exam and get SMFWBEE 2023 Suggestions. Know the best books for SMFWBEE Paramedical Entrance Exam exam.
SMFWBEE Exam Question Pattern
West Bengal SMFWBEE exam is pen-paper based examination on the OMR sheet. The question paper will contain two papers, Part – 1 (Biological Sciences) and Part-2 (Physics and Chemistry). Questions of these exams are not too much tough like WBJEE Engineering entrance.
On the Part-1 there will be 50 MCQ questions from Biology subjects and on the Part-2 there also will be 50 questions (25 from Physics & 25 from Chemistry). The total number of questions is 100 and each question carries 1 marks.

There will be no Negative Marking for the wrong attempt. The questions of SMFWBEE Exam will be set from the West Bengal 12th standard Board's syllabus.
The Question for MCQ Exam will be in Bilingual Mode – English / Bengali
Read More, Click Here to know more about SMFWBEE 2023 Online Application & Admit Card Info
SMFWBEE Exam Syllabus
The syllabus of State Medical Faculty of West Bengal SMFWBEE is the complete Biological Sciences, Physics and Chemistry syllabus of 12th standard WBCHSE Council's syllabus. Subject wise the syllabus given below,
Biology
The diversity of Living Organisms, Structural Organization of Plants, CELL: Structure & Function, Plant Physiology, Human Physiology, Reproduction in Organisms, Genetics and Evolution, Biology and Human Welfare, Biotechnology and its applications, Ecology and Environment.
Physics
Dynamics of rotational motion, Gravitation, Thermodynamics, Kinetic Theory of Gasses, Waves, Optics, Electrostatic field and Electric potential, Capacitance and capacitors, Heating effect of current, Electromagnetism, Alternating current, Electromagnetic waves, Semiconductors and Electronics, Quantum theory.
Chemistry
Atoms, Molecules and Chemical Arithmetic, Atomic Structure, Colloidal Solutions; Electrolyte solutions & Chemical Equilibrium, Gas Laws, The Periodic Table & The Chemical Families, Chemical Bonding & Molecular Structure, Chemistry of Non-metallic Elements & Their compounds, Chemistry of Organic Compounds, Chemistry in Industry, Environmental Chemistry, Radioactivity, Chemical Dynamics, Solutions, Acid-Base & Redox, Halogens, Metals, Organic Compounds, Biomolecules.
Read More, West Bengal Institute of Pharmacy D.Pharm Admission Online Application Form.
Best Books for SMFWBEE Exam
If you want to crack the SMFWBEE examination and get a good rank then at first, read syllabus wise textbooks and after that practice MCQ questions. Here we listed some books, which may help you to crack the West Bengal Para Medical Admission Test SMFWBEE Exam.
1. Biology Text Book by Dutta, Rath and Ganguly.
2. Biology Reference Books by Chhaya Prakashani.
3. Physics Reference Book by Prabir Sankar Sengupta, Shiekh Ashfaque Ali.
4. Chemistry Reference Book by Md. Salim, Rabindranath Patra, Goutam Kumar Mukherjee.
Although you can follow Jenpauh Entrance Exam Guide Book (Bengali Version) to prepare for your SMFWBEE 2023 Entrance Exam
SMFWBEE 2023 Preparation Tips
There are many ways to score a good rank in SMFWBEE 2023 Exam. As everyone knows that 'Hard work is the Key to Success', it is true also. But if you study smartly you will definitely score a good rank. Follow the below tips for SMFWBEE Preparation.
At first, read the complete syllabus carefully and then make a proper strategy to complete and revise it.
Download the SMFWBEE Question paper from below link. Understand the Question Pattern, type of questions and number distribution.
Practice MCQ questions from various Reference Books to boost your knowledge and accuracy speed.
Practice Online SMFWBEE Mock Test to understand more.
Practice, SMFWBEE Online Mock Test with important questions.
SMFWBEE Question Paper for Exam
More you practice more you learn. To help students we published SMFWBEE question paper for State Medical Faculty of West Bengal Entrance Exam SMFWBEE Students can practice SMFWBEE questions free of cost. Start the test by selecting the subject.
Download the SMFWBEE Question Paper in PDF Format – Click Here
If you want to get a good rank on SMFWBEE exam, at first try to read carefully the chapters according to the HS Syllabus syllabus. After that practice various question papers and practice books.
If you have any query, post it in the below comment box. We will definitely try to resolve it. If you like this post share it on your social media to help others. Download these model SMFWBEE Question Paper and practice it to understand the question pattern.