Times Scholarship 2023 Online Application process and Eligibility Criteria. Learn how to apply for Times Scholar Scholarship Programme. Get more information about the scholarship amount. Times Spark Scholarship 2023 for Indian School Students. Apply Online for Times of India Scholarship Programme for Class 10th to Class 12th School Students. Know the Eligibility Process, Evaluation Process and Scholarship Prizes – Dell Laptops.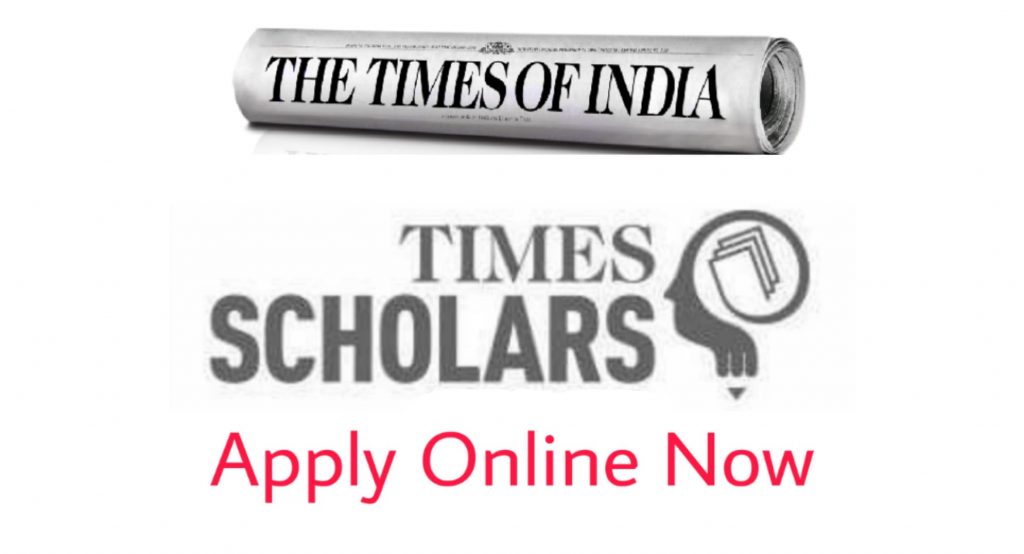 One of the most popular Indian newspapers The Times of India associated with Dell, providing scholarships to class 10 to 12 school students. The name of this scholarship program is TIMES SCHOLARS 2023. To develop the Awareness, Responsibility, and Knowledge among the young school students, the Times of India organize this scholarship program.
The main of this scholarship program is, to improve and develop a reading habit, which will help them to understand and make a better society for us in future. Students from class X to XII are eligible for this Times scholarship.
Times Scholars 2023 Info Chart
| | |
| --- | --- |
| Name of Scholarship | Times Scholars 2023 |
| Provided by | Times of India |
| Eligibility | Class 10th to 12th School Students |
| Selection Process | Online Examination |
| Online Application Last Date | November 2023 |
| Website | timesscholars.com |
Times Scholarship Eligibility Criteria
Students of classes X to XII can apply for Times Scholarship programme in two different levels, which are defined below. These levels constitute two categories in which participants will be evaluated.
Level 1 – Students from Classes X and XI
Level 2 – Students of Classes XII
This is the only eligibility criteria required to apply for Times Scholarship 2023 for School students.
Apply Online for Swami Vivekananda Merit Cum Means Scholarship
Scholarship Rewards and Prizes
After the final assessment/Examination of this Scholarship programme, students will get many many rewards and prizes from Times of India, Dell and Bennett University. The scholarships rewards for both levels are given below.
Level-1 (Class X and XI): The best performing 100 students to be awarded a Dell laptop each.
Level -2 (Class XII): The best performing 100 students to be awarded a Dell laptop each. Selected students from Class XII will also be eligible for admission in the undergraduate courses at Bennett University with a scholarship applicable for 1 year. The students will need to fulfil the eligibility criteria of the University.
Times Scholarship 2023 Evaluation Process
Times of India will organize the complete Scholarship Programme Online and through their newspaper article.
Reading Phase: Beginning October 25, The Times of India newspaper will carry ONE article each day, in its print version, across a range of fields such as current affairs, science & technology, sports, politics, social issues, education, global developments etc. over a span of 50 days. These articles will provide multidimensional perspectives to help students get a deeper understanding of various interesting subjects. The articles will have a label reading TIMES SCHOLARS.
Practice Tests and Presentations: Weekly practice tests will be conducted online, with questions based on the article. Twice during the programme, candidates will be asked to summarize articles and share their view in the form of a PowerPoint presentation, which they can upload on the site. Each practice test will comprise 3 stories, each with 6 questions, to be answered in 15 minutes
Final Examination: During Dec 21-23, 2023, there would be an online test followed by an interview to assess the students' understanding & perspective. The test will comprise 11 stories, each with 6 questions, to be answered in 60 minutes
First Shortlist and Interviews: The First Shortlist of the programme will be decided basis the cumulative score i.e. participation marks in the practice tests and presentations + marks achieved in the final examination. The best performers, in terms of the cumulative score, will need to appear for an interview in person.
Winners and felicitation: For each of the two levels (as mentioned in the Eligibility criteria mentioned earlier), 100 winners will be chosen as winners. A select number will be invited to a felicitation ceremony whose details will be communicated later.
Read More about Indian Scholarships List for School and College Students.
Application Process & How it Works
Application for TIMES SCHOLARS Scholarship will be done through online only. To apply online visit the website, www.timesscholars.com and then click on the 'Register Now' link. Fill all the details information and submit the application form. Last date of Online Application, is November 2023.
There are no Application Fees required to apply for Times Scholars Scholarship Programme.
From October 2023 by 'The Times of India' newspaper daily. This newspaper will contain articles from various fields like current affairs, sports, technology, social issues, science, global development and much more. These articles will help the students to learn and develop their reading skills and knowledge. This is will continue up to 3 months.
After 3 months (nearly mid of December 2023) an Online Test will be held on the basis of that articles which published in the 'The Times of India' newspaper from last three months. After the online test, an interview also held to assess the understanding and prospect of the students. Result for this scholarship will be declared on February 2023.
Apply Online for Times Scholarship 2023 – Click Here
Important Dates
Here the important dates for 'TIMES SPARK Read to Lead' Scholarship program are mentioned.
| | |
| --- | --- |
| Online Application Start | September 2023 |
| Online Application Close | October 2023 |
| Reading Phase: Daily articles to appear in TOI | Oct to Dec 2023 |
| Final Exam Conduct Online | Dec to Dec 2023 |
| Result Announced | February 2024 |
Read More, Apply Online for LIC Golden Jubilee Scholarship Scheme
Contact Info & Helpline
If you need any helpline support or contact information regarding Times Scholarship 2023, you can write at info@timesscholars.com email call on 022-68504282 (10 AM to 6 PM Monday to Saturday). You can also visit to the official website for more details information.
This is the complete information about Times Scholarship 2023. If you have any questions about this scholarship post it in the comment section.