Download HS Philosophy Suggestion 2021 for 90% common on Examination. West Bengal Higher Secondary 2021 Exam Philosophy Suggestion Download with all the important questions. Get all the new syllabus exam suggestion for WBCHSE Higher Secondary 2021 Philosophy Subject. উচ্চ মাধ্যমিক 2021 দর্শন সাজেশন ডাউনলোড। Uchha Madhyamik 2021 Darshan suggestion. HS 2021 Last-Minute Suggestion for Philosophy Suggestion.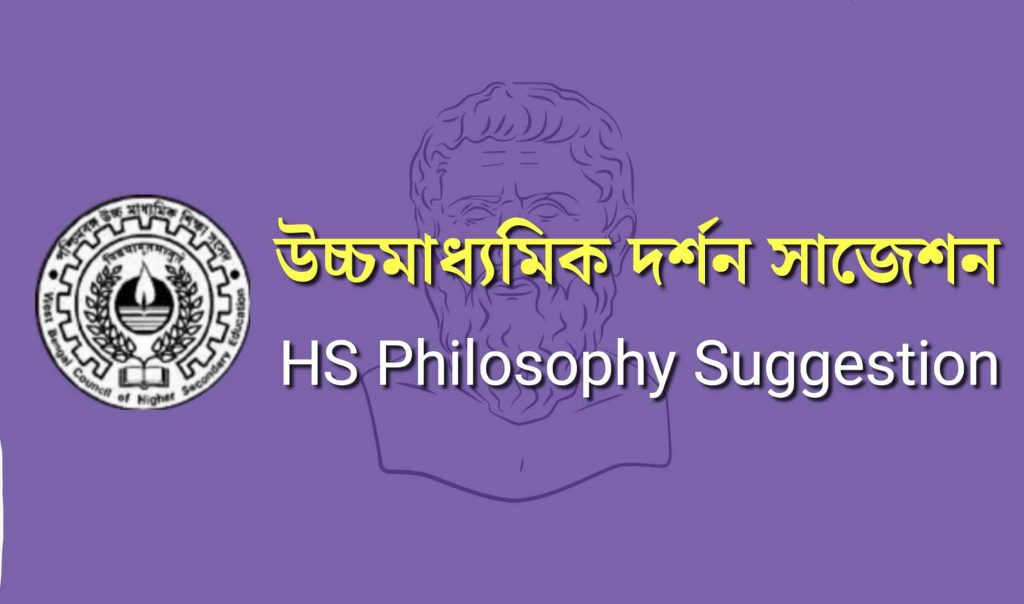 West Bengal Council of Higher Secondary Education (WBCHSE) HS 2021 Philosophy Exam will be held in March 2021, all over West Bengal. Philosophy Subject mainly for the HS Arts students. Here on this website, we published a suggestion copy of Philosophy Subject for HS 2021 students. Download West Bengal last-minute HS Philosophy Suggestion 2021.
Download the complete HS Philosophy suggestion 2021 for a better Marks on your Examination. On this suggestion, our experienced teachers tried to list all the important and suggestive questions for this year Higher Secondary Examination. The complete HS 2021 Suggestion prepared on the basis of the new syllabus and question pattern.
| | |
| --- | --- |
| Exam Name | HS 2021 Exam |
| Council | West Bengal Council of Higher Secondary Education |
| Subject | Philosophy |
| Exam Date | March 2021 |
| Suggestion Probability | 87% |
Get the best quality WBCHSE Higher Secondary 2021 Philosophy Suggestion with sure common in the exam. The important questions for HS Philosophy 2021 exam. This West Bengal HS Philosophy Suggestion prepared by expert subject teachers. Know all the important questions and answer for Higher Secondary Philosophy Exam 2021.
Exam Date and Schedule
West Bengal Council of Higher Secondary Education already published the offline Routine for HS 2021 Examination. According to this official routine, HS Philosophy Exam 2021 will be held on March 2021. The Written exam will start from 10:00 am and continue up to 1:15 pm. If you don't have to latest and updated HS 2021 Exam Routine and Schedule, then Click Here.
WB HS Philosophy Syllabus & Question Pattern
There are thirteen chapters on West Bengal Higher Secondary Philosophy subject. The chapters are mentioned below.
| | | | |
| --- | --- | --- | --- |
| Argument | Proposition | Opposition of Prop. | Immediate Inference |
| Categorical Syllogism | Hypothetical Dissuntive | Boolean | Venn |
| Truth Function | Nature of Induction | Cause | Mill's Method |
| Inductive Fallacy | | | |
Questions will come from all these chapters. There will be MCQ type questions, short answer type questions and descriptive type questions.
Now, discuss the question pattern. Totals for written Examination of HS Philosophy Exam is 80 Marks. The Higher Secondary Philosophy question paper contains two parts, A & B. Part-A contains five questions of 8 marks (Total 40 Marks). Part-B contains very short answer type questions & MCQ of 1 mark each, total 40 questions and total marks 40.
HS Philosophy Suggestion 2021 Download
Philosophy is an important subject for HS Arts students. Download the HS Scientific suggestion 2021 for Philosophy subject and start practising. You can practice previous year question papers and WBCHSE Model question paper for more percentage.
Suggestion, Click Here to Download Higher Secondary 2021 Philosophy Suggestion
Here on this WebExam HS Philosophy Suggestion 2021, all the probable important questions are mentioned. Our expert Philosophy subject teacher prepared this suggestion after understanding the previous year question pattern trends. We hope you will definitely get common from this suggestion.
Also get, Download WBCHSE HS 2021 All Subjects Suggestions for Arts Students
Download HS Philosophy Suggestion 2021 pdf with sure common in the examination and know all the important MCQ and short questions. WBCHSE HS 2021 Model Question Paper Download for Philosophy Subject.
This is the complete suggestion for HS 2021 Exam. Always remember 'Suggestion' means probable, it may come to the exam or may not. But here we tried to list all the important questions for WBCHSE HS 2021 Philosophy Exam. If you have any problem you can post it in the below comment box.