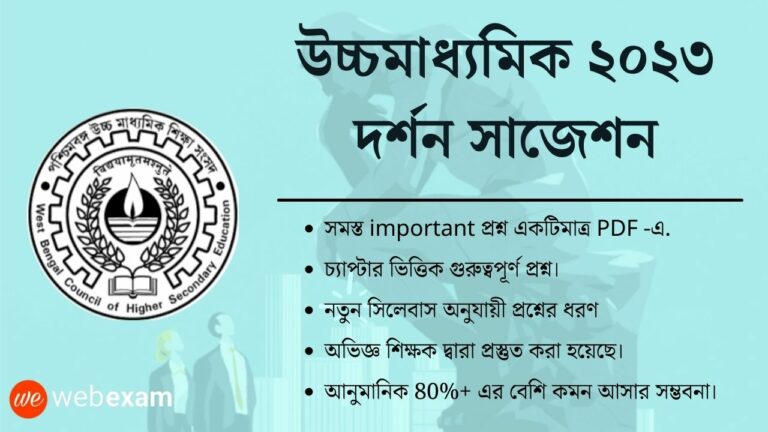 Download HS 2023 Philosophy Suggestion with sure come on in the examination. West Bengal Council of Higher Secondary Education HS 2023 Philosophy suggestion download with all the important questions. Get the best quality and trusted HS Philosophy Suggestion for West Bengal Students. উচ্চ মাধ্যমিক 2023 দর্শন পরীক্ষার সাজেশন ডাউনলোড। Know all the questions which will come on the HS 2023 Philosophy exam. উচ্চ মাধ্যমিক দর্শন সাজেশন.
Download Price: ₹ 49
HS 2023 Philosophy Suggestion pdf Download
West Bengal Council of Higher Secondary Education (WBCHSE) HS 2023 Philosophy suggestion PDF download. This year HS examination will be held on 20th March 2023. Arts students will seat for this examination. Download HS Philosophy Suggestion 2023 to know all the suggestive and important questions for this year's Higher Secondary examination.
Expert Philosophy subject teachers prepared this suggestion on the basis of previous year question paper trends and some other factors. You will get at least 80% common from the suggestion.
This HS 2023 Philosophy Suggestion is in Bengali version so you can easily understand it and practice it. This suggestion content questions from all the chapters of 8 marks. We also added some essential very short answer type questions (1 mark each) in this suggestion.
If you want to score more than 90% marks on your Higher Secondary 2023 Philosophy exam, then download the session and follow our website.
Buy HS 2023 Philosophy Suggestion in PDF Version
পশ্চিমবঙ্গ উচ্চমাধ্যমিক শিক্ষা সংসদের উচ্চ মাধ্যমিক 2023 দর্শন পরীক্ষার সবচেয়ে ভালো এবং গুরুত্বপূর্ণ সাজেশন ডাউনলোড। এই সাজেশন সমস্ত বড় প্রশ্ন এবং বেশ কিছু সংক্ষিপ্ত প্রশ্ন দেওয়া আছে যেগুলি এই বছর উচ্চ মাধ্যমিক পরীক্ষার জন্য খুবই গুরুত্বপূর্ণ।
You can download Higher Secondary 2023 All Subjects Suggestion – Click Here
Wish you all the very best for your most important board exam. We hope you will score a good percentage on Higher Secondary examination 2023.