West Bengal Madhyamik 2021 Geography Suggestion Download in Bengali version. WBBSE Madhyamik Geography suggestion 2021 pdf version as per New syllabus. Get the complete Madhyamik Geography Suggestion 2021 with approx 92% Common in Examination. Madhyamik 2021 Geography Suggestion pdf download. Madhyamik Scientific Suggestion in New Syllabus. WBBSE Class 10th Geography exam notes and Important questions.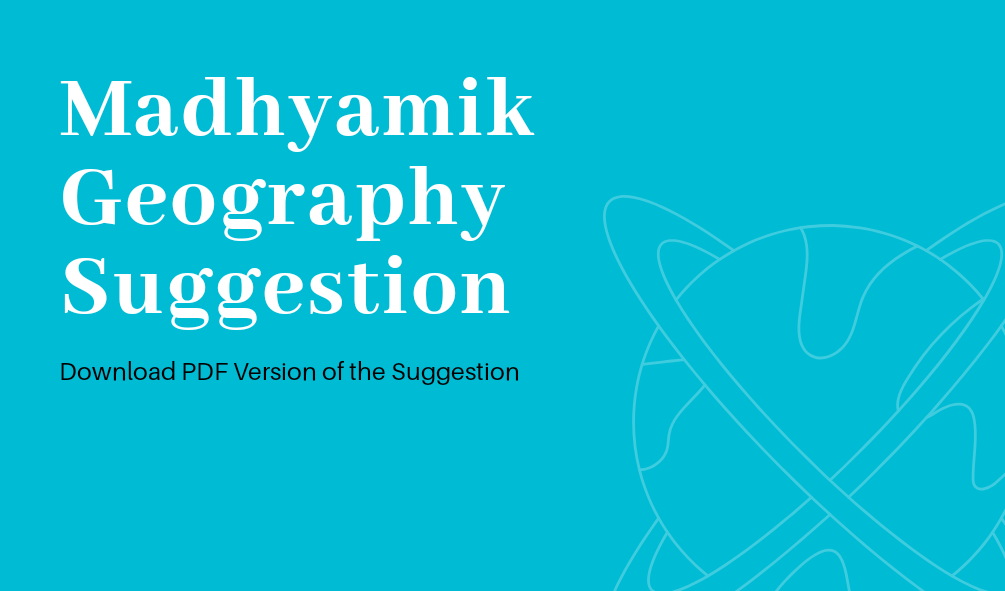 West Bengal Board of Secondary Education (WBBSE) Madhyamik 2021 Exam Suggestion download for Geography subject. West Bengal Madhyamik 2021 Examination will be started from February. Students, who are currently studying in Class 10th, will seat for their first Board Exam Madhyamik.
West Bengal Board of Secondary Education will organize this Examination all over West Bengal. WBBSE Madhyamik 2021 Geography question paper download.
Download Madhayamik Geography 2021 Suggestion with all the important questions and Notes. This year Madhyamik 2020 Geography exam will be held on 3rd June 2021 at 11:45 am to 3:00 pm. Download West Bengal Madhyamik 2021 Geography Suggestion.
Total marks for West Bengal 10th Class Geography Board Exam is 100, under which 90 marks for written test and 10 marks for the oral test. Question paper for Madhayamik 2021 Geography subject will be prepared on the basis of the new syllabus prepared by WBBSE.
The Madhyamik Geography Question Paper will contain 14 marks MCQ questions, 22 marks very short answer type questions, 12 marks short answer type questions, 12 marks descriptive type questions, 20 marks essay type questions and 10 marks map pointing. Get the Madhyamik test and Final Exam Geography Suggestion 2021 with maximum common in the exam.
Madhyamik Geography Suggestion 2021
Know some basic but important information about the Madhyamik Geography Suggestion.
| | |
| --- | --- |
| Exam Name | Madhyamik 2021 |
| Council | West Bengal Board of Secondary Education |
| Subject | Geography |
| Exam Date | 3rd June 2021 |
| Suggestion Probability | approx 92% |
Madhyamik Geography Exam 2021
WBBSE Published the Madhyamik Routine 2021, according to this routine Geography Examination will be held in 3rd June 2021. The examination will start at 11:45 am and continue up to 03:00 pm. Total marks for Madhayamik Geography Subject is 100, out of which 90 marks for written examination and 10 marks for viva voce. Every section has extra optional questions.
Madhyamik Geography Syllabus
West Bengal Board of Secondary Education (WBBSE) Madhyamik Geography Syllabus with all the important chapters and marks distribution. Download the Madhyamik 2021 Geography Syllabus and Question Paper. মাধ্যমিক 2021 ভূগোল সাজেশন.
| | |
| --- | --- |
| বিষয় | অধ্যায় |
| প্রাকৃতিক ভূগোল | বহির্জাত প্রক্রিয়া ও তাদের দ্বারা সৃষ্ট ভূমিরূপ |
| আঞ্চলিক ভূগোল | ভারত – ভূমিকা, প্রাকৃতিক পরিবেশ, অর্থনৈতিক পরিবেশ |
Questions on the Geography / Bhugol exam will come from these chapters. All the chapters are equally important, so read them carefully.
Madhyamik 2021 Geography Suggestion Download
Geography is one of the most scoring subjects in Madhyamik Examination. By reading the textbooks and practise the questions papers, you can easily get a good percentage. Carefully practice the Indian map pointing. Madhyamik Geography 2021 Scientific suggestion download. Download the pdf version of Madhyamik Bhugol important suggestion.
Click here to Download Madhyamik Geography Suggestion 2021 PDF
Madhyamik Geography suggestion 2021 can be downloaded from the below link. Download the suggestion and practice for your WBBSE Board examination. This suggestion is always better than any other suggestion available on the internet. Hope this will help you to score a good percentage.
Practice Madhyamik 2021 Geography Online Mock Test – Click Here
This Madhyamik 2021 Geography Suggestion prepared by expert subject teachers. Hope this will help you on your first Board Examination. At first, read Carefully your textbooks and then practice this suggestion paper. On this suggestion, all the questions are mentioned, which are important Madhyamik 2021 Geography exam.
FAQs about Madhyamik Geography Suggestion
Can I get common from this Madhyamik Mathematics Suggestion?
Yes, you will get maximum number of questions common from this suggestion. Experienced subject teachers prepared this suggestion.
What is the price of this Suggestion?
The price of West Bengal Madhyamik Mathematics suggestion 2021 by WebExam is Rs.40.
Does questions from all the chapters available here?
Yes, questions from all the chapters of WB Mathematics syllabus is listed here. The suggestion is prepared chapter-wise marks distribution.
Is MCQ or very SAQ Questions are in the Suggestion pdf?
No, the suggestion not contains any MCQ or very SAQ type questions. It has only 2 marks or higher marks questions only.
Is this Math Suggestion is enough to get good percentage in the exam?
You can expect a good number of common from this suggestion, but before follow any suggestions, read your text books carefully. The suggestions contains only the most important questions only. For good percentage read the books first then follow the suggestions.
This suggestion prepared on the basis of all the important questions for this year Examination. This is not a complete study material, never depends upon only this suggestion. Read carefully your textbooks first.
Remember, suggestions taken is injurious to examination. If you have any query post it in the below comment box. We will try to help you by answering your comments. Wish you all the very best for your Madhyamik Exam. WBBSE Madhyamik Geography Question Paper and Suggestion Download.