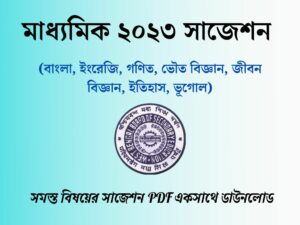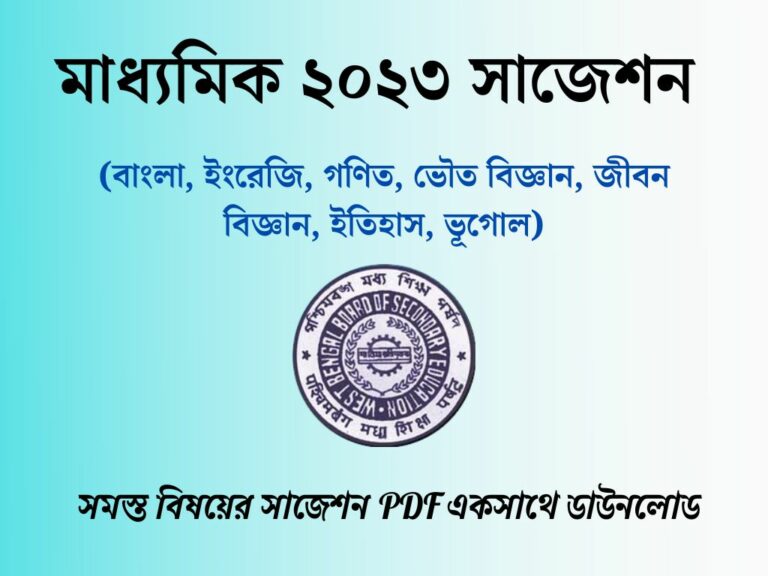 Download Madhyamik 2023 Suggestions for all seven subjects. West Bengal Madhyamik 2023 Suggestion pdf download. Madhyamik last-minute Suggestion 2023 for Bengali, English, History, Geography, Physical Science & Life Science. WBBSE Madhyamik 2023 Suggestion with sure common in the exam. Download Madhyamik exam suggestions from our most trusted source. West Bengal 10th Board Exam 2023 Suggestion with last-minute tips and tricks.
Price: ₹ 250
(Publish Soon)
Madhyamik 2023 Suggestion Download All Subjects
Download West Bengal Madhyamik 2023 Suggestion with Sure Common in the examination. WBBSE will start the Madhyamik 2023 examination fin February 2023. Know all the important questions with the suggestion for Madhyamik 2023 Exam. Download Madhyamik last-minute suggestion 2023 and score more than 90% marks in your first board examination.
Here on this suggestion, we added all the seven subjects. Only the most important questions are mentioned in this Madhyamik 2023 Suggestion. Get the most trusted and sure-shot Madhyamik suggestion from WebExam.
| | |
| --- | --- |
| Exam Name | Madhyamik 2023 |
| Subject | All Subjects (BNG, ENG, MATH, PHY, LYF, HIS, GEO) |
| Price | ₹ 250 |
| Suitable for | Test & Final Exam |
| File Size | 157 KB (PDF) |
| Suggestion Probability | 90% |
Madhyamik 2023 Suggestion Download – ALL SUBJECTS
This suggestion pdf contains the following subjects,
Bengali
English
Mathematics
Physical Science
Life Science
History
Geography
Get all subjects' suggestions in one pdf. This will help you to improve your Madhyamik 2023 preparation and increase your confidence level.
This suggestion pdf is in the Bengali version. So you can easily understand it and also read it easily.
Our expert subject teachers tried to add all the most important questions in this suggestion pdf according to their subject. We hope you will definitely get common from here. Download Madhyamik 2023 Suggestion with last-minute tips and tricks to get more marks. Guarantee common in the Madhyamik 2023 examination.
Why do you Download this Madhyamik Suggestion?
Here are some features of our Suggestion, before buying it you can view this and after that, you can download it.
The Suggestion is in the Bengali Version.
This suggestion contains questions from all seven subjects.
All the chapters from each subject are covered in the Suggestion pdf.
We also added the MCQ and very short answer-type questions into this Madhyamik Suggestion.
This suggestion is computer typed, so you can easily read it.
Our aim is always to help our students.
Lastly, we are providing Suggestions since 2014. So, we are trusted.
We hope these points are enough to understand WebExam and its Madhyamik 2023 Suggestion quality. If you want to buy the Suggestion for each individual subject then Click Here.