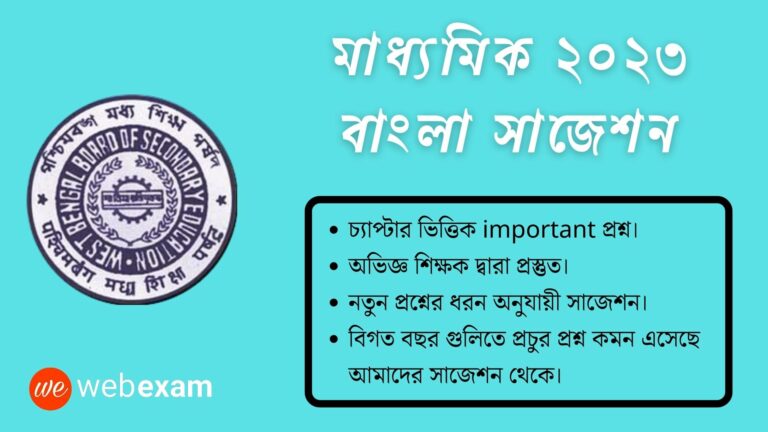 Download Madhyamik 2023 Bengali suggestion as per new syllabus with sure come. West Bengal Board of Secondary Education Bengali 2023 question paper download with the new syllabus. Know all the important questions and download the PDF of Madhyamik 2023 Bengali Suggestion. মাধ্যমিক 2023 বাংলা সাজেশন ডাউনলোড। পশ্চিমবঙ্গ মাধ্যমিক পরীক্ষার জন্য শেষ মুহূর্তের সাজেশন ও গুরুত্বপূর্ণ প্রশ্নোত্তর।
Download Price: ₹45
Basic Info about Madhyamik 2023 Bengali Suggestion
Know some basic information about West Bengal Madhyamik 2023 Bengali Suggestion. Download the WBBSE Madhyamik Bengali Suggestion 2023 prepared by the expert subject teachers with sure common.
| | |
| --- | --- |
| Exam Name | Madhyamik 2023 |
| Subject | Bengali (1st Language) |
| Price | ₹ 45 |
| Suitable for | Test & Final Exam |
| File Size | 262 KB (PDF) |
| Suggestion Probability | approx 92% |
Madhyamik 2023 Bengali Suggestion PDF
Bengali is the first language for many Madhyamik Students in West Bengal. So, you will definitely want to score good marks on your Bengali Subject. Also, it will increase your overall Madhyamik 2023 percentage. To check your preparation download this Madhyamik 2023 Bengali suggestion.
This suggestion strictly followed the latest reduced syllabus published by WBBSE for Madhyamik 2023 Examination.
Only a few months left for WBBSE Madhyamik 2023 Exam. The first day of the Madhyamik exam will Bengali Exam. So start practising for this exam, so you can easily score more than 90% marks on your first Board Examination Madhyamik 2023.
Download the Madhyamik 2023 Bengali Suggestion
মাধ্যমিক বাংলা পরীক্ষার এই সাজেশনটিতে আমরা সমস্ত প্রকার ২, ৩ নাম্বারের প্রশ্ন এবং গুরুত্বপূর্ণ প্রবন্ধ রচনা গুলি উল্লেখ করা হয়েছে। এই সাজেশনটিতে নিম্নলিখিত কবিতা গল্প ও নাটক গুলির প্রশ্ন দেয়া হয়েছে –
জ্ঞানচক্ষু, বহুরূপী, পথের দাবী, অদল-বদল, নদীর বিদ্রোহ, অসুখী একজন, আয় আরো বেঁধে বেঁধে থাকি, অভিষেক, প্রলয়োল্লাসে, সিন্ধুতীরে, আফ্রিকা, হারিয়ে যাওয়া কালি কলম, বাংলা ভাষায় বিজ্ঞান, সিরাজদৌল্লা, কোণি, প্রবন্ধ রচনা, সংলাপ রচনা, প্রতিবেদন রচনা।
Our experienced subject teachers prepared this Madhyamik 2023 Bengali Suggestion with their experience and prediction. We hope you will get the maximum number of common from this suggestion. Questions from all the chapters are mentioned in this suggestion. Download West Bengal Madhyamik Last Minute Scientific Suggestion for Bengali Subject.
Wish you all the very best for your first Board Examination Madhyamik. We know, you will do your best and score a good percentage.