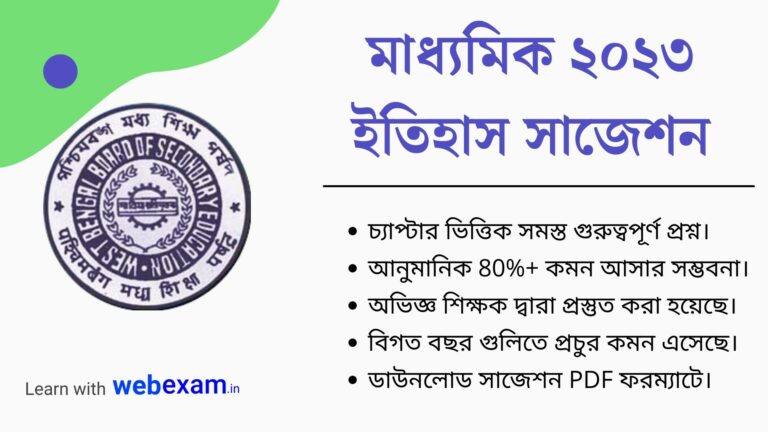 Download Madhyamik 2023 History suggestion with sure common in the examination. West Bengal Board of Secondary Education Madhyamik 2023 History suggestion New Syllabus PDF download. MP History all the important questions. Download Last minute Madhyamik History Suggestion 2023.
Download Price: ₹45
Basic Info about New Syllabus Madhyamik 2023 History Suggestion
Know some basic information about West Bengal Madhyamik 2023 History Suggestion. Download the WBBSE Madhyamik History Suggestion 2023 prepared by the expert subject teachers with sure common.
| | |
| --- | --- |
| Exam Name | Madhyamik 2023 |
| Subject | History |
| Price | ₹ 45 |
| Suitable for | Test & Final Exam |
| File Size | 224 KB (PDF) |
| Suggestion Probability | 88% |
Madhyamik 2023 History Suggestion PDF
West Bengal Board of Secondary Education (WBBSE) Madhyamik 2023 History Suggestion PDF Download in Bengali Version. This year Madhyamik history examination will be held on 22nd February 2019. Download this Madhyamik 2023 Suggestion and get all the questions to come on your first Board exam.
This suggestion strictly followed the latest reduced syllabus published by WBBSE for Madhyamik 2023 Examination.
This Exam Suggestion was prepared by expert History subject teachers. Show all the important questions mentioned here. WB Class 10 Madhyamik History Suggestion Download and start practising for the Examination.
Important questions from all the chapters are mentioned in the suggestion. Only 2, 4 and 8 Marks questions are available on this suggestion pdf.
If you want to score more than 90% marks on your Madhyamik 2023 history exam then definitely Download this Suggestion and get common.
পশ্চিমবঙ্গ মধ্যশিক্ষা পর্ষদ মাধ্যমিক 2023 ইতিহাস পরীক্ষার সবচেয়ে ভালো এবং গুরুত্বপূর্ণ সাজেশন ডাউনলোড। এই সাজেশন এ সমস্ত সম্ভাব্য প্রশ্ন উল্লেখ করা আছে। আশা করা যায় এই সাজেশন থেকে তোমরা অনেক প্রশ্ন মাধ্যমিক 2023 পরীক্ষায় কমন পাবে।
You can download Madhyamik 2023 All Subjects Suggestion – Click Here
Team WebExam wishes you all the very best for your first board examination. Keep reading your textbooks and this suggestion.