Netaji Mahavidyalaya Admission 2020. Apply online for Admission in the Undergraduate (UG) B.A, B.Sc, B.Com (Honours & General) courses on Netaji Mahavidyalaya, Arambagh. This college is under Burdwan University. Online Admission for the seasons 2020 is started now. Higher Secondary passed eligible students can apply for Netaji Mahavidyalaya Admission 2020. Download the admission Merit list.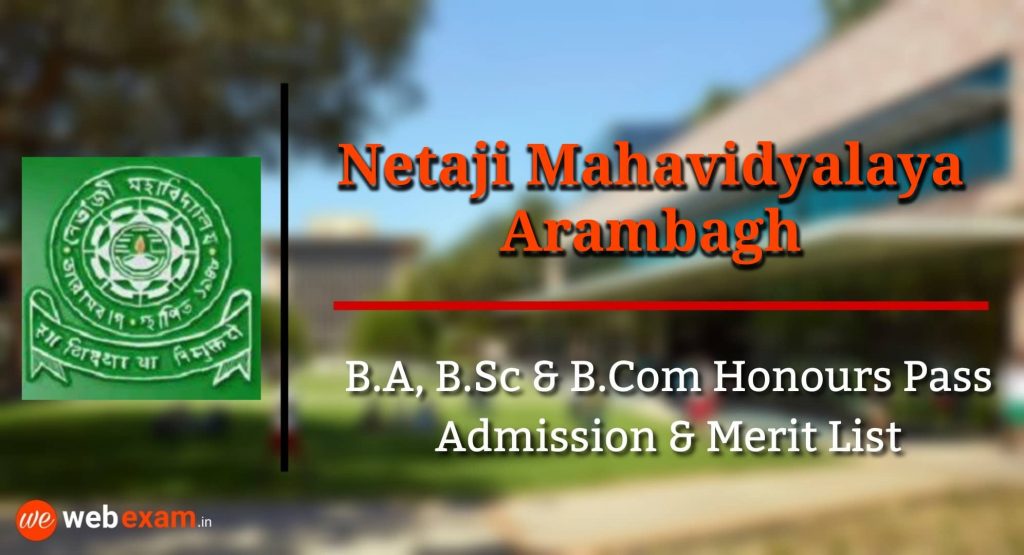 Know all the details information about Netaji Mahavidyalaya Merit list 2020 and Admission. B.A, B.Sc & B.Com (Honours & Pass) course Admission notification published. Apply Online and also check your Online Merit Rank for next Admission List.
Netaji Mahavidyalaya Admission 2020
Here is some important information about Netaji Mahavidyalaya Admission 2020 in a table.
| | |
| --- | --- |
| College Name | Netaji Mahavidyalaya, Arambagh |
| Affiliated by | The University of Burdwan |
| Available Courses | B.A, B.Sc & B.Com |
| College Type | Private Aided |
| College Website | netajimahavidyalaya.org |
About Netaji Mahavidyalaya
Netaji Mahavidyalaya is a well-known and popular Degree College at Arambagh. This college established in 1948. This college is affiliated by The University of Burdwan. Currently, Arts, Science and Commerce streams are available on this college. Netaji Mahavidyalaya, Arambagh is recognised by UGC and Accredited by NAAC by B++ grade.
Available Departments of Netaji Mahavidyalaya
Currently, there are total of 3 streams available on Netaji Mahavidyalaya for Undergraduate course. These three streams are Arts, Science and Commerce. The following subjects are available under each course stream.
Arts
Bengali
English
Sanskrit
History
Political Science
Philosophy
Economics
Geography
Santhali
Physical Education
Mathematics (B.A.)
Science
Physics
Chemistry
Mathematics
Zoology
Botany
Computer Science
Environmental Science
Geography
Economics
Commerce
Accountancy
Business Administration (BBA)
Read More, List of all Scholarships for College Students
Available Facilities
Netaji Mahavidyalaya has the following facilities for the students.
1. Hostel
2. Library
3. Canteen
4. Gymnasium
5. NSS
6. Campus Interview
7. Career Counselling
8. Games & Sports
9. Grievance Cell
10. Anti-ragging Cell
11. Women's Cell
12. Online Library
13. Health Facilities
Read More, List of Colleges under Burdwan University for UG Course Admission
Online Admission Process
Students have to apply Online to take Admission on Netaji Mahavidyalaya under UG course. Online Admission portal will Open after publishing the Higher Secondary 2020 result. Students can apply for B.A, B.Sc, B.Com course admission.
At first visit the official admission portal of Netaji Mahavidyalaya, netajimahavidyalaya.in and then register yourself by providing some basic information. Online Application for UG Admission will start from 1st week of May 2020. Candidates have to pay ₹70 for each subject application through online.
At the time of Online Registration / Application, students have to enter their HS marks in detail and also have to upload his/her scanned photo and signature. After completing all these steps take a printout the system generated application form containing a Unique Application Number.
Read More, Apply Online for Yuvashree Prakalpa – Employment Bank
Netaji Mahavidyalaya Admission Merit list
Netaji Mahavidyalaya, Arambagh will publish the provisional Merit list on their official website for B.A, B.Sc, B.Com Honours and General Courses. Merit will be published within one week of the last date of application. Selected candidates' can take admission after documents verification.
This admission merit list will prepare on the basis of candidates' HS marks. Separate merit will publish for each honours subjects and pass the course.
Generally, Netaji Mahavidyalaya publishes 5 to 7 phases merit list to fillup it's all the seats. Netaji Mahavidyalaya Admissions Merit List 2020 will available on netajimahavidyalaya.org website.
Download Netaji Mahavidyalaya Admission 2020 1st Merit List – Click Here
Counselling & Documents Verification
Selected candidates have to pay the 1st-semester fees online (on college admission portal) at the time of admission to confirm his/her seat. No need to visit the college for documents verification. When college will open, documents verification will be done then. The following documents will require at the time of verification.
Computer Generated Application Form
HS Marksheet & Certificate
School leaving Certificate
HS Admit Card or Certificate
Madhyamik Admit Card
Caste Certificate (if any)
EWS Certificate (if any)
PH Certificate (if any)
Colour photograph
Admission Helpline
Students can visit the Netaji Mahavidyalaya for any help regarding the UG 2020 Admission process. You can also call 9474153614, 9434644949 these phone number or visit the official website of this college for the latest notifications and updates.
If you have any query or suggestions regarding this UG 2020 Admission process or our article, feel free to post it in the below comment box. We always trying to help you at our best.