Apply Online for Bana Sahayak 2023 under the West Bengal Forest Department. Know the official address to submit your application form correctly. Details information about West Bengal Bana Sahayak application process, job profile and salary. Know about the exam/selection process and eligibility criteria of WB Bana Sahayak Post 2023. Address to submit the application form at DFO office and Chief Conservation Forest Office.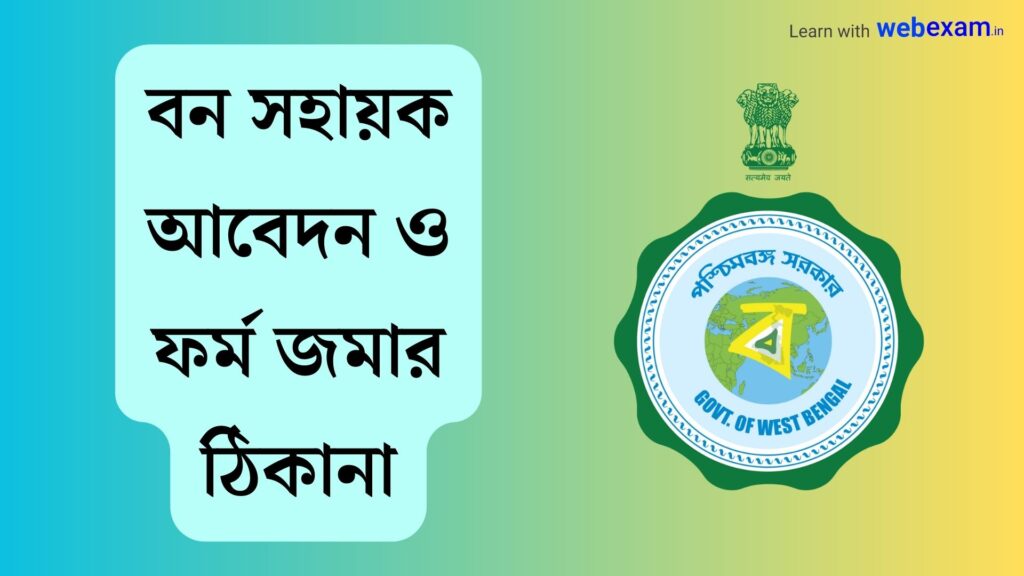 West Bengal Forest Department recently published a notification regarding the recruitment in the Bana Sahayak post. The total number of vacancies for this post is 2000 all over West Bengal. Eligible candidates can download the application form online and submit it to the following address as per their district.
Bana Sahayak Job Profile & Salary
Here is some very important information regarding West Bengal Bana Sahayak job profile and remuneration.
This is a contractual and temporary job, offered by the Government of West Bengal Forest Department.
Salary will be Rs. 1000 per month.
Initially joining shall be for one year. It may be extended on an annual basis as per Govt order.
Posting can be done on the candidate's home district or neighbour district.
The total number of vacancies for the Bana Sahayak post is 2000.
Eligibility Criteria
Candidates must have to follow the eligibility guidelines as per the official notification to apply for the Bana Sahayak post.
The educational qualification of the applicant, at least 8th passed.
The age of the applicant must be in between 18th years to 40 years as of 01/01/2023.
5 years age relaxation available for the SC & ST candidates.
The candidate must be physically fit and mentally stable.
Read More, Apply Online for the EWS Certificate in West Bengal
Bana Sahayak Job Interview Selection Process
Know the selection process, interview marks distribution and question pattern for West Bengal Bana Sahayak post.
After scrutinizing all the application forms, Board will select the eligible candidates.
Eligible Candidates will be called for an Interview. No written exam will organise.
Document verification also be done at the time of evolution-cum-interview by the Boards.
The interview will be done on a three-membered board and each member will assess a candidate by 100 marks.
As per the evolution-cum-interview marks, the final merit list will be prepared by the Forest Board.
Here is the marks distribution and subjects for the interview in the Bana Sahayak application.
| | |
| --- | --- |
| Subject | Maximum Marks |
| Ability to Read Bengali or any other Official Language | 30 |
| Ability to Write Bengali or any other Official Language | 30 |
| Ability to Read English or Hindi | 10 |
| General Knowledge Oral Test | 20 |
| Personality Fitness for Foresty works | 10 |
| Total | 100 |
Read More, List of Scholarships 2023 for West Bengal Students
Bana Sahayak Application Process 2023
The application process for West Bengal Bana Sahayak Recruitment 2023 is offline.
Download the pdf application form and print it out.
Filled the application form carefully with your details and attached a photograph.
Attach the following documents with it –

Age Proof Certificate (PAN Card, Aadhar Card / Birth Certificate etc).
Address Proof (Aadhaar Card/ Voter Card).
Educational Qualification (Marksheet and certificate of last exam passed).
Caste Certificate (if any).

All the documents must be self-attested.
Submit the application form to the respective Chief Conservation of Forest Office as per your district.
The application window will open only 7 days from the date of advertisement.
Postal Address to Sumit the Bana Sahayak Application Form
Here is the list of official addresses, where candidates can submit their filled application form for the Bana Sahayak post.
Resident District
Dropbox Address
Birbhum
o/o DFO Birbhum, Barabagan, P.O. Suri, Dist. Birbhum. Pin- 731103
Paschim Bardhaman
o/o DFO Durgapur, Shastri Avenue, Aranya Pally, Durgapur- 713212
Purba Bardhaman
o/o DFO Burdwan, Golapbag. P.O. Rajbati. Burdwan – 713104
Howrah and Hooghly
o/o DFO Howrah, Stadium Complex, 1st floor, Dalmia Park, 5 M.G.
Road, Howrah – 711101
Kolkata
o/o DCF URF, 10 Auckland Place, Eden Gardens, Kolkata 700001
South 24 Parganas
o/o DFO 24 Parganas South, New Administrative Building, 4th floor, 12,
Biplabi Kanai BhattacharjeeSarani, South Block, Alipore, Kolkata 700027
North 24 Parganas
o/o DFO 24 Parganas North, Court Complex, near Titumir Bus Stand,
Barasat – 700124
Nadia and Murshidabad
o/o DFO Nadia and Murshidabad, Anatheswar Road, near BSNL
Nakshatra Bhawan, P.O. Krishnagar, Dist. Nadia – 741101
Malda
o/o DFO Malda, Nazrul Sarani, Mukdumpur, P.O.: Malda Dist.: Malda
Pin- 732103.
Uttar & Dakshin Dinajpur
o/o DFO Raiganj, P.O. Karhahjora, Raiganj, Pin- 733130
Bankura
o/o DFO Bankura North, Machantala, P.O. & Dist. Bankura, Pin722101
Purulia
o/o DFO Purulia, Near Purulia Bus Stand, P.O. & Dist. Purulia, West
Bengal. Pin- 723101
Purba Medinipur
o/o DFO Purba Medinipur, Ganapatinagar, Nimtouri, Near DM Office,
P.O: Uttar Sonamui, Dist- Purba Midnapore, PIN: 721648
Paschim Medinipur
o/o DFO Medinipur, Michael Madhusudan Nagar, PO & Dist. Paschim
Midnapur, Pin- 721101
Jhargram
o/o DFO Jhargram, Ghoradhora, P.O.: Jhargram Dist.: Paschim
Medinipur Pin- 721507
Alipurduar
Indoor Stadium, Adjacent to o/o DFD BTR East, Alipurduar Court, P.O. Alipurduar, Dist. Alipurduar. Pin- 736122
Jalpaiguri
o/o DFO Jalpaiguri, Aranya Bhavan, Hakimpara, Old Court Campus Hakimpara, P.O & Dist. Jalpaiguri, Pin – 735101
Cooch Behar
o/o DFO Jaldapara WL, Nilkuthi P.O. CoochBehar Pin- 736101
Darjeeling
# o/o DFO Darjeeling, Barakakjhora, D.B. Giri Road, P.O. & Dist.
Darjeeling: 734101
# o/o DFO Kurseong, Dowhill, Kurseong, Pin – 734204
# o/o DFO Baikunthapur, Forest Administrative Building, Block-B, South
Shanti Nagar, Dabgram-II, P.O.Dabgram, Dist: Jalpaiguri
Kalimpong
o/o DFO Kalimpong, P.O. Kalimpong, Dist. Darjeeling, Pin- 734301
Put your filled application form and the documents in a single sealed envelope.
Submit it physically to the drop box address, as per your district.
Don't send your application form through speed post or registered post.
The best option is, to visit physically and submit it.
Although you can send your form through the ordinary post (not recommended).
Download West Bengal Bana Sahayak Application Form 2023 – Click Here
If you have any doubt, you can post it in the below comment box, we will definitely try to help you at our best. Although you can visit West Bengal Forest Department's website for more info.