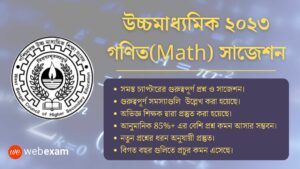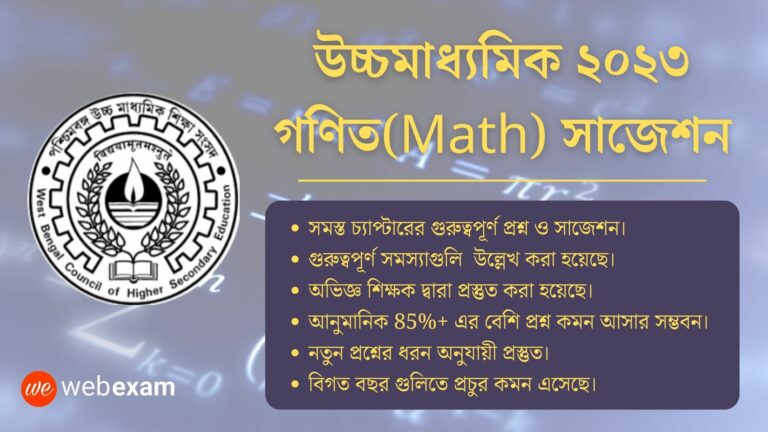 Download HS Mathematics Suggestion 2023 with sure common in the examination. Get the PDF version of West Bengal higher secondary 2023 Math suggestions with all the important questions. Last-minute exam suggestion for WBCHSE HS Mathematics Exam 2023. Download the West Bengal Council of Higher Secondary Education HS 2023 Mathematics Question Paper in Bengali version. Know all the suggested and sure shorts questions for Higher Secondary Math Exam.
Download Price: ₹ 50
[Currently Out of Stocks]
Download HS Mathematics Suggestion 2023 New Syllabus
Mathematics is an important subject for West Bengal Higher Secondary Science Stream students. If you are searching for HS 2023 Mathematics Suggestions to know the important questions, then you are in the right place. Download WBCHSE HS 2023 Mathematics Suggestion with at least 80% common in the Exam from our website.
This suggestion contains 2, 4 and 5 marks questions in the Bengali version. The questions are from the following chapters/units.
Relations & Functions

Algebra Matrix & Determinants

CALCULUS Continuity, Differentiability, Application of Derivatives, Integrals (Definite & Indefinite), Application of Integrals, Differential Equation

Linear Programming

Probability
Our experienced subject teachers' tried to add all the important questions from the above units in the suggestion. so you can expect the maximum number of common in HS 2023 Math examination from the suggestion. HS 2023 Mathematics exam will be held on 20th March 2023.
Buy HS 2023 Mathematics Suggestion in PDF Version
Some important features why you choose Higher Secondary 2023 Mathematics Suggestion from our website.
This HS 2023 Mathematics Suggestion was prepared by some very experienced subject teachers.

We tried to make this suggestion as much perfect, as we can.

The Suggestion is in Bengali Version and completely computer typing.

Questions from all the chapters are mentioned in this HS Mathematics Suggestion.

This Exam will be helpful for the Test as well as the Final HS 2023 examination.
You can download Higher Secondary 2023 All Subjects Suggestion – Click Here
If you completed your syllabus or will complete it soon, then download this suggestion and check your HS exam preparation. Know the suggestive questions from the HS Mathematics syllabus.
Download this HS 2023 Mathematics Suggestion and start preparing for the Board exam. Wish you all the best for your next big exam.