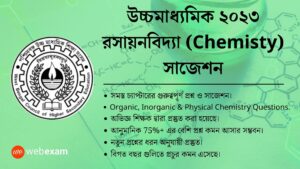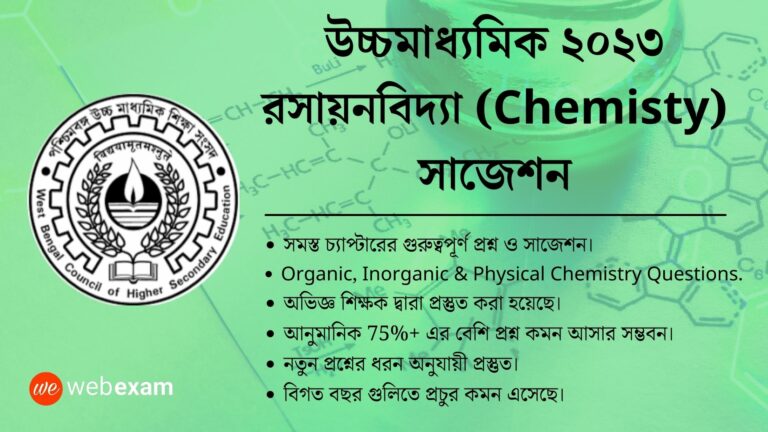 Download WBCHSE HS 2023 Chemistry Suggestion with Sure Common in the examination. West Bengal Higher Secondary Exam 2023 Chemistry Suggestion Download with all the important questions. West Bengal HS Chemistry exam last-minute suggestion with 90% common. West Bengal Council of Higher Secondary Education (WBCHSE) Exam Suggestion for Science Students. উচ্চমাধ্যমিক ২০২৩ কেমিস্ট্রি সাজেশন।
Download Price: ₹ 50
[Currently Out of Stocks]
HS 2023 Chemistry Suggestion Download
West Bengal Council of Higher Secondary Education will organise HS 2023 Chemistry Exam in March all over West Bengal. Chemistry is an important subject for the HS Science stream. Download this HS 2023 Chemistry suggestion and get common questions on your Board Examination. This exam suggestion contains all the important questions, Chemical Equations and numerical problems from the Chemistry subject. Buy the Suggestion from here and print it out for your practice.
WBCHSE HS Chemistry Syllabus has three parts – Physical Chemistry, Inorganic Chemistry and Organic Chemistry. Here, in this suggestion PDF, our experienced subject teachers tried to list all the important questions from all these topics. This HS Chemistry Suggestion 2023 by WebExam is different from any other exam suggestions available online, because this Suggestion is in the Bengali version, prepared based on the latest exam trends, all the important questions are mentioned here.
The Exam date for West Bengal Higher Secondary 2023 Chemistry Exam is 25th March 2023.
Buy HS 2023 Chemistry Suggestion in PDF Version
Download this suggestion and start practising to check your preparation for Higher Secondary 2023 test and final exam. Questions of 2 and 3 marks are available on this Suggestion. We hope you will get at least 80% common on the exam from this HS 2023 Chemistry Suggestion.
WB Higher Secondary Chemistry Syllabus contains the following chapters – Solid State, Solutions, Electrochemistry, Chemical Kinetics, Surface Chemistry, General Principles and processes of isolation of Elements, p-Block elements, d & f-Block Elements, Coordination compounds, Haloalkanes and Haloarenes, Alcohols, Phenols and Enters, Aldehyde Ketones and Carboxylic Acid, Organic Compounds Containing Nitrogen, Biomolecules, Polymers, Chemistry in Everyday Life.
You can download Higher Secondary 2023 All Subjects Suggestion – Click Here
Like every time, we always advise following your textbooks first carefully and following any suggestions. This is because suggestions contain all the important and trendy questions, which may come to the exam. But if there is anything tricky in the HS 2023 question paper, you have to survive. So read the textbooks and practice test papers first after that follow our Exam suggestions.