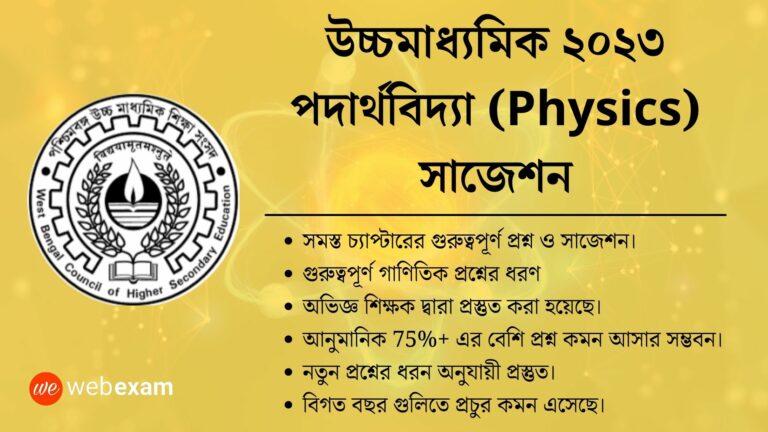 Download West Bengal HS 2023 Physics Suggestion with sure common in the examination. Get the PDF version of the West Bengal Higher Secondary 2023 Physics Suggestion with all the important questions. WBCHSE HS 2023 Physics Suggestion Download – last-minute exam suggestion with 90% common in the exam. Know all the important and suggestive questions for WBCHSE HS 2023 Physics Exam and download the question paper. Know the important numerical problems of HS 2023 Physics Suggestion. উচ্চমাধ্যমিক ২০২৩ ফিজিক্স সাজেশন।
Price: ₹ 40
(Publish Soon)
WBCHSE HS 2023 Physics Suggestion
West Bengal Council of Higher Secondary Education (WBCHSE) will organise Higher Secondary (HS) 2023 Physics Examination on 23rd March 2023. Physics is one of the most important subjects for Science stream students of Higher Secondary course. A top-level preparation will give you above 90% marks on the WB HS Physics examination. Maximum questions of WBCHSE HS 2023 Physics Exam will be short answer types and numerical problems. If you want to solve all these questions in the exam hall, you have to practice again and again your textbooks and question papers now.
If you want to score more than 90% marks on your Higher Secondary 2023 Physics exam then definitely download the session and follow our website.
Buy HS 2023 Physics Suggestion in PDF Version
To help the students, to score a good percentage and understand the most important and suggestive questions for WBCHSE HS 2023 Physics Exam, we prepared this suggestion. All the important questions are mentioned here and we hope you will get common from this HS 2023 Physics Suggestion. Some experienced Physics subject teachers prepared this HS Physics Suggestion 2023. You can download the physician and practice to check your preparation level and understand the question pattern.
This suggestion is in the Bengali version and questions from all the chapters (according to WBCHSE's new syllabus) are mentioned here. The chapters are Electrostatics, Current Electricity, Magnetic Effect of Current and Magnetism, Electromagnetic Induction and Alternating Current, Electromagnetic Waves, Optics, Dual Nature of Radiation and Matter, Atoms and Nuclei, Electronic Devices, and Communication System.
You can download Higher Secondary 2023 All Subjects Suggestion – Click Here
Download HS 2023 Physics Suggestion with sure common. The most trusted suggestion for WB Higher Secondary Suggestion. Hope this session will help you, for your Higher Secondary 2023 Physics Examination. Wish you all the very best.