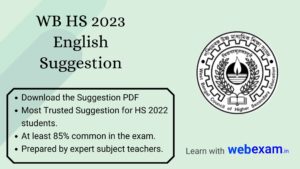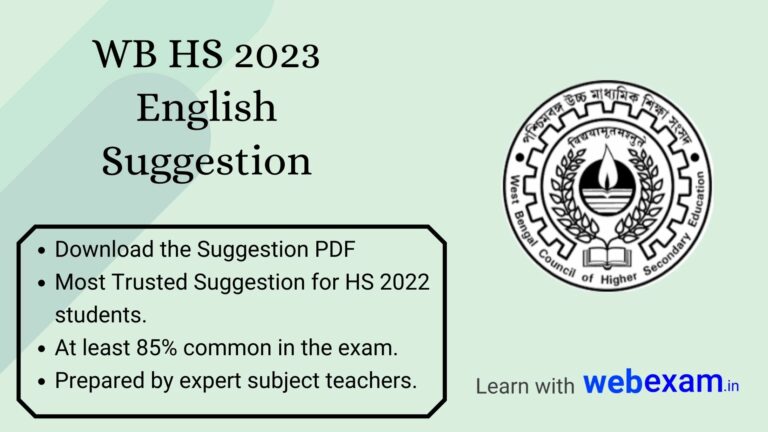 Download WBCHSE HS 2023 English Suggestion PDF with Sure Common in the Examination. West Bengal HS 2023 English (2nd Language) Sure Shot Suggestion for the students with a new syllabus. Download the Suggestion Now and know all the important questions for HS English Exam 2023. HS 2023 English Suggestion with suggestive Writing Skills and questions from Proses, Pomes and Drama.
Download Price: ₹ 50
[Currently Out of Stocks]
WBCHSE HS 2023 English Suggestion Download
West Bengal Council of Higher Secondary Education (WBCHSE) HS 2023 English Examination will be held on 16th March 2023. Download the best quality and trusted Exam Suggestions for HS English subjects. There will be 80 marks for the written exam. Questions for the HS 2023 English written exam will come from the new syllabus.
The WB HS English New syllabus Syllabus contains three Prose, three Poems and One Drama. Questions will come from these sections. Also, HS English 2023 question paper also contains Writing Skills, Grammer & Vocabulary and Unseen Passage. For more details about the syllabus, you can check here.
Download this HS 2023 English New Syllabus Suggestion pdf.
Download WBCHSE HS 2023 English Suggestions prepared by experienced subject teachers. This Suggestion pdf contains questions from – Proses, Pomes and Writing Skills (Report Writing & Letter Writing) This HS 2023 English Suggestion is only for those students, who have English as their 2nd Language.
You can download WB HS 2023 All Subjects Suggestion – Click Here
We hope you will get at least 80% common from this WBCHSE English Suggestion. Read carefully your textbooks first after that follow this suggestion for a better and more secure result. Download it now and share it with your friends.