Advantages and Disadvantages of Government and Private Jobs. Comparisons between Govt and Private jobs. Know which is the best option for work. Govt jobs vs Private jobs which are best, know all the details.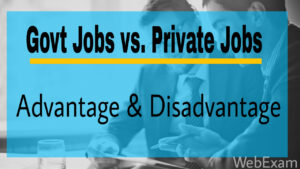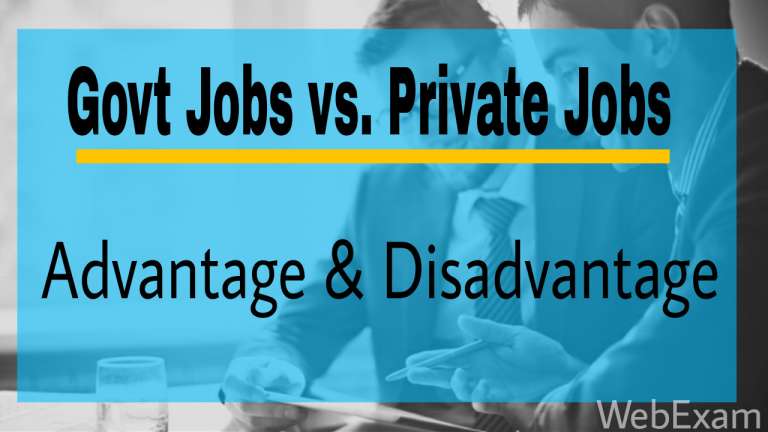 After completing Graduation degree maximum students rush for the jobs. If you one of them, then you know how much it difficult to get a Government as well as a good Private job. One of the common question of every job seekers, Government or Private, which sector is best for the job.
There was a myth in our society that, Private jobs are not so good compared to Government Job. They compare to an IAS or SBI PO job with an engineering job. It's not the right way to compare, it sounds like, you are comparing Apple products with Micromax. Always compare the same quality products.
If you select government jobs like IAS UPSC, Bank PO, IBPS, SSC etc. Then select its parallel private jobs like MBA, CA, Post Graduate IITs etc. Let's compare between Government jobs and Private job and their facilities.
1. Salary
If it's a matter of Salary, the Private Jobs are the best option than that of its same quality Government Jobs. There is no limit on earnings in Private Sector. So, in view of Salary, Private Company Jobs are obviously the best. I am not telling that the salary for Government jobs are low, you can also get high-quality government jobs with high salary also.
Read More about Tips How to get Government Job Easily.
2. Allowances
Government jobs provide to its employees 196 different kinds of allowances, which are the best option or opportunity for Government sector jobs. These type allowances are not available for Private Jobs. If available, there are so many limitations and conditions. So, Government Jobs is the winner of its allowances.

3. Exams
If you are preparing for any Government jobs like Bank, Rail, Administrative Services or any Private Jobs like MBA, Company Jobs, Accountancy Jobs, then you must know how tough the exams are. There are so many competitors and exams become tougher day by day for both Government as well as Private Jobs. In this category no one is the winner.
4. Job Security
Government Jobs are more secure than that of Private Sector Jobs. In Government jobs probably one could work for the age of 60. If anyone works on Army, he also gets another government job after his retirement from the army. But for Private jobs, there no such security. One can lose his/her job anytime if the company wants. So, Government jobs are the winner of this section.
5. Work Places / Offices
If you want to work on a well decorated, air conditioner and beautiful looking office, then Private jobs are the best choice. For government job employees, the office room is usual and so simple. In maximum cases, office rooms are not beautifully decorated or not well designed. Here the winner is Private Job Sector.
6. Holidays
Weekend holiday is the common thing that every professional employee enjoys. In India, there are many festivals every month and Government employees can get a holiday for those festivals. So they can spend time with their family. But Private Sector works on deadlines. So there are few numbers of holidays. One has to work hour after hour to complete the work before the deadline. Government jobs are the best option on the basis of holidays.
7. Work Abroad
There are lots of scopes to work abroad on private jobs. If you have creative mind and ideas then you can easily go to abroad with your Private Sector job. But there are very fewer possibilities for Government jobs to work Abroad. It totally depends on the work profile. Private jobs have better scope to work on abroad.

8. Facilitates after Retirement
After retirement from the job, government employees will get the pension for rest of their life. But such facilities are not available for private sector jobs. This pension plan makes Government jobs more attractive than Private jobs. You can earn much more from Private companies but you have invested your money for your old age. This facility already provides the government to its employees.
9. Promotions
There are many scopes of promotion available on Private sector Jobs. Anyone with his better working skills and smart work can get a promotion to a better post. Promotion of government jobs are really tough and very few number of promotions are done. So, private jobs are the winner on the basis of Promotion.
10. Work and Life
Government jobs have the minimum workload and pressure. There is no any overtime or work on weekends. A government employee knows, when he/she have to go to the office and when he/she will come back. This gives a more relaxed and satisfactory life. All these facilities are not available for Private Jobs. Government jobs are the winner in this field.
So, we can say both government and private jobs are best on their file. There are many advantages and disadvantages of both government and private jobs. Chose, what you want with your work profile and skills.
If you have any query, post it in the below comment section. Facebook WebExam Page for more update information about Government and Private jobs in India.