Are you searching for Apply PAN card for submitting your tax or other bank purposes? Learn how to apply for PAN Card easily through online and also through offline. Get step by step guidance and other help to get your new PAN number. Payment information and documents required for apply PAN Card through online. Know how long will it take to receive the PAN card by speed post at home. All the details information about how to get new PAN card if you lost your card.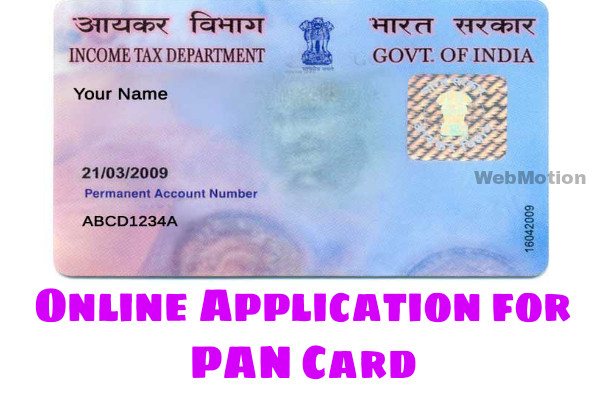 PAN is a very important id proof for submitting Tax to the government and it is arranged by Income Tax Department of Government of India. The full form of PAN is Permanent Account Number. Nowadays PAN card is mandatory for various bank purposes like, to transfer or deposit money more than ₹ 50,000 PAN number required. To apply ATM card or chequebook it's also mandatory. Here we discuss how to apply for PAN Card easily through online.
There are two companies, who make PAN Card in favor of Income Tax Department of Government of India, one is NSDL and the other is UTIITSL. The application process for PAN Card is very easy through Online. One can apply for PAN Card only through one of this company.

Online Application Procedure for PAN Card
Follow the step by step process for apply a new PAN Card through Online easily.
1. At first chose the company from which you want to apply, NSDL or UTIITSL and visit their official website. The official website of NSDL is, https://tin.tin.nsdl.com/pan/form49Adsc.html and the Official website for apply PAN Card through UTIITSL is, https://www.utiitsl.com/UTIITSL_SITE/site/pan.
2. Now select the category for which you want to apply for PAN Card like, Indian Citizen, NRI, Business, Individual etc. You can select correction option to make a correction on your PAN Card.
3. No will the form 49A correctly with your personal details like name, address, company name etc. Make sure you entered all the information correctly. Must check your postal address carefully as PAN Card will be sent to this address by speed post.
4. After filling the form, upload your scanned signature and recent colour photograph. The signature and the photograph must be clear as this will be printed on the PAN card. One can use their digital signature and photograph from DigiLocker account.
5. After completing all this process you will be redirected to the Payment page. The amount required of ₹ 107 for Indian citizens and ₹ 994 for NRI citizens. Application fees can be paid through Online Banking, Credit/Debit Card, Cheque or through Demand Draft.
6. After complete the Payment process an Acknowledgement Slip will be generated with a unique Application Number. Take print it out and attach a photograph to the specific space of the Acknowledgement slip, give a Left Thumb Impression (LTH) and signature on the slip.
7. Now attach the documents for Proof of Identity, Address Proof, and Date of Birth proof. You can use your Aadhaar Card in favor all of this documents then you must have to submit your Aadhaar number at the time of Online Application. Must attach the Demand Draft or the Cheque (if paid through offline) and send the completed Application form to the Regional Office of NSDL or UTIITSL.

8. You can check your application status from their official website.
And it takes 15 to 20 days to receive the PAN card at home by post.
When your PAN number will be ready, you will receive an SMS from the authority.
9. The correction procedure of any PAN Card is like same. Then you have at first entry our PAN number.
Required Documents for Apply PAN Card Online
One can use the following documents for apply PAN Card through Online or Offline.
• Proof of Identity : Aadhaar Card, Voter Card (Online Application Process for Voter Card), Driving License, Certificate issued by MP, MLA, BDO or any Gazetted Officer, Id Card of any Government School, College or University, Ration Card having Photograph, Arms License.
• Proof of Address : Aadhaar Card, EPIC Card, Driving License, Passport, Post office Passbook, Electric Bill not more than three months, Domicile Certificate issued by MP, MLA, DM, BDO or any Gazetted Office.
• Date of Birth Proof : Aadhaar Card, EPIC Card, Matriculation Certificate, Birth Certificate issued by Municipal Authority or any authorized officer, Marriage Certificate.
By the following process, you can apply for your PAN Card online easily. If you have any query or questions post it through the comment, we must try to help you at our best.