Learn How to Apply Online for voter card in India. Online Application procedure and correction process for Voter Card or EPIC Card. Documents required to apply election commission voter card online. Fill Form 6 Online for apply new voter card.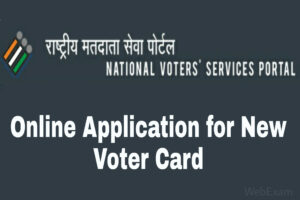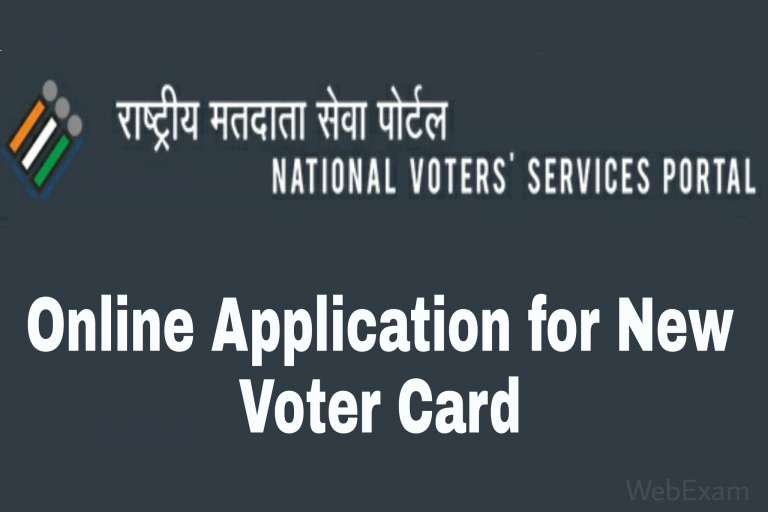 Voter Identity Card or EPIC Card is one of the important identity proof for Indian Citizens. This Voter card issued by Election Commission of India anyone above age 18 can apply for this voter card free of cost. This voter card mainly requires at the time of Election and it can also be used as a photo identity proof for Indians.
From last few years, the Application process improved. One can apply for new Voter/EPIC Card by visiting any Election Camp or Booth or by visiting the nearest Election Commission office with all the documents. But the easiest and time-saving option is Online Application for Voter Card. From National Voters' Service Portal one can easily apply for new EPIC Card easily through Online. Follow the steps to apply for a new Voter Card.

Eligibility Criteria to Apply for a New Voter Card
To apply for a new Voter Card / EPIC Card through Online or Offline, applicants have to must follow these eligibility criteria.
• Only a permanent Citizen of India can apply for Voter / EPIC Card.
• The age of the applicant must above 18 from the date of application.
Online Application for New Voter Card
You can easily apply for Voter Card through Online from National Voters' Service Portal (NVSP) with some easy steps.
1. At first visit the National Voters' Service Portal (NVSP) website link, www.nvsp.in and then click on the 'Apply online for registration of new voter/due to shifting from AC'.
2. After clicking on the above link Form 6 will open. This Form 6 is the main application form to apply as a new voter through online or offline.
3. This Form 6 available in two languages, one is English and the other is your Regional Language. So, chose your State Regional Language from the top of the Form. This is very important.
4. Now, you have to fill the Application Form. At first, you need to fill all your Personal details information like, State, Assembly/Parliamentary Constituency, Applicant's Name, Father/Mother/Husband Name, Date of Birth and Gender. All the information have to enter into English as well as in Regional Language also.

5. After that, you have to provide your current and permanent address. In this category, you have to fill this information,
House Number, Locality, Village/Town, Post Office, Pin Code, State and District.
6. If you have any physical disabilities like Visual impatient, Speech & hearing disability, Locomotor disability or other else, you can choose it from here.
7. Now you can provide your Email id and Mobile number with Voter Card details. This option is optional. It means you may not provide it.
8. Then you have to Upload Supporting documents to complete the application process. Upload the following scanned documents at the time of Online Application.
• Passport Size Colour Photograph.
• Age Proof Certificate : Aadhaar Card, PAN Card (Online Application Process for PAN Card), Madhyamik (10th) Admit Card / Certificate, Birth Certificate, Driving License etc.
• Address Proof Certificate : Aadhaar Card, Ration Card, Utility Bills (Water, Electricity, Telephone, Gas), Passport, Bank Passbook etc.
9. After uploading all the required documents and information, you have to follow a Declaration, where you have to enter your Village/Town name, State, District and Date of Application. Now check all the details once again, because you cannot edit after submit and Click on the Submit bottom.
10. After successful Submission, you will get a Unique Reference Id, write it down for future use. You can also receive the Reference Id through SMS and Email also.
11. After few days a Booth level officer may come to your house to verify all your documents and confirm your application.
This is the complete online application process for Voter Card / EPIC Card.

Track Online Voter Card Application Status
After successfully Submitting the Online Form 6 for new voter card, you can check your application status. Click Here to Track your Voter Application Status by entering the Reference id number on this page.
How to Collect Voter Card after Online Application
The complete step takes nearly 30 to 45 days and you will you receive your Voter Id Card. When you voter card will ready, you will get a call from the authority to take it. Visit your nearest Election Commission Office and get your Voter identity / EPIC Card.
If your age 18+ then must apply for Voter Card, it's your rights. Share this article on social networks to inform others about Online Voter Card Application process. Like us on WebExam Facebook Page for more information.