Know all the information about 3rd RLST for non-teaching stuff or Group-C examination. Download the suggestion for 3rd RLST for clerk post. The best last minutes tips and important questions. Know more about the exact question paper pattern and OMR sheet information. The 3 red RLST will be held on 5th March. Download the answer keys for 3rd RLST examination.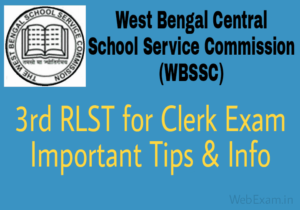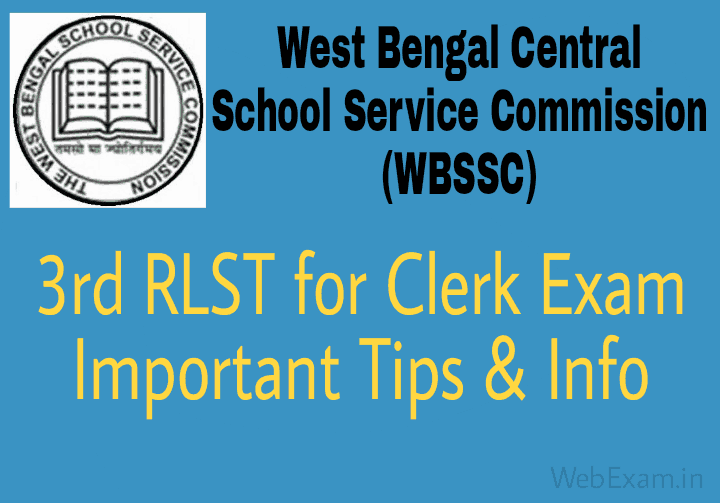 West Bengal School Service Commision (WBSSC) organize 3rd RLST Examination for recruitment on the clerk post for various government and government-aided schools. The 3rd RLST for clerk post examination will be held on 5th March 2017. Admit Card for this examination is already available on the website, to download your Group – C examination admit card, Click Here. Know some best tips & tricks for 3rd RLST non-teaching stuff examination to crack it easily.
Last Minute Tips for 3rd RLST Non-Teaching Stuff Examination by WBSSC
1. The Examination will be held on
5th March 2017
at 12:00 Noon to 1:00 pm. Candidates can download their admit card from
www.westbengalssc.com
before the examination.
2. Must bring Black or Blue ballpoint pen and any one photo identity card like, adhaar card, voter card, PAN card etc at the examination hall with the admit card. You must have brought 3 copies passport size photographs if there is no photo on your admit card.
3. Must report at least 30 minutes earlier to start the examination. Candidates will receive the Question Booklet at 11:45 am. Then they have to collect the OMR sheet without breaking the booklet seal. Now fill up the OMR copy correctly and carefully.
4. The question paper contains total 60 questions of each marks 1. Total marks of this written examination are 60. Negative marking is available for every wrong attempt. The remaining 10 marks for the Educational qualifications and other 30 marks for interview & skill test.
5. The questions for 3rd RLST Clerk examination will be set at Madhyamik Level. So read class 10th books for best preparation.

6. There is no any exact syllabus for this examination, but here is the outline from where questions are coming,
General Knowledge & Current Affairs, General Intelligence, General English and General Arithmetic
. To download the complete syllabus for 3rd RLST
Click Here
.
7. Download the Answer Key for 3rd RLST non-teaching stuff Examination with proper Cut-off marks, Click Here.
8. For better preparation practice the question sets published in the newspapers like Karmakhetra, Jibika Dishari, Karma Sangsthan etc.
9. From personal experience, I would like to suggest you that, Avoid lengthy numerical/arithmetic problems, as this type questions take more time to solve at the examination time. Instead of this, at first attempt all the easy and time-saving questions. Then attempt lengthy arithmetic questions. By this way, you can answer the maximum number of questions in a very short time.
WebExam team wishes you all the very best for your examination. Contact us on WebExam Facebook page for the instant solution. If you like this article, share it with your friends on social media to help them on the examination. Keep touch with us for more updates and important information.