Apply Online for WB Health Staff Nurse Mutual Transfer. West Bengal Health and Family Welfare Department already started the Online Mutual Transfer process for Staff Nurses of Government Hospitals in West Bengal. Now Staff Nurses can apply online for mutual transfer after completion of their one year of service at the present place of posting. Learn the WB Health Staff Nurse Mutual Transfer Online Application Process.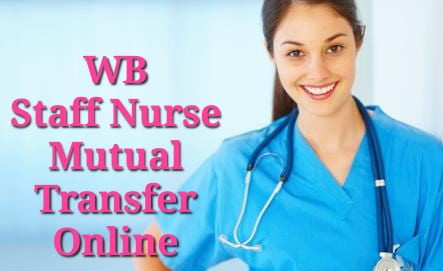 Know the complete online application procedure and required documents for Mutual Transfer. Generally, it will take 2 to 4 months to publisher mutual transfer list of Staff Nurses in WB.
To make the complete process easier and hassle-free, West Bengal Health Department started this online process, where Staff Nurses can register themselves and search for Mutual Transfer on her preferable Hospitals.
Eligibility for Staff Nurse Mutual Transfer
According to the notice number, HNG/9T-4-2015/Pt.-I/357, dated 7.4.2016, published by West Bengal Health and Family Welfare Department, a Staff Nurses can apply for mutual transfer after completion of one year of service at their present place of posting.
Staff Nurses working in SNCU, ITU, CCU, Dialysis, OT, Labour Room, Neonatal Unit, Cath. Lab etc units in different hospitals after undergoing speciality training may apply for mutual transfer only with a Staff Nurse having similar training.
WB Health Staff Nurse Mutual Transfer Online Application
West Bengal Health Department started Online Nursing Database website, where every Staff Nurses has to Register themselves. The online mutual transfer application also be done through this nursing database website. Follow the steps to apply online.
Register on Nursing Database
At first, you have to Register yourself on the West Bengal Health Nursing Database. For registration visit, http://nursetrns.wbhealth.gov.in:8006/ website and then click on the New User – Sign Up link. [Link is Given Below]

Now Enter Employee ID (As Per Payslip) and Mobile Number to get the OPT on your phone. Then create your Username and Password for this website. Now Sign In with your Username and Password on the WB Nursing Database.
Nursing Personal Data Entry
After Sign into the website, you can see the option 'Nursing Data Entry' on the menu bar, under this menu click on the 'Nurse Details' Link. Now fill the complete application form, with your details.
You have to fill your Name, Father's Name, Nursing Council Registration Number, Date of Joining, place of Joining (Hospital), Designation, Training details, Address etc.
Fill all the information and Save it. Now Print the the Application Form for the Next Step.
Submit the Printed Application Form at Hospital
Now you have to submit the printed Application Form to the Superintendent of your current Hospital for the Approval process. Attach the following copies of documents with this Application Form.

Age Proof Certificate (Madhyamik Admit Card / PAN Card).
Nursing Council Registration Certificate.
Copy of Aadhar card.
Higher Secondary Pass Certificate.
Appointment Letter.
Joining letter of Current Service.
Training Certificates (if any).
Caste Certificates (if any)
Generally it will take 1 to 2 weeks to verify all your documents and Approve your Nursing Database account.
Apply for Mutual Transfer
After getting approval on Nursing Database, now you are eligible to apply for Online Mutual Transfer. Now from the above menu bar, click on 'Transfer Prayer Details' option and then fill the Mutual Transfer Details application form. This application form will contain the following information –
Transfer type – Mutual / Normal
Preferable Choice of Posting District
Preferable Choice of Posting Hospital
Mutual Transfer With – you can view the name of Staff Nurses, who want to Mutual Transfer with you.
Mention In Service Training Details
Contact Number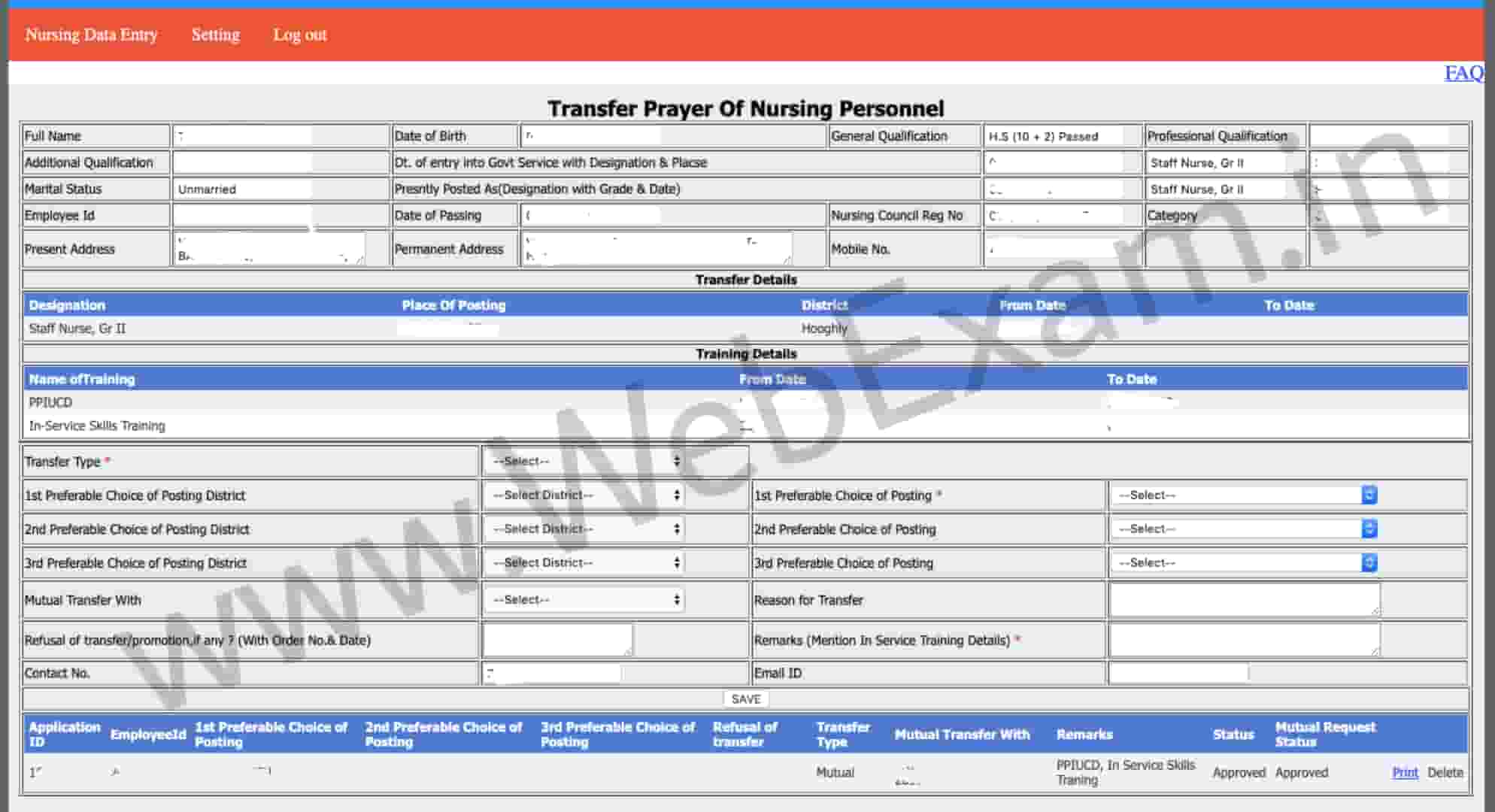 Now Save your Mutual Transfer application. Then contact with the Staff Nurse, whom you selected for your Mutual Transfer. Her contact number will be available on the Nursing database website.
Tell her to accept your Mutual Transfer invitation. When she will accept your invitation, your Nursing Mutual Transfer process is complete. Now, wait for the WB Health Department Approval. No need to visit anywhere (Swasthya Bhavan) to submit your documents. The complete process is online.
Check Application Status
You can also check your Nursing Mutual Transfer Application Status by visiting the Nursing Database website. Just Login to the website and you will check your application status Pending or Approved.
Read More, GNM Nursing Course will Stop – Single Entry Level for Nursing
Final Approval Process
After completing all the above steps, you have to wait 2 to 3 months for the final approval from West Bengal Health and Family Welfare Department (Swasthya Bhavan). They will publish a list of Staff Nurses on their official website, www.wbhealth.gov.in. Staff Nurses, who applied for Mutual Transfer and their applications approved. Now they can join to the other Hospital through Mutual Transfer.
When the final list will publish, contact with your Partner (with whom you will Mutual Transfer) and join to your new hospital as a staff nurse.
Apply Online for WB Health Staff Nurse Mutual Transfer Online – Click Here
West Bengal Nursing Zone Listing
West Bengal Health and Family Welfare Department, divided the complete West Bengal into Four Medical zones. The Johns are given below.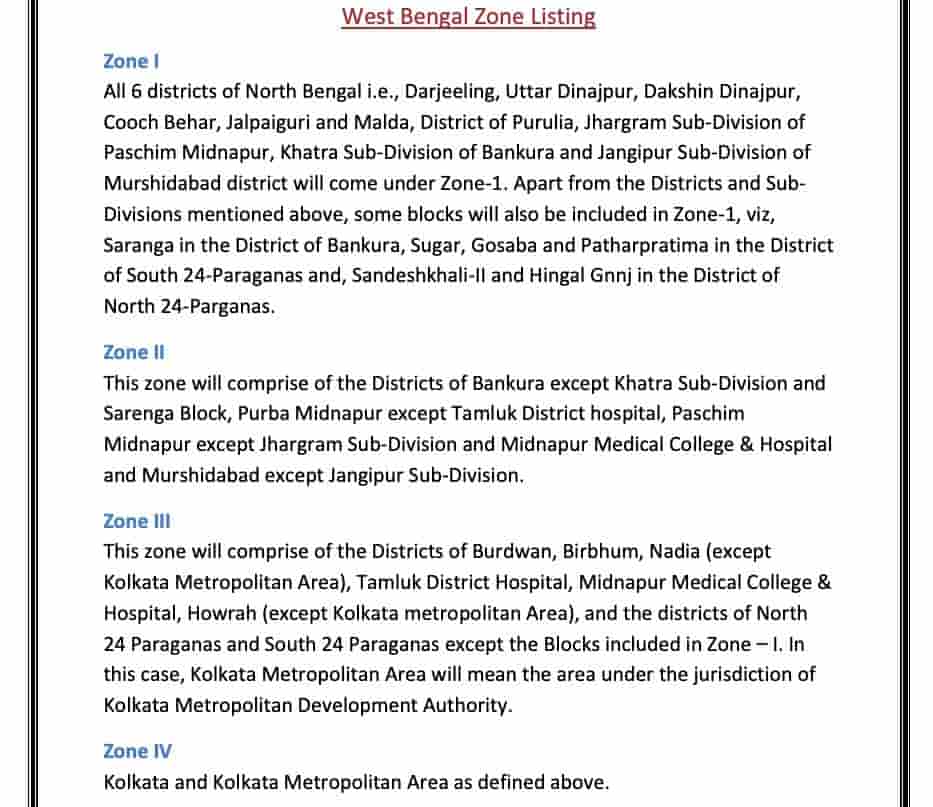 Helpline Information
If you need any help or information regarding nursing database registration or online mutual transfer application you can call DDHS(Nursing) & Nodal Officer IT (Nursing) Phone No 03323330237. You can also send email to [email protected] mentioning your query.
Hope this information regarding West Bengal Staff Nurse Mutual Transfer Online Application, will help you. Post your questions in the below comment box, will definitely try to help you at our best.