Online Application for JENPAUH-II 2017. Admission entrance test for Homeopathy, Ayurveda, Unani and Medical Laboratory Technicians through JENPAUH-II exam 2017. Get all details information and Online Application Procedure about JENPAUH-II 2017. Download Admit Card and Rank Card for JENPAUH-II 2017.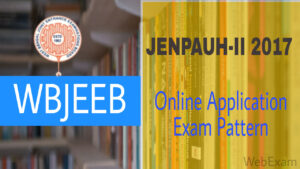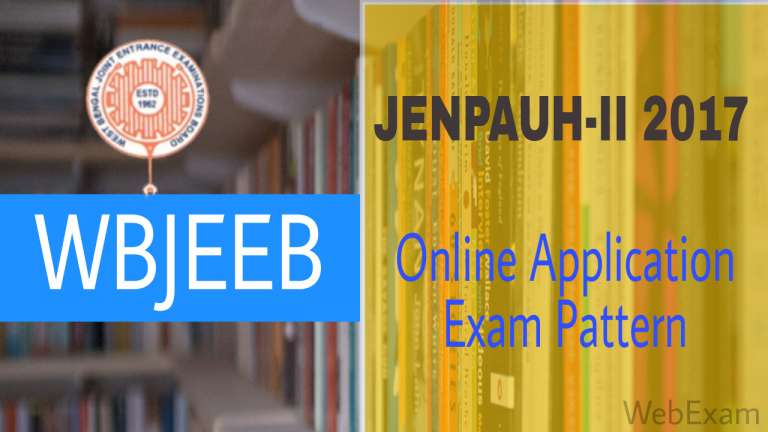 For admission to Homeopathy, Ayurveda, Unani and Medical Laboratory Technician course at various Government and Private Medical Colleges the Admission test JENPAUH-II 2018 will be held on 13th August 2017, all over West Bengal. The Examination will organize by West Bengal Joint Entrance Examination Board (WBJEEB). Online Application for JENPAUH-II started now, details are given below.
Course offered for Admission by JENPAUH-II
The selected candidates can take admission on these following courses after passing JENPAUH-II Examination.
• Bachelor of Homeopathy Medicine and Surgery (BHMS).
• Bachelor of Ayurvedic and Medicine (BAMS).
• Bachelor of Unani Medicine and Surgery (BUMS).
• Bachelor of Medical Laboratory Technician (BMLT).
Eligibility Criteria for JENPAUH-II Exam 2017
For apply JENPAUH-II exam 2017 through Online, candidates must have to follow the eligibility criteria. Candidates have to pass Higher Secondary (10+2) or equivalent examination with Physics, Chemistry and Biology with at least 50% marks. Candidates have to pass English language subject on Higher Secondary.
There is no any upper age limit to apply JENPAUH-II exam but the minimum age limit is 17th Years with respect to 31st December 2017.
Online Application Process for JENPAUH-II 2018
Application for JENPAUH-II exam 2017 will be done through Online from WBJEEB website. The details step are given below. Online Application must be done 15th June to 6th July 2017.
1. At first visit the official website of West Bengal Joint Entrance Examination Board, www.wbjeeb.in to apply JENPAUH-II Exam 2017 Online.
2. Now click on the 'JENPAUH-II' link and on that portal you will find the Online Application Link, Apply for JENPAUH-II (2017), click on it.
3. After that select 'New Candidate Registration & Form Fill Up Click Here' and read all the Important Information and click on 'I Agree and Proceed'.
4. After clicking that link a new Registration form will be available, fill the Step-1 of the. Application Form correctly with, Candidate's name, Father's name, Mother's Name, Mobile Number, DOB, Email id, and Password. Submit all the information. You will get an Unique Application Number. Remember your Application Number and Password for next step.
5. On the Step-2 you have to fill the Application form will all the educational details information and select two examination centers of your choice. Then save it and go to the next step.
6. At the Step-3, candidates have to upload Scanned Passport size colour photograph, Signature and Left Thumb Impression (LTI) in jpg format.
7. Now, Step-4 this is the final step of JENPAUH-II Online Application. Registered candidates have to pay the Application fees of amount Rs. 500/-. Application fees can be pay by Credit/Debit Card, Online Banking or through Offline Allahabad Bank Challan. Must print out the Payment receipt after paying the fees.
8. After submitting all the details, recheck it and click on the 'Final Submit' and take print out the Confirmation Page for future use. No need to send any hard copy to the WBJEE Board.
This is the complete Registration process for JENPAUH-II Exam 2017 for admission on B.H.M.S, B.M.L.T, B.U.M.S and B.A.M.S courses.
Exam Pattern for JENPAUH-II 2017
Examination for JENPAUH-II 2017 will be held on 13th August 2017. There are two papers in this examination. Paper-1 contains Physics & Chemistry (100 marks) and Paper-2 contains Biology (100 marks). Questions will set on the basis of Higher Secondary Syllabus. All the questions are MCQ type, each question carries 2 marks and there is Negative Marking for wrong answers.
The paper-1 examination will be held on 13th August from 11:00 am to 01:00 pm. The paper-2 examination will be held on the same day from 02:00 pm to 04:00 pm.
Important Dates for JENPAUH-II 2017 Exam
Write down the important dates for JENPAUH-II Examination 2017.
• Start of Online Application Form fill-up: 15th June 2017
• Last date to Apply Online, Pay the Application Fees and Download the Confirmation Page:6th July 2017.
• Online Admit Card will be Available: 7th August 2017.
• Date of JENPAUH-II Examination: 13th August 2017.
• JENPAUH-II 2017 Result Date: 30th August 2017.
If you have any query or questions you may contact the WBJEE Board on this following address, West Bengal Joint Entrance Examination Board, AQ-13/1, Sector-V, Salt Lake City, Kolkata-91, Phone Number – 18001023781. You may post your problems in the comment section below, we will try to help you at our best. Like us on WebExam Facebook Page for more updates and information instantly.