WBPSC SI of Schools Recruitment Exam 2018 MCQ Questions online Practice. Download WBPSC Sub Inspector of Schools Exam 2018 Previous year questions download. Online Mock Test for WBPSC SI of Schools Exam. West Bengal Public Service Commission SI of Schools Exam 2018.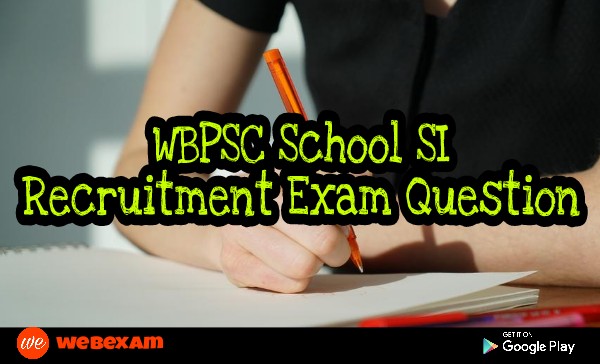 West Bengal Public Service Commission WBPSC Sub Inspector of Schools Recruitment Exam 2018 Questions practice. WBPSC published the notification for SI of Schools Recruitment Exam 2018 and eligible Candidates also already applied for this exam. On this post, we will discuss WBPSC Sub Inspector of Schools Exam 2018 Questions types.
Practice important MCQ Questions for West Bengal Public Service Commission SI Exam. There will be total 100 MCQ questions on the Written Exam and maximum time allowed will be 1½ Hours.
There is no any specific syllabus for WBPSC Sub Inspector of Schools Recruitment Exam, read carefully these Subjects for score a good rank. The subjects are, General Knowledge, English, Reasoning, Mathematics, Science, Elementary Education etc.

On this page, we published 25 MCQ questions for WBPSC SI Recruitment Exam. Practice these questions for a better preparation.
1. The Kothari Commission's report was published in –
a) 1966
b) 1976
c) 1986
d) 1996

2. Where is the Headquarter of NAAC situated?
a) Delhi
b) Hyderabad
c) Mumbai
d) Bangalore

3. Bharat Ratna was conferred in 2015 to
a) Atal Behari Vajpayee
b) Dr. Karan Bose
c) Amit Shah
d) Sachin Tendulkar

4. The literacy rate in India as per 2011 census is
a) 74.01
b) 74.04
c) 73.01
d) 71.01

5. History tells us of the changing
a) Habit of Nations
b) Thoughts of Nations
c) Both (a) and (b)
d) Social Culture

6. 8 men can finish a project in 40 days. If 2 men will join with them, then the work will be completed in –
a) 30 days
b) 36 days
c) 25 days
d) 32 days

7. If the loss is the selling price, then the loss percentage is –
a) 16.63%
b) 20%
c) 25%
d) 33.33%

8. The gas inside the electron blub is –
a) Hydrogen
b) Oxygen
c) Nitrogen
d) Carbon Dioxide
9. RMSA is related to
a) Elementary Education
b) Secondary Education
c) Higher Education
d) Vocational Education

10. Which one of the following is not related to the mental health of the teachers?
a) Conflict
b) Frustration
c) Complex
d) Introversion

11. Who is the current Governor of Reserve Bank of India?
a) Raghuram Rajan
b) Urjit Patel
c) Arundhati Bhattacharya
d) Arun Jaitley

12. Which of the following pairs of the island is separated from each other by the 'Ten Degree Channel'?
a) Andaman and Nicobar
b) Nicobar and Sumatra
c) Maldives and Lakshwadeep
d) Sumatra and Java

13. Which one of the following is the largest committee of the Parliament?
a) The Committee on Public Account
b) The Committee on Estimates
c) The Committee on Public Undertaking
d) The Committee on Petitions

14. Who was the first Indian woman president of Indian National Congress?
a) Annie Basant
b) Vijay Lakshmi Pandit
c) Sarojini Naidu
d) Aruna Asaf Ali

15. 'Banalata Sen' was composed by
a) Bishnu Dey
b) Samar Sen
c) Jibanananda Das
d) Dinesh Das

16. Pali was the medium of instruction in the times of
a) Mahabira
b) Akbar
c) Ashok
d) Rani Rasmoni

17. India's highest rainfall is reported at
a) Namchi, Sikkim
b) Churu, Rajasthan
c) Mawsynram, Meghalaya
d) Chamba, Himachal Pradesh

18. Identify the technique of evaluation from the following
a) Worksheets
b) Group Activity
c) Project
d) Criterion Reference Testing

19. The full form of W.B.I. is
a) Web Based Instruction
b) Web Based Information
c) Web Based Intelligence
d) None of the Above

20. If x:y=2:3, then (x+y):(2x-y) is
a) 1:5
b) 1:3
c) 3:1
d) 5:1

21. The International Court of Justice is located in
a) Hague
b) Vienna
c) Geneva
d) Amsterdam

22. "Education is the manifestation of perfection already in man" – Who said this?
a) Rabindranath Tagore
b) Rishi Aurobindo
c) Swami Vivekananda
d) Mahatma Gandhi
23. Which country organized Olympic 2016?
a) Spain
b) Brazil
c) Japan
d) the United States

24. Which year did Bankim Chandra Chattopadhyay write Anandamath?
a) 1882
b) 1894
c) 1852
d) 1860

25. What is the meaning of drug abuse?
a) Taking drugs regularly.
b) To become during dependent.
c) Addiction to and misuse of medically prescribed drugs.
d) Addiction to chemical for temporary escape from reality.

Click Here to Get More MCQ Questions of WBPSC SI of Schools Recruitment Exam.
Keep in touch with us, we will publish more question on this exam. If you have any query please post it in the below comment box. Best wishes for your Government Job.