HDFC Bank provides HDFC Scholarship 2023 for economically poor students. Students who cannot afford their educational costs or drop out due to personal or family crises can apply for HDFC Bank Educational Crisis Scholarship 2023. Students from Class 6th to 12th, Diploma, ITI, Undergraduate, Postgraduate and PhD can apply for this HDFC Educational Crisis Scholarship (ECS) Scholarship online.
The complete Online Application Process, Eligibility criteria and Scholarship Reward information are given below. Know the complete information about HDFC Scholarship Programme.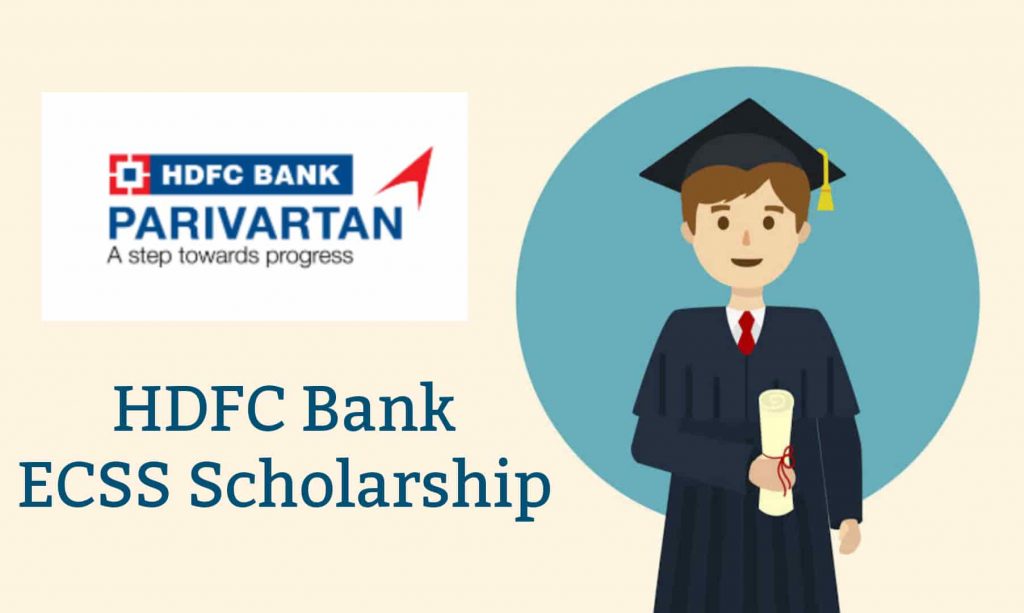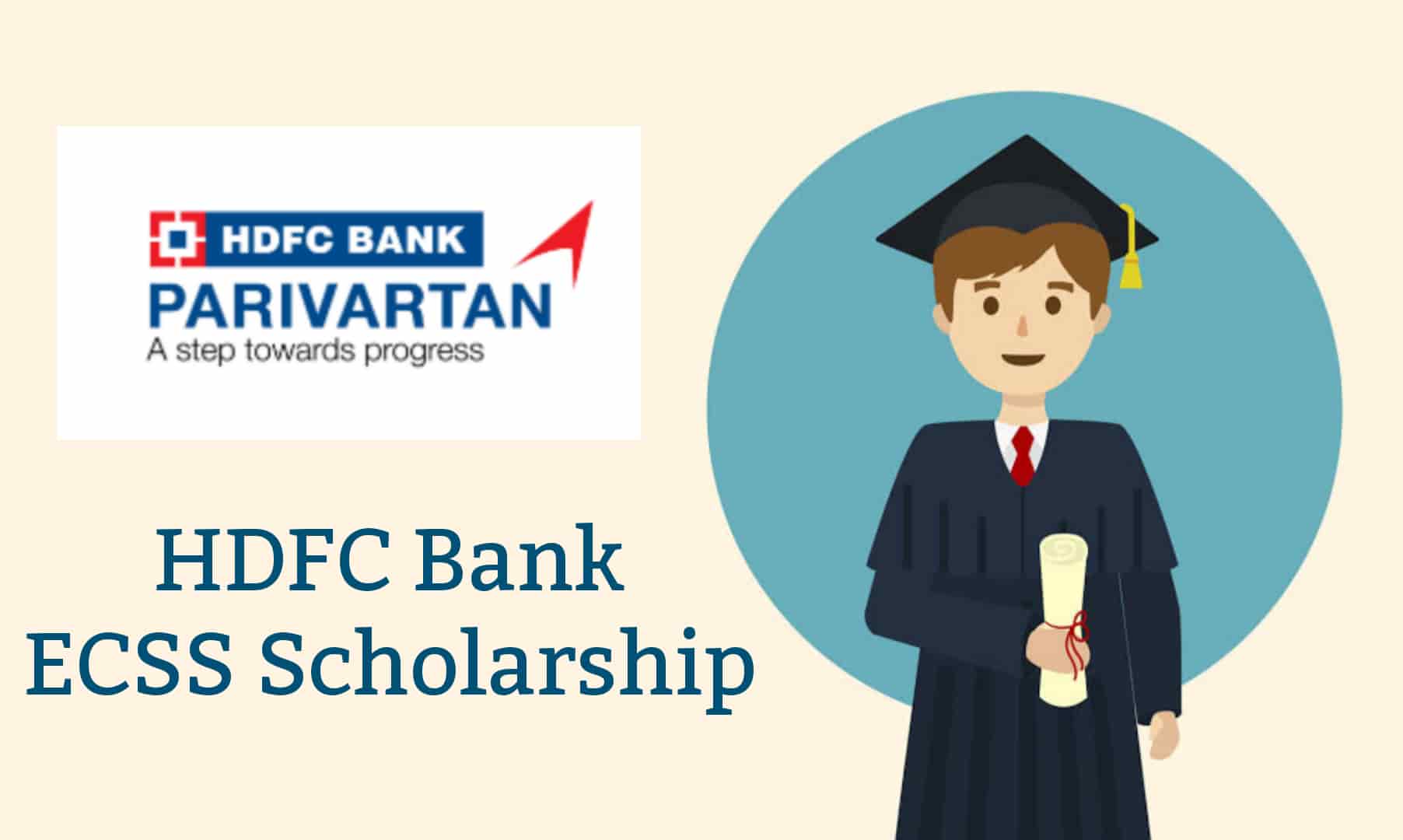 Every year on the first week of May, the application starts for this ECS Scholarship. The last date to apply online for HDFC Scholarship 2023 is November 2023. Under this scholarship scheme, students will receive Rs. 35,000 to Rs. 75,000 according to their course and financial condition.
HDFC Scholarship 2023 Information Chart
| | |
| --- | --- |
| Scholarship Name | HDFC Educational Crisis Scholarship (ECS) |
| Provider | HDFC Bank |
| Application Mode | Online |
| Eligible Courses | Class 6th to 12th, ITI, Diploma, Undergraduate, Postgraduate, Ph.D |
| Last Date of Application | November 2023 |
| Scholarship Amount | Rs. 35,000 to Rs. 75,000 |
HDFC Scholarship Eligibility Criteria
Students, who are economically weak, can apply for HDFC Bank Educational Crisis Scholarship (ECS) 2023. The complete eligibility guidelines are described below. Learn who can apply for HDFC Scholarship.
Students who are currently studying in Class 6th to 12th from any Government Aided or Private school can apply for HDFC Bank ECS Scholarship Scheme.
Students who are pursuing ITI, Diploma, Undergraduate, Postgraduate or PhD course from AICTE/UGC/State/Central Government recognised colleges/universities, are eligible for this scholarship.
Students must have passed the previous qualifying examination with at least 55% marks.
Annual family income must be less than or equal to INR 2.5 lakh (2,50,000).
Students, who are economically very poor and can't afford their educational cost or dropping out due to any person or family crisis, can apply for HDFC Scholarship Scheme. In that case, there is no minimum marks requirement.
Here the Crisis refer to the following categories. If the students falls under this, can apply.
Death of Earning Member
Job loss of Earning Member
Orphans/Deserted Children
Self-employment Failures
Expenditure on Medical Treatments
HDFC ECSS Scholarship Amount
This scholarship will provide to the needy and meritorious students. The HDFC ECS Scholarship will cover the annual course fee for the students. There is also a pre-defined scholarship amount for students. HDFC bank under the Parivartan scheme will provide the scholarships.
| | |
| --- | --- |
| For school students | ₹ 35,000 |
| For college/university students | ₹ 55,000 |
| For Diploma/ITI/Polytechnic students | ₹ 75,000 |
The scholarship amount will depend upon the Annual Course fees of the students. HDFC Bank will provide the scholarship amount or the annual course fees, which is lower.
Read More, Apply Online for LIC Golden Jubilee Scholarship 2023
The scholarship amount will be directly sent in the form of a Demand Draft to the School / College / University of the selected candidates only.
Documents Required for HDFC ECS Scholarship
At the time of online application for the HDFC ECS scholarship scheme, students have to upload the following scanned documents on the website. The list of required documents is given here.
Passport size photograph.
Last year's mark sheets (2021-22) (In case, you don't have a marksheet for the 2020-21 session, please upload the marksheet for the 2019-20 session.)
Identity proof (Aadhaar Card/Voter ID/Driving License).
Current Year Admission Proof (Fee Receipt/Admission Letter/Institution ID Card/Bonafide Certificate).
Applicant Bank Passbook/Cancelled Cheque.
Income Certificate (Gram Panchayat/Ward Counsellor/Sarpanch/BDO/SDO/SDM/Affidavit).
Proof of family/personal crisis (if any)
Application procedure for HDFC Scholarship
Application for HDFC ECS 2023 Scholarship can be done only Online. Eligible candidates can easily apply for this scholarship from the HDFC scholarship portal. Follow the steps to apply online.
Step 1: At first visit the HDFC Bank Scholarship Website (link is given below) and read carefully the information from this page. This is the official website for scholarship applications. The last date of Application is November 2023.
Step 2: On the Scholarship Page there is an option, mentioning Click Here to apply for HDFC Scholarship 2023 Online.
Step 3: On this application, page enter your email address, a password will be sent to your email. Then log in with that password and fill the application form for HDFC ECS 2023 Scholarship. Upload all the required documents in pdf/jpg format.
Step 4: Now click on the Submit bottom. Your application form will be submitted successfully. No need to send any hard copy to the authority. You will receive an SMS/Email regarding your Submission of the Scholarship application form.
Please ensure that the bank details of the institute are mentioned correctly. Fresh DDs will not be issued if the details are found to be incorrect
HDFC Bank ECS Scholarship 2023 Online Application – Click Here
Important Dates
The important dates for HDFC Scholarship 2023 are mentioned below. Every year HDFC Bank will start the online application from the first week of May. The last date for application is September 2023.
| | |
| --- | --- |
| Application Start | July 2023 |
| Last Date of Application | November 2023 |
| List Announcement | December 2023 |
| Scholarship Distribution | December 2023 |
Read More, List of Scholarships for Indian School, College and University Students.
Selection Process
Candidates will be selected on the basis of their Economical Condition, Crisis Situation and Merit for the HDFC Bank Scholarship. After receiving all the applications on November 2023 the HDFC Bank's Management will select the candidates within various parameters, like Merit, financial conditions etc.
The list of selected candidates for the HDFC ECS 2023 Scholarship will be published in the middle week of December 2023 on their official website. Selected candidates will be awarded the scholarship amount through Bank NEFT directly to their Bank account.
Read More, Apply Online for KC Mahindra Scholarship Scheme
Contact Information
Students can contact this email hdfcbankecss@buddy4study.com or to this Phone Number 011-43092248 (Ext: 116) for any help regarding HDFC Scholarship 2023. Only one person per family can apply for this scholarship.
If you have any queries about HDFC ECS 2023 Scholarship Scheme, post them in the comment section or visit the official website of HDFC Bank.