Kanyashree Prakalpa 2023 Online Application Process. Download the Kanyashree Scholarship Application Form and check your application status. Kanyashree K1 and K2 Scholarship for School and College students. Apply online for Kanyashree Prakalpa. Documents required for Kanyashree Scheme. Last date of application for Kanyashree Prakalpa 2023.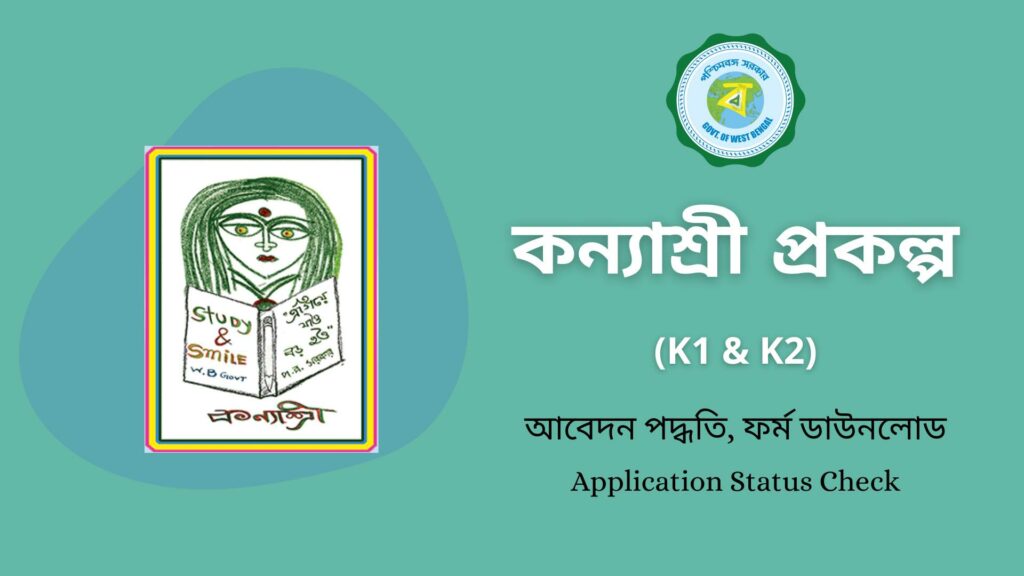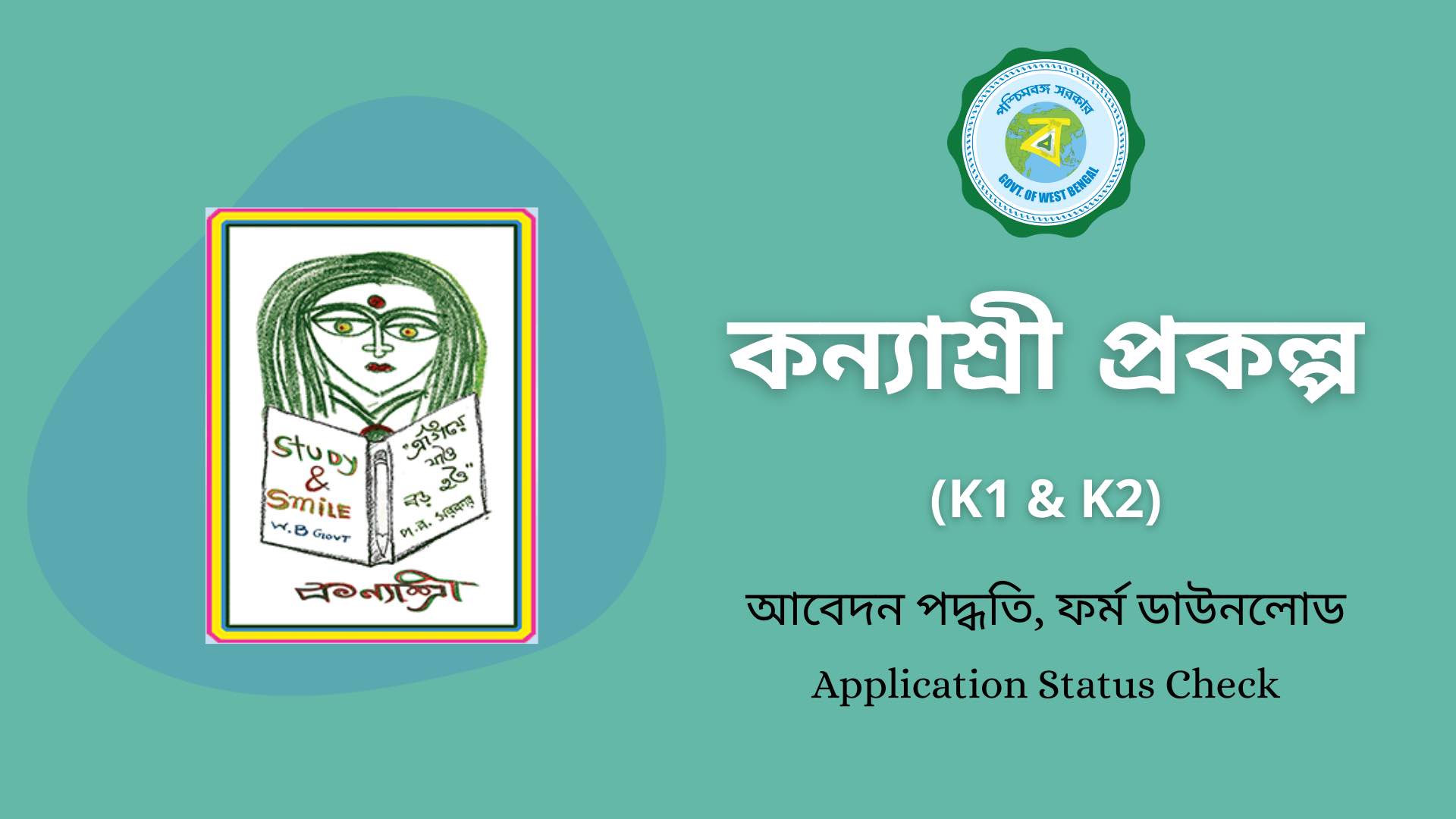 Kanyashree Prakalpa is a flagship programme of the West Bengal State Government. Girls students, studying in West Bengal can apply for Kanyashree Scheme. From class VIII to Postgraduate, girls students can apply for Kanyashree Scholarship and get financial assistance from the State Government.
Here on this post, you will learn about the various types of Kanyashree Schemes, eligibility criteria for Kanyashree Prakalpa, how to apply Offline & Online for Kanyashree Prakalpa and other important information.
What is Kanyashree Prakalpa?
Kanyashree is one of the most successful programmes by West Bengal State Government which was introduced in October 2013 by the Hon'ble Chief Minister, West Bengal. Under this scheme, the State Government provide financial support to the girl students for their education. This scholarship is available from Class VIII to Post Graduate course. Prevent child marriage and encourage the girl students for higher education, is the main aim of this Kanyashree Prakalpa.
What are the categories of Kanyashree Prakalpa?
There are three types of Kanyashree Schemes currently available for the girls' students. These schemes categorised on the basis of age, the current course of the applicant. These three types of Kanyashree Schemes are mentioned below.
Kanyashree K1 Scholarship
Kanyashree K2 Scholarship
Kanyashree K3 Scholarship
Read More, List of Scholarships for West Bengal School & College students
Eligibility Criteria for Kanyashree
Here are the detail eligibility criteria for Kanyashree Prakalpa. Know, who can apply for this scheme & what are the required eligibility guidelines.
Eligibility for Kanyashree K1 & K2 Scheme
The girl student must be unmarried.
She must be a permanent resident of West Bengal.
The age of the candidate must be in between 13 to 19 years.
Studying in any Institution recognised by WB Government.
Must have a bank account in her name.
Eligibility for Kanyashree K3 Scheme
This scheme only for the girls' students, who are pursuing a Postgraduate degree from any recognised University.
Learn more about Kanyashree K3 Scholarship Eligibility Criteria, Online Application Process & other information.
Kanyashree Prakalpa Scholarship Amount
Kanyashree K1

: Unmarried girls studying in class VIII or above or aged between 13 to 18 years are eligible for Kanyashree K1 Scheme and will get Rs. 1000 annually.

Kanyashree K2

: Unmarried girls studying in High School and aged between 18 to 19 years are eligible for Kanyashree K2 and will get Rs. 25,000 as a one time grant.
The age of the applicant will be calculated on the basis of 31st March of the current year.
Documents Required for Kanyashree Prakalpa
Eligible students have to apply offline mode for Kanyashree K1 and K2 Scheme from their current institution (school/college). The following documents will require to submit the filled application form.
Photocopy of Voter ID Card of parent / legal guardian.
Photocopy of Birth Certificate issued by the appropriate authority.
Declaration of the marital status of the applicant (to be made by the parent / legal guardian if the applicant is under 18 years of age, and by the applicant herself, if she is over age 18).
Photocopy of a page of Bank Passbook which provides bank account holders details.
Photocopy of Disability Certificate (if any).
Coloured passport size photographs of the applicant.
Read More, Aikyahsree Scholarship Online Fresh and Renewal Application Process
How to apply for Kanyashree Scheme
Currently, the application process for Kanyashree K1 and K2 scholarships is offline. It means eligible students have to apply for this scholarship scheme directly from their school. Follow the steps to apply for Kanyashree Prakalpa 2023.
Contact your current school/college and collect the Kanyashree Prakalpa Application Form.
Fill out the application form correctly in English capital letters.
Attach all supporting documents and photographs on the application form.
Submit the application form at your school/college.
Read More, Apply Online for various Scholarships from National Scholarship Portal
Must note down the Serial Number of the Application Form (mention on the upper right corner). It will help you to get your Kanyashree ID number (if required).
Here are the sample application forms for Kanyashree Scheme K1 & K2 – Click to Download
Track Kanyashree Application Status
After getting the Online Application ID for Kanyashree, applicants' can check their application form status online from the official website. The application id is generally sends to the registered mobile number, mentioned on the application form.
Visit the official website of Kanyashree Scheme,

wbkanyashree.gov.in

Click on the Track Application option.
Select your application Year, Scheme Type (K1/K2), enter Kanyashree Application ID and your Date of Birth.
Click on the Submit button to check your application status.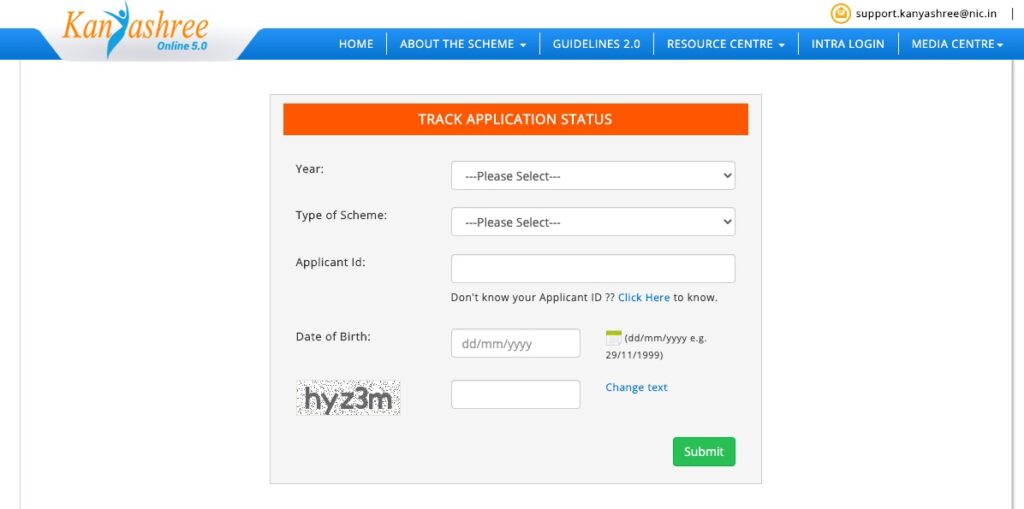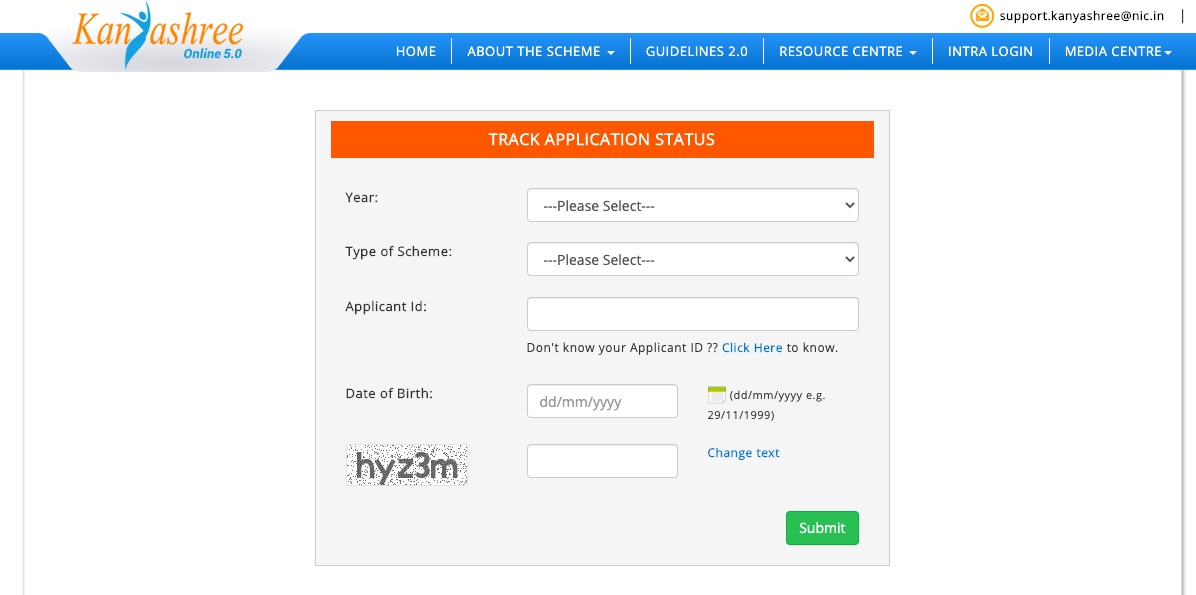 Click Here to check your Kanayshree Prakalpa Application Status
Read More, Apply Online for SC, ST, OBC Caste Certificate & Download it
Kanyashree Helpdesk
If you will need any help regarding your Kanyashree Prakalpa Application or anything related to it, you can contact your institution, they will provide you the proper information.
You can email at support.kanyashree@nic.in mentioning your problem. You can file your Grievance online from Kanyashree Portal. Click here to register your complaint regarding Kanyashree Prakalpa.
These are some useful information about West Bengal Kanyashree Scheme. Share this post on social media to inform your friends about this.