West Bengal Staff Nurse Recruitment 2020 Online Application WBHRB. Learn how to apply online for Staff nurse recruitment by WBHRB. Eligibility Criteria and list of selected candidates for grade II staff nurse recruitment. All details information about West Bengal Health and Family Welfare Department Recruitment. WBHRB Online Staff Nurse Recruitment on various Government Hospitals in West Bengal. GNM, B.Sc and Post Basic B.Sc Nursing Recruitment in various Government Hospitals and Medical Colleges.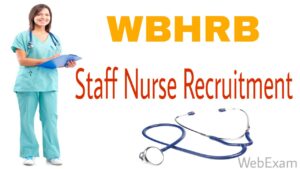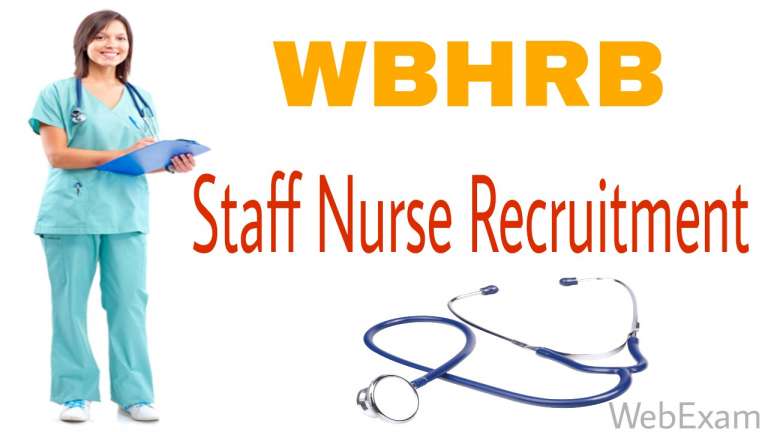 West Bengal State Institute of Health and Family Welfare Department will recruit 9333 staff nurses (GRADE-II) in various Government hospitals, health centres. Candidates selection process will be done by the West Bengal Health Recruitment Board (WBHRB). The advertisement number for this recruitment is, R/SN/02(1)/1/2020. Candidates have to apply Online through WBHRB portal for this Staff Nurse Job application.
Read the complete article to know more about the number of vacancies, online application procedure, important dates, and selection process. Know more about 9333 nurse recruitment in West Bengal.
West Bengal Staff Nurse Recruitment 2020
The details information about West Bengal Staff Nurse recruitment 2020 by WBHRB is mentioned below. Get the Nursing job in West Bengal for GNM, Basic B.Sc Nursing and Post Basic B.Sc Nursing.
| | |
| --- | --- |
| Job Name | GNM, B.Sc, Post Basic B.Sc Nursing |
| Job Location | West Bengal |
| Recruit by | West Bengal Health Recruitment Board (WBHRB) |
| Total Vacancies | 9333 |
| Application Process | Online |
| Application Start | 13th March 2020 |
| Application End | 23rd March 2020 |
| Website | www.wbhrb.in |
Number of Vacancies for Nursing Post
Recruitment will be done on three types of posts, one is General Nursing Midwifery (GNM) the second one is, Basic B.Sc Nursing and the other is Post Basic B.Sc Nursing. Complete vacancy lists are given below.
The list of vacancies for West Bengal Nursing Job recruitment 2020 is given below. WBHRB will recruit both Male and Female Nursing staff.
| | | | | |
| --- | --- | --- | --- | --- |
| Category | GNM | Basic B.Sc | Post Basic B.Sc | GNM-Male |
| General (UR) | 548 | 1736 | 253 | 88 |
| SC | 1760 | 1086 | 102 | 96 |
| ST | 400 | 358 | 29 | 25 |
| OBC-A | 983 | 703 | 50 | 45 |
| OBC-B | 89 | 196 | 32 | 23 |
| PWD | 462 | 239 | 14 | 16 |
Read More, GNM Nursing Course Admission will Stop All over India.
WBHRB Online Application Process
Application for West Bengal Health recruitment, Grade II Staff Nurse can be done only through online. Candidates have to visit the official website of West Bengal Health Recruitment Board, www.wbhrb.in for online registration from 13th March till 23rd March 2020.
Fill all the details information on the registration form. Upload scanned photograph and signature at the time of online registration.
Required Documents to Upload
Candidates have to upload the Nursing Council Registration Certificates.
The applicant must be a citizen of India or such a person of other nationality as declared eligible by Govt. of India.
Age, as recorded in Madhyamik or equivalent certificate, shall only be acceptable.
The claim of candidates for relaxation of age as a regular /contractual Govt. employee should be proved by a certificate from the appropriate authority showing the period of candidate's continuous service under Government of West Bengal and the same should be furnished when called for.
If in service, the No-Objection Certificate from the competent authority has to be submitted
Copy of SC/ST/OBC Caste Certificate issued by a recognised authority.
After successful registration, candidates have to pay the Application fees of Rs 210 through bank challan or through debit/credit card or internet banking. After final submit take a print out the Application form for future use. Online Application Process will be continued from 13th March to 23rd March 2020 (before 8 pm).
Apply Online for WB Health Staff Nurse Recruitment Process – Apply Now
Salary for Nursing Posts
As per ROPA-2019, newly joined staff nurses will get salary as per Pay Level-9 (Basic Pay- Rs. 29,800). They will get all the other allowances like Uniform, Washing and amenity allowances as admissible. The minimum salary will be Rs.34,136.
Read More, Apply for Online WB Staff Nurse Mutual Transfer Online
Distribution of Marks for recruitment
WBHRB mentioned a marks distribution table for the recruitment of Staff Nurse, Grade II. Selection of the candidates will be done after an interview process. The complete marks distribution table is mentioned below.
Qualifications
Marks
Passed GNM Basic B.Sc Nursing/ Post Basic B.Sc Nursing course from any Nursing Training School/College of Nursing recognized by both the Indian Nursing Council and Respective State Nursing Council.
40 Marks (max)
Addl. Marks-2 for marks 51 to 55 & so on.
20 Marks (max)
Marks obtained for Working Exp. after passing out of concerned course
[6 mths-1 yr -10;>1 yr.-1½ yr.- 15; 1½ yr- 2 yrs.- 20 & 2 yrs.- 25 ]
25 Marks (max)
Interview
15 Marks (max)
Total Marks
100
Complete advertisement for this recruitment will publish on 13th March 2020. On this article, only the basic points are mentioned. If you have any query post it in the comment section. Follow us for more update information about Nursing jobs.