Madhyamik 2018 Physical Science Suggestion download in Bengali version. Get the best Madhyamik 2018 suggestion. All the important questions of Physical Science for the Madhyamik examinee. Are you looking for Madhyamik 2018 exam Suggestion? Get Madhyamik 2018 Physical Science Suggestion with question answer.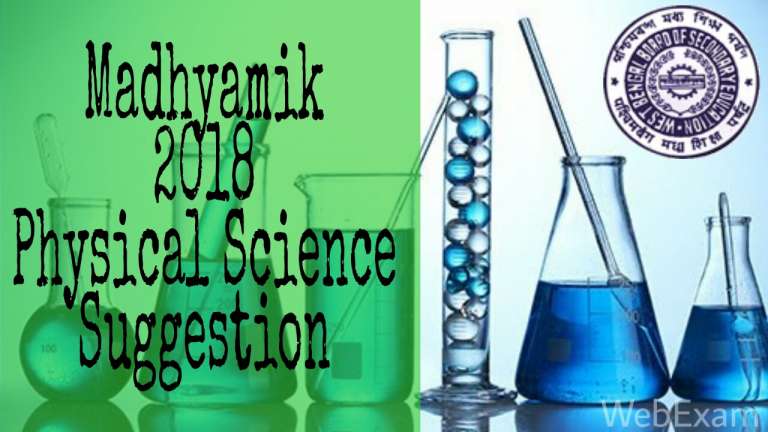 West Bengal Madhyamik 2018 Exam will start from March 2018. Download the complete suggestion for Physical Science Subject, prepared by experts. This year Madhyamik Physical Science Exam will be held on 17th March 2018 at 12'O clock to 3 pm. West Bengal Board of Secondary Education will organize Madhyamik (10th) Exam 2018.

Total marks of Physical Science Subject is 100, out of which 90 for written test and 10 for viva voce. Download Madhyamik 2018 Physical Science Suggestion in Bengali version. The question paper contains three groups. The Group A and B contain MCQ and very short answer type questions, each mark 1. Group C and D contains Short Answer of 2 marks each and Long answer of 3 marks each type questions.
The total syllabus can be divided into three categories – General Science (17 Marks), Physics (34 Marks) and Chemistry (39 Marks). The Madhyamik 2018 Physical Science Suggestion prepared on the basis of New WBBSE syllabus. Click Here to download Madhyamik 2019 all subjects Suggestion. Most important questions are mentioned in this suggestion.

If you have any questions or query about this suggestion, post it in the comment section. Like us on
WebExam Facebook Page
for more updates and Suggestions.
Share this suggestion on your social media to help your friends.
Best of luck for your first Board Exam.