Uttoran Scholarship 2021 for West Bengal Madhyamik and Class XI Passed Students. The online application process for Uttoran 2021 already started. Students who passed their Madhyamik (X) or Class XII Examination with at least 60% marks, can apply for Uttoran Scholarship 2021. This scholarship is available only for West Bengal School students. Know about, how to apply for Uttoran Scholarship 2021, eligibility guidelines and the selection process.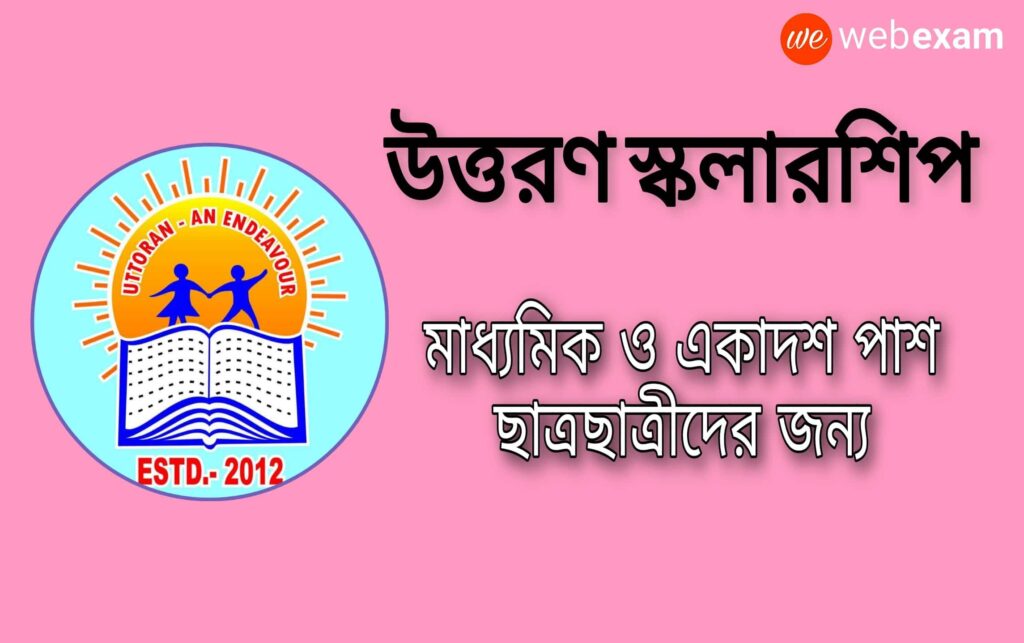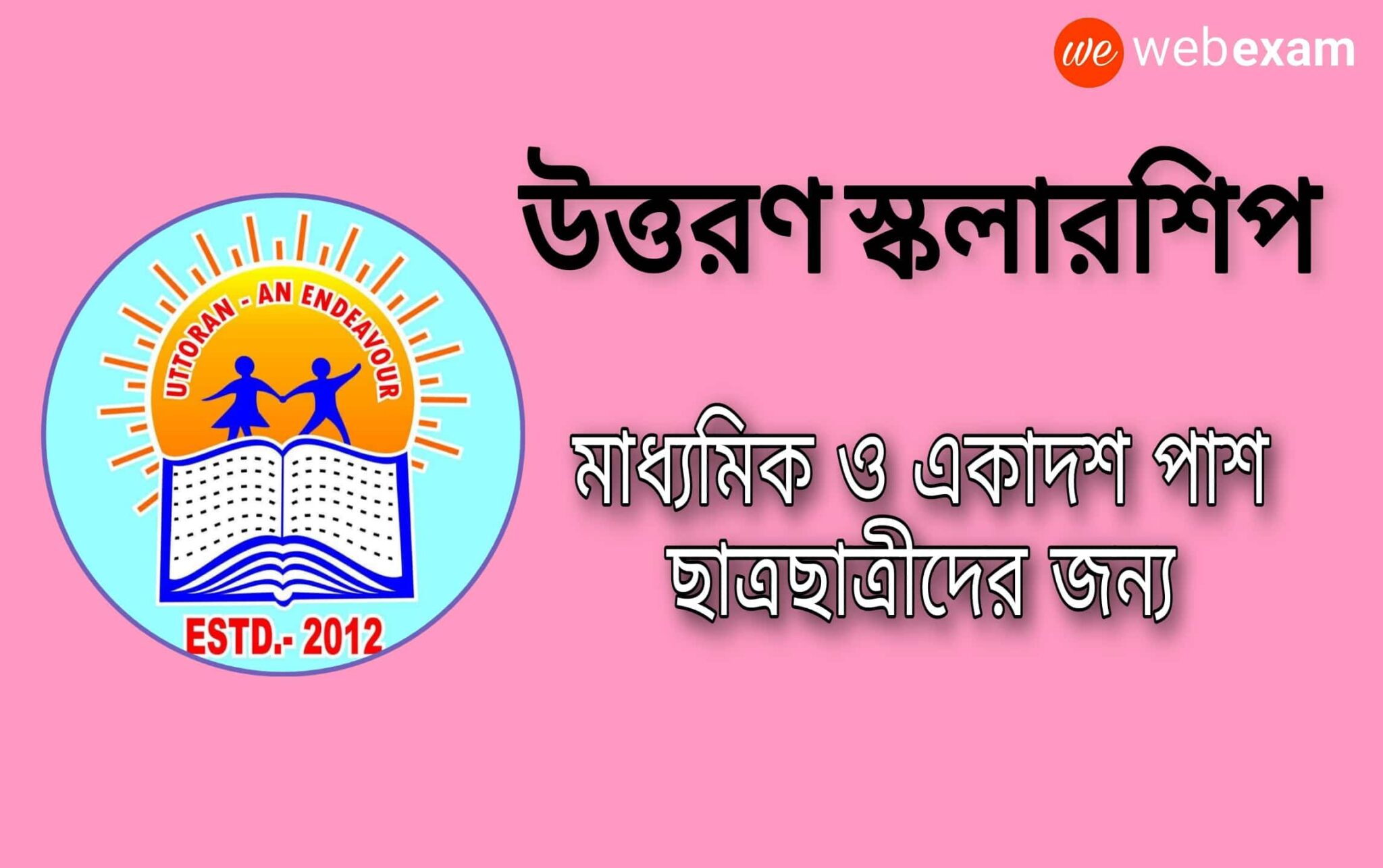 Uttoran scholarship is for aspiring meritorious students from the economically weaker sections of society – irrespective of caste, creed, faith or race – so that they can pursue higher studies after successful completion of their Class X and Class XI Examination.
Download Uttoran Scholarship Application Form or apply online. Know more about the Eligibility Criteria. List of candidates selected for this Scholarship. Apply Online for Uttoran Scholarship scheme and get financial support from this NGO.
Uttoran Scholarship 2021 Information
Here is some basic information regarding Uttoran Scholarship. Know the important information about this scholarship and apply online now.
| | |
| --- | --- |
| Name of the Scholarship | Uttoran Scholarship 2021 |
| Organisation | Uttoran an Endeavour |
| Scholarship Region | West Bengal |
| Application Mode | Online and Offline |
| Last date of Application | 20th October 2021 |
| Eligibility | Passed Madhyamik or Class 11 exam |
Eligibility Criteria for Uttoran Scholarship
Uttoran is an NGO from West Bengal providing this Scholarship Scheme to the Madhyamik & Class 11 exam Passed students. Currently, they are working on education, healthcare and livelihood in rural and slum areas of Bankura and its nearby districts in West Bengal.
Follow the complete eligibility guidelines to apply for this scholarship.
The candidate must pass Madhyamik or Class XI exam 2021 with at least 60% marks.

The Annual Family Income of the Students less than Rs. 72,000.

Students from schools located in West Bengal only are eligible to apply.
This year Class XI passed students can attach their Madhyamik 2019 marksheet to apply for this scholarship.
Read More, Apply Online for WBCMO Nabanna Scholarship 2021
Uttoran Scholarship Application Process
Eligible students can apply Online or Offline for Uttoran Scholarship 2021. Download the scholarship application form to apply offline or use the direct online application link and submit your scholarship application.
Online Application Process
The Online Application process for Uttoran Scholarship 2021 is Online. Follow the steps to apply for this scholarship.
First, visit the Uttoran Scholarship Portal (link is given below) and then click on the ONLINE APPLICATION FORM from the Scholarship Page.
Now Register on the Scholarship Application Page with your Name, Phone Number, Email, Communication Address, Academic Details and Family Income Details.
After that click on the SUBMIT button for final submission.
A copy of your responses will be emailed to the address you provided.
Your Scholarship Application Form Submitted Successfully.
At the time of the Online Application no need to upload any scanned documents. Before the final selection, students have to send the documents to the scholarship authority.
Read More, Apply Online for Sitaram Jindal Scholarship 2021
Offline Application Process
Students can also apply offline for Uttoran Scholarship by sending it through the post.
First, visit Uttoran Scholarship Portal and then click on the OFFLINE APPLICATION FORM (link is given below) Button from the Scholarship Page and download the pdf application form.
Take a print out the Application Form and Filled it carefully.
Attach the Required Documents with it and attach an attested photograph.
Send the Application form through speed post to this address.
The Secretary
UTTARON AN ENDEAVOUR
Kankata, Kenduadihi,
Bankura – 722102
Read More, List of Scholarships for West Bengal School and College Students
Required Documents for Uttoran Scholarship
Candidates have to upload/attach the following documents at the time of Online/Offline Application of Uttoran Scholarship 2021.
Copy of Aadhaar / Ration Card for proof of address
Copy of Admit Card of Madhyamika Exam./School Certificate as proof of birth.
Copy of Mark sheet of last qualifying examination
Copy of annual family income certificate for the current financial year issued by B.D.O or higher officer
Bank Account Details of the Candidate (Xerox Copy of the first page of Bank Pass Book)
Copy of Certificate issued by the competent authority in the case of differently-abled students (if applicable)
Certificate issued by the Director/Principal/Head of the Institute (Annexure-I)
All attestation copies of these mentioned documents are to be done by School Head Teacher / any Gazetted Officer.
For students who are applying through online mode, the hard copies of documents have to be submitted before final selection. The date and mode of submission will be informed via phone and email.
The Last date of Application for the Uttoran Scholarship Scheme 2021 is October 2021.
Apply Online for Uttoran Scholarship 2021 – Click Here
Download Uttoran Scholarship Application Form PDF – Click Here
Scholarship Selection Process
The candidates selection Process for Uttoran Scholarship 2021 will be done by Experts from Uttoran an Endeavour Team. Selection will be made on the basis of Academic Percentage as well as the family economic condition.
At first Uttoran Scholarship Experts will short all the Offline and Online Applications and select only the deserving candidates.
Selected candidates will be informed via phone call or email.
Scholarship Amount will be transferred to the candidates' bank account.
Important Information about Uttoran Scholarship
1. The last date of the Online/Offline Application for Uttaron Scholarship scheme is 20th October 2021.
2. Must provide a valid mobile and email address for further communication.
3. Make sure that you have scored 60% marks in Madhymik Exam or in 11th class exam 2021. Students who have passed 11th class examination but no marksheet has been received, can apply on the basis of their 2019 Madhymik exam score.
4. Apply either Online or Offline. If any student applies through both the mode, his/her application will be cancelled.
Read More, WB OASIS Scholarship 2021 for SC, ST OBC students
Uttoran an Endeavour Helpdesk
If you have any query regarding the Uttoran an Endeavour Scholarship, you can easily contact the foundation by the following available options.
Email: uttoran2012@gmail.com
Mobile: 9002733771 / 9476318934
If this scholarship information is helpful for you then please share it on the Social Media. Post your comment in the below comment box, we will definitely try to answer it.