SMFWBEE Online Counselling 2020 Choice filling, Registration and Admission Process. Government paramedical colleges in Kolkata. D.pharm online counselling in West Bengal. SMFWBEE 2020 Rank Card Download. Available seats on Paramedical Admission in WB. State medical faculty paramedical courses. SMFWBEE Online Counselling process and cut off marks. Know about the SMFWBEE 2020 Counselling Registration, Seat Allotment, Mop-up Round Counselling process.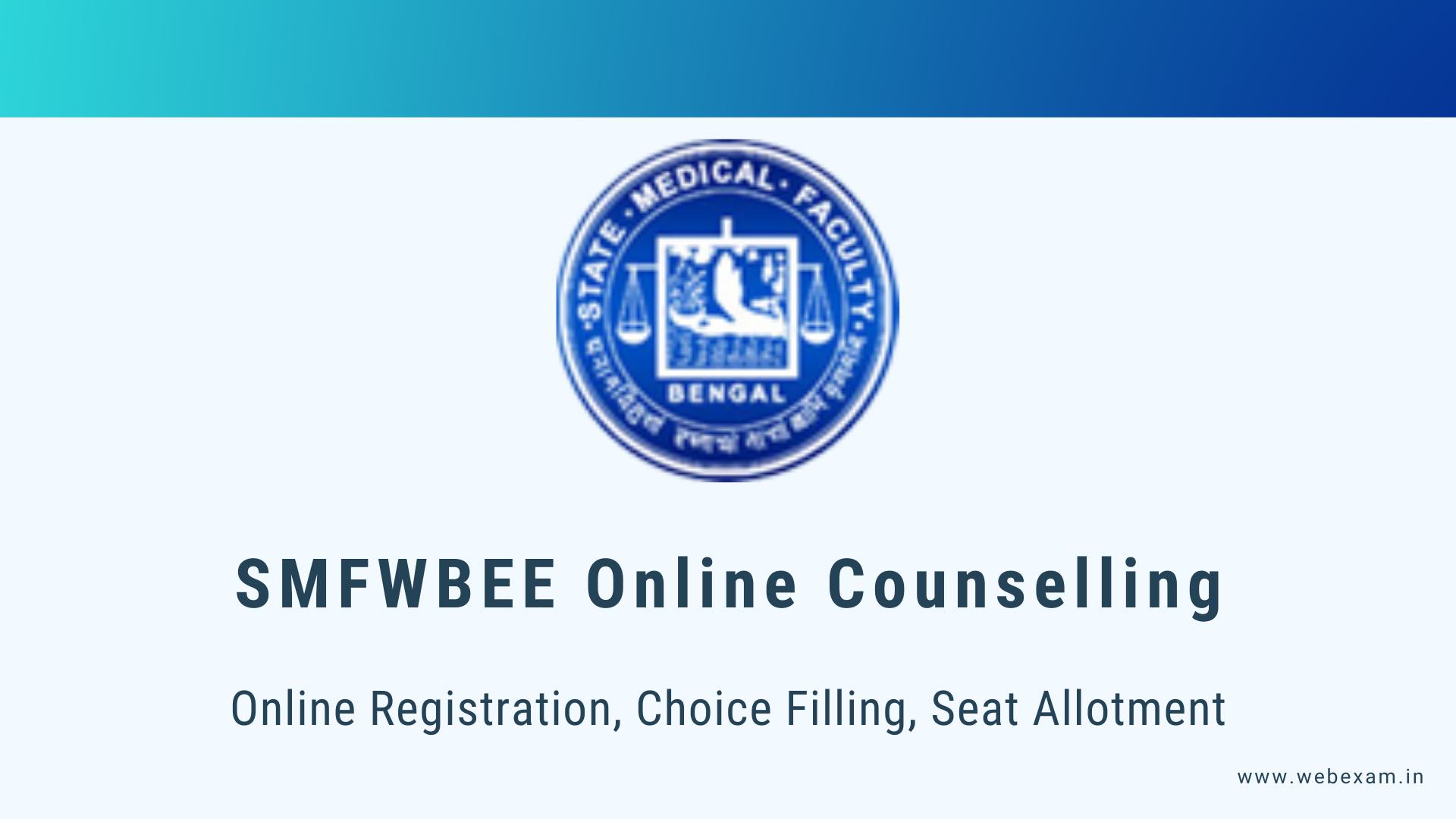 State Medical Faculty of West Bengal (SMFWB) organized an Entrance Exam SMFWBEE 2020 for admission on the various Paramedical course. Students can take admission in various Government and Private Medical Colleges, Hospitals and Institutions through this SMFWBEE 2020 Exam. The result of SMFWBEE 2020 Exam will be available on 21st October 2020.
Students, who seat for West Bengal Paramedical Entrance Exam (SMFWBEE) 2020, get a Rank Card on the basis of their Entrance Examination score. By the help of this SMFWBEE 2020 Rank Card, they can seat for Online Counselling.
The SMFWBEE 2020 Online Counselling Registration will start from 23rd November 2020 and continue up to 28th November 2020. Complete guidelines and information about SMFWBEE online counselling describe on this post. Know about the available seats on every institution, Counselling date, choice filling, choice locking. Get information about SMFWBEE 2020 1st Round, 2nd Round, 3rd Round and 4th Round Counselling details.
SMFWBEE Online Counselling 2020 Process
The complete SMFWBEE Counselling 2020 process will be Online for admission on Paramedical courses in West Bengal.
Step-1: At first visit, this website, smfwb.examflix.in and Register yourself for Participating Online SMFWBEE 2020 Counselling Process. You can Register from 23rd November and continue up to 28th November 2020 for First Round Counselling.
Step-2: Now you have to pay the Online Registration cum Counselling fees Rs. 100 for Online Registration and Online Counselling. You can pay the fees through Net banking/Credit or Debit Card.
Step-3: After paying the SMFWBEE 2020 Online Counselling Fees, you have to do the Online Choice Filling according to your presence Courses and Institutions. You can fill as much as the number of choices you want. Before online choice filling must view the available seats and courses on each institution (given below).
Step-4: After Online Choice Filling carefully, save your preferences. It will be automatically locked after the date. Once you lock your choices you cannot edit or re-order it.
Step-5: SMFWBEE Online Counselling 2020, First Round Seat Allotment Result will be published on 30th November 2020 on the website. Candidates can view their allotted seats by login to the website. Seat allotment will be on the basis of SMFWBEE 2020 Rank and Choice Filling.
Step-6: If you got your preferred Institute and Course on the First Round Counselling, then immediately pay the course fees Rs. 15,000 through Internet Banking/Credit or Debit Card/Payment Wallet. By paying the course fees online, you Seal your allotment for Admission. Now, you are not eligible for further Rounds Counselling.
If you did not get your expected Course and Institution, then do nothing on this First Round Counselling. Your allotted seat will be cancelled and you will be shifted to the Second Round Counselling.
Step-7: If you pay the Course Fees Rs. 15,000 after Counselling, now you have to complete the process of Reporting & Documents verification Online from SMFWBEE 2020 Online Counselling portal.
At the time of documents verification, must keep the following documents –
Seat allotment print out
Online Application Form
Counselling and Course fees receipt
SMFWBEE 2020 Admit Card and other documents.
All the Academic (HS & Madhyamik) Original Documents.
The Online Reporting dates and Documents Verification will be publish later.
Step-8: After completing all these steps, you will be ready to take admission to the Paramedical Institute on your allotted Course. Visit your allotted Institute/College on 1st December 2020 to confirm your admission and other verifications.
Step-9: Candidates who didn't get any allotted choice on the First Round Counselling or Skip their Choice can eligible for Second Round Counselling. Existing /Newly Registered candidates who were not allotted any seats in the first round of seat allotment.
Step-10: Classes for Paramedical Courses under SMFWB will start from 1st December 2020.
Read More, Apply Online for Swami Vivekananda Scholarship 2020 SVMCM
Require Documents for SMFWBEE Counselling
At the time of documents verification at the Reporting Centre, candidates must have to bring the following documents with them with two sets of Photocopies.
Madhyamik Examination Admit Card/Certificate
Higher Secondary Exam Certificate and Marksheet
Caste Certificate, Character Certificate
Medical Certificate
Authorisation Certificate (if the candidates failed to appear in the verification)
Two Passport Size Photographs
Rank Card
Physical Handicapped Certificate.
Read More, List of Post-Matric Scholarships for West Bengal College Students
Apply Online for SMFWBEE 2020 Online Counselling & Registration – Click Here
Important Dates & Schedule for SMFWBEE 2020 Counselling
A details date chart for SMFWBEE Online Counselling 2020, Reporting and Admission, published by State Medical Faculty of West Bengal (SMFWB). The official chart is given below.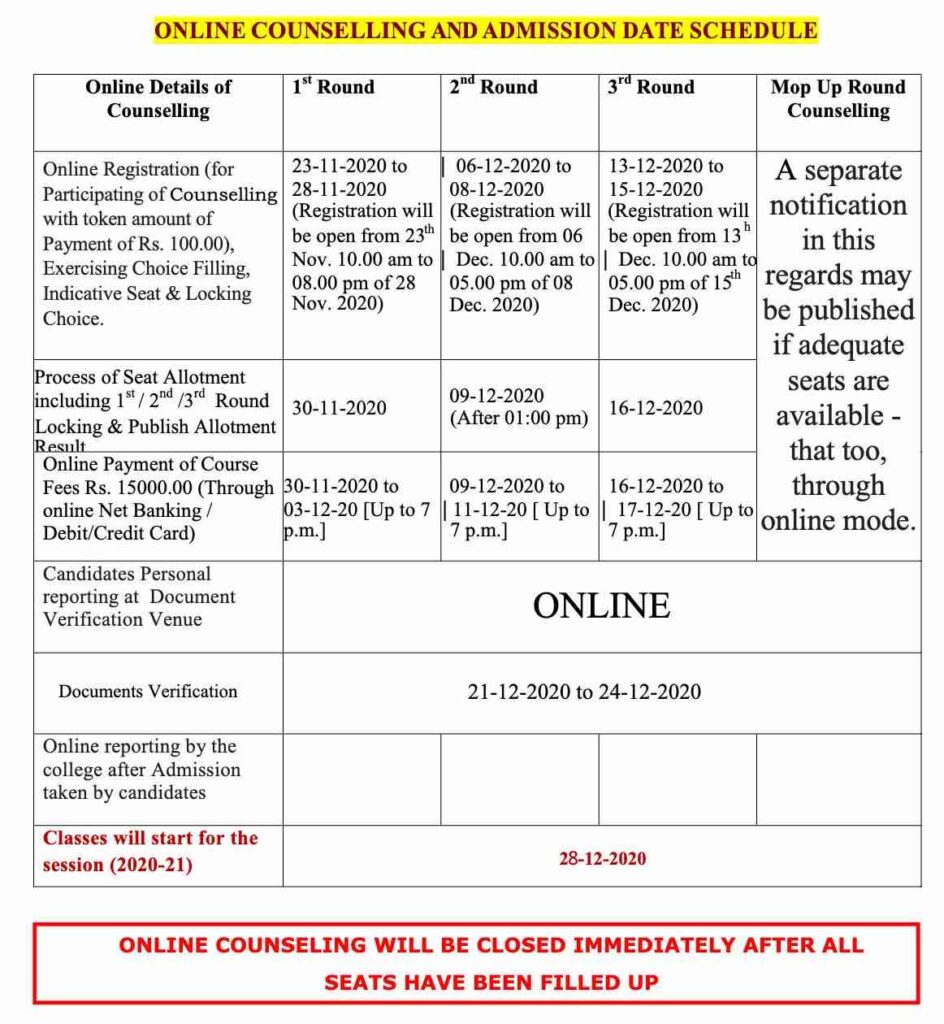 Seats of Paramedical Courses on various Govt & Private Institutes
State Medical Faculty of West Bengal (SMFWB) published a complete list of available Government Medical Colleges and Institutions for Paramedical course admission 2020 through SMFWBEE 2020 Exam. The number of available seats and courses also present on this list. Follow this official list before online choice filling.
Counselling Helpline
If you faced any problems on SMFWBEE Online Counselling 2020 Process, you can easily contact to the SMFWBEE Helpdesk phone numbers 9674524077, 7603020660. You can also email to the authority through this email id, smfwbhelp@gmail.com for further help.
We hope this article will help you with your SMFWBEE 2020 Online Counselling and Admission Process. Wish you all the very best for your Counselling price. If you have any query post it in the below comment box, we will try to help you at our best.